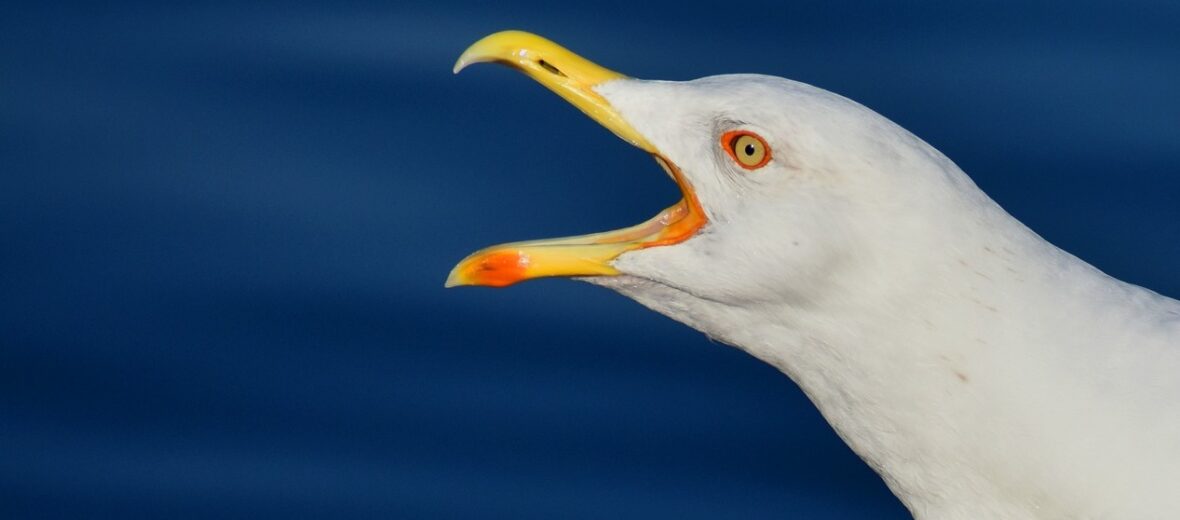 The seagull is found on every continent on the planet; even Antarctica. There are 20 known species of seagulls to choose from and they range in size. Many people are opposed to these birds due to their invasive nature, their property destruction, the huge amount of waste (poop) they produce, and their constant noise. They typically live along the coasts but some live as far in as desert regions, totally away from water. Kind of missing the point with the whole "sea" gull thing. Seagull numbers are stable, the world over, and they are listed as Least Concern by the IUCN.
First the Stats…
Scientific name: Laridae
Weight: Up to 4 lbs.
Length: Up to 2.6 feet
Wingspan: Up to 5.6 feet
Lifespan: Up to 20+ years
Now on to the Facts!
1.) First off, there are many species of gulls that are considered kleptoparasitic (steal prey from other birds of the same or different species). Kelp gulls, for instance, have been known to swarm penguins in an effort to take their food. They are also notorious for stealing other bird's food; and if you're not careful, your unattended sandwich.
2.) Being Omnivores (eat plant and animal matter) they eat earthworms, insects, small rodents, amphibians, reptiles, fruit, seed, fish, and table scraps.
3.) The largest known bird was the prehistoric seagull which had a 24 foot wingspan!
4.) They use bread crumbs to attract fish and also produce the sound of rain hitting the ground, with their feet, to attract earthworms from underground. These bold birds even resort to cannibalism and eat their young, in times of need.
5.) Their primary predators are eagles.
But wait, there's more on the seagull!
6.) Due to the exocrine glands located in supraorbital grooves in the skull, seagulls are the only known animal to be able to drink saltwater. The salt is then excreted by the nostrils which helps with electrolyte balance.
7.) Seagull flocks can consist of thousands of birds! Talk about noise and mess.
Did you know…?
MLB right fielder Dave Winfield once killed a seagull with a baseball during a game and was later arrested for animal abuse.
8.) A more grim fact is that seagulls have been known to pluck the eyes out of baby seals in order to make it harder for them to find their parents for help and thus allowing the gulls to eat the baby.
9.) Seagulls are monogamous (mate for life).
10.) Females lay up to 3 eggs each breeding season.
Now a Short Seagull Video!
Also, check out the Critter Science YouTube channel. Videos added frequently!
Want to suggest a critter for me to write about? Let me know here.
Learn more about all kinds of cool critters, right here!