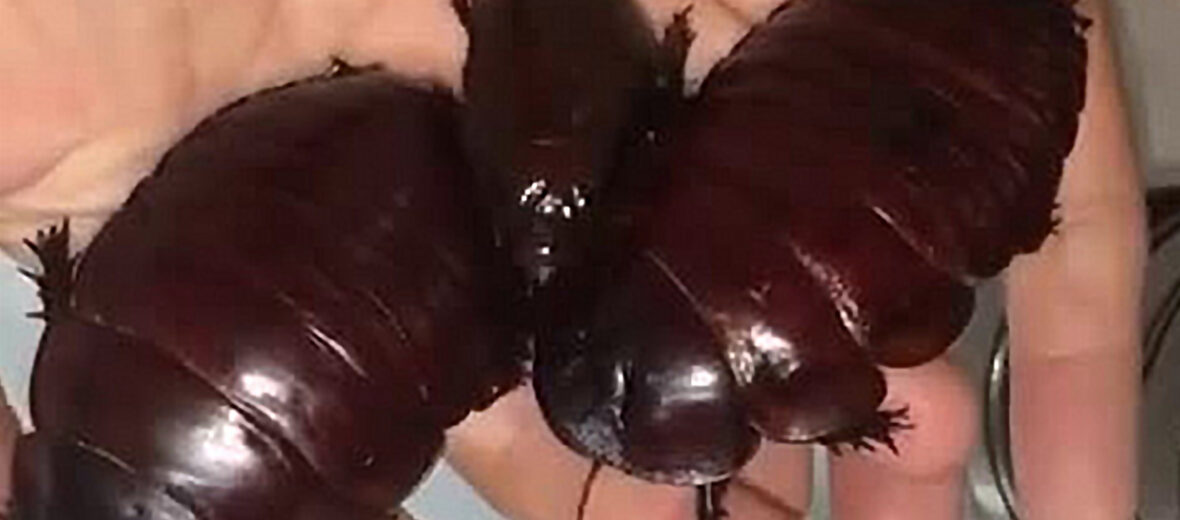 The title of world's heaviest cockroach goes to the giant burrowing cockroach, aka rhinoceros cockroach or Queensland giant cockroach. These insects hail from subtropical and tropical parts of Queensland, Australia. These hefty bugs are third in length behind the madagascar hissing cockroach (#2) and the Megaloblatta longipennis (#1). Due to their numbers, these roaches are listed as Least Concern by the IUCN.
First the Stats…
Scientific name: Macropanesthia rhinoceros
Weight: Up to 1.2 ounces
Length: Up to 3.1 inches
Lifespan: Up to 8 years
Now on to the Facts!
1.) Seeing as they spend most of their lives digging burrows in the soil, these cockroaches are wingless. They don't even have wing buds.
2.) Giant burrowing cockroaches are often sold as pets. That's right. While most people pay good money to get rid of cockroaches, some people pay to bring them in.
3.) Their diet consists almost solely on dried eucalyptus leaves. So they are a helpful consumer that help clean fallen leaves from the ground.
4.) In captivity, they will also eat fruits and vegetables.
5.) Females have a shovel-shaped head that aids in digging burrows.
But wait, there's more on the giant burrowing cockroach!
6.) The giant burrowing cockroach is the only known cockroach in the world to have permanent burrows in soil.
7.) Like other cockroach species, they are nocturnal (active at night).
Did you know…?
As pets, these giants can fetch a hefty price. Sometimes as much as $100 USD or more, per individual!
8.) The female will tend to stay in her burrow while the male wanders about outside, looking for a mate.
9.) They have many predators, including reptiles, amphibians, mammals, and birds.
10.) By forcing air through their spiracles, these roaches can hiss loudly.
Now a Short Giant Burrowing Cockroach Video!
Be sure to share & comment below! Also, check out the Critter Science YouTube channel. Videos added frequently!
Want to suggest a critter for me to write about? Let me know here.
Learn more about all kinds of cool critters, right here!