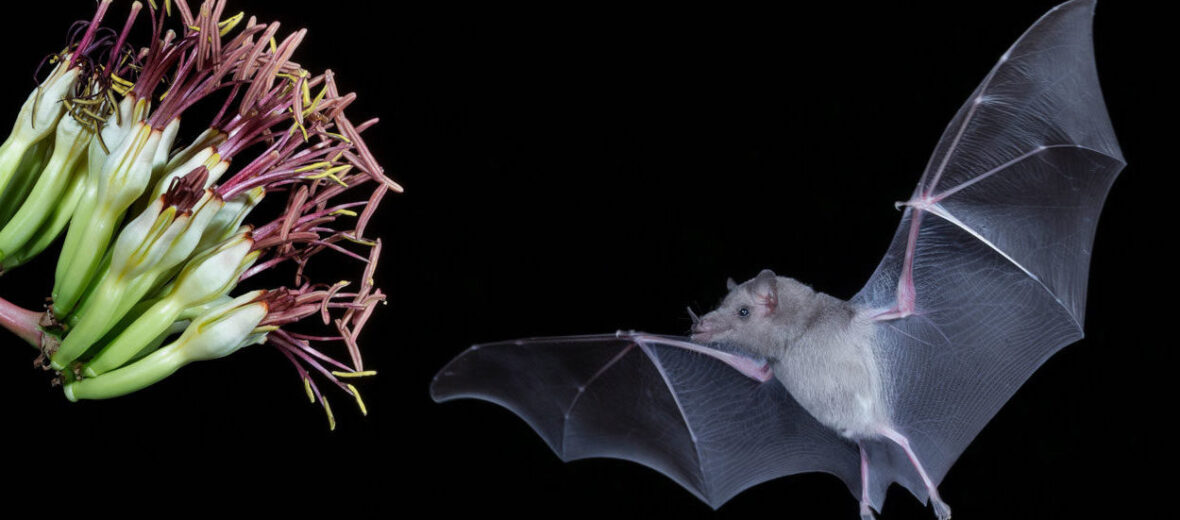 The lesser long-nosed bat can be found in the scrub, semi-arid grassland, and forest habitats from southern California, Arizona, & New Mexico down to Mexico, Guatemala, El Salvador, and Honduras. This migratory species of bat is listed as Near Threatened by the IUCN. Their numbers are also decreasing. This is due to human interference, mining, hunting, trapping, and habitat loss.
First the Stats…
Scientific name: Leptonycteris curasoae yerbabuenae
Weight: Up to .78 ounce
Length: Up to 3 inches
Wingspan: Up to 10 inches
Lifespan: Up to 12+ years
Now on to the Facts!
1.) Like most bats, they are nocturnal (active at night).
2.) The flap of skin at the end of their nose is called a noseleaf.
3.) Lesser long-nosed bats are nectar feeders and crucial pollinators of agaves, saguaro, and organ pipe cacti.
4.) Besides nectar, these bats also consume fruit, after the flowering season, making them important seed dispersers. Insects are also eaten.
5.) They typically roost in mines and caves. But will also take up residence under bridges, in buildings, and in tree hollows.
But wait, there's more on the lesser long-nosed bat!
6.) As mentioned, these bats are migratory and can make treks of up to 990 miles to avoid cold weather.
7.) gestation (pregnancy) lasts about 6 months and yields a single pup.
Did you know…?
The tongue of this bat is as long as its entire body!
8.) Newborn bats only weigh in at up to .25 ounce.
9.) They are able to fly after just 1 month, but don't leave the maternity cave for another 2 – 3 weeks.
10.) Like other bats, the lesser long-nosed bats use echolocation to assist in finding food and shelter.
But wait, there's still more on the lesser long-nosed bat!
11.) These bats are preyed on by giant centipedes, praying mantids, wasps, mygalomorph spiders, scorpions, and solpugids.
Did you know…?
There are only 3 known nectar feeding bat species in the United States.
12.) Bats, in general, are said to be worth nearly $4 billion a year in pest management. This is due to their ability to minimize crop damage and they help reduce the need for pesticides.
13.) Bats are most frequently known for spreading rabies. However, less than 0.5% of bats actually contract rabies, and they are typically not aggressive when they do contract it. So fear not.
14.) White-nose syndrome has not been documented in this bat species.
15.) White-nose syndrome (WNS) is caused by a fungus (Pseudogymnoascus destructans) and has killed over 5,000,000 bats in the United States alone, since the disease's discovery in January 2006. It has been discovered in 28 states and 5 Canadian provinces!
Now a Short Lesser Long-Nosed Bat Video!
Be sure to share & comment below! Also, check out the Critter Science YouTube channel. Videos added frequently!
Want to suggest a critter for me to write about? Let me know here.
Learn more about all kinds of cool critters, right here!