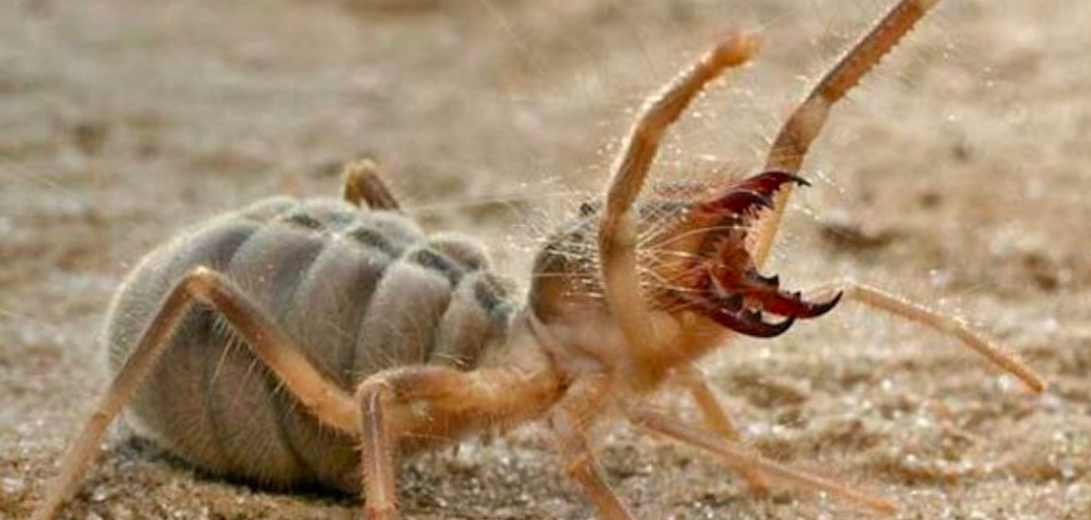 The camel spider! They're fast, have powerful jaws, and chase down & kill prey items like insects, spiders, scorpions, lizards, snakes, and more! They get a really bad rap due to their unusually scary appearance, but they are very useful to have around. And contrary to popular myth, they aren't as large as a dinner plate. That picture, from the internet, was taken at a perspective angle which showed the Solifugae to be gigantic!
First the Stats…
Scientific name: Solifugae
Weight: Up to 1 ounce
Length: Up to 6 inches
Lifespan: Up to 1 year (in the wild) | less than 4 months (in captivity)
Now on to the Facts!
1.) The camel spider can bolt up to 10 mph! They use this speed to chase down their prey.
2.) These arachnids are also called sun spiders, wind scorpions, solifuge, and the Nope, burn the house down!
3.) Camel spiders are part of the arachnid family, as they have 8 legs and 2 pendipalps, but they are not true spiders.
4.) As charismatically challenged as they are, these critters are excellent hunters and a good bug to have around.
5.) There are species found in desert regions of every continent but Australia and they don't live in Antartica. But not much does.
But wait, there's more on the camel spider!
6.) There are approximately 1,100 known solifuge species.
7.) Even though they are tough in the wild, they are very difficult to keep as pets; even in lab conditions.
Did you know…?
Not only can these critters grow up to 6 inches long, but their mandibles (jaws) make up a 1/3 of their total length!
8.) Like all arachnids, the camel spider lacks good vision. They instead rely upon vibrations picked up by their feet and hairs on their body. They are also nocturnal (active at night).
9.) Soldiers in the middle east typically make the camel spiders fight each other as well as other arthropods. They then bet on the combatants.
10.) Contrary to popular belief, these guys don't hunt humans and aren't even venomous. They'd much rather predate bugs and other small critters. But they do have a nice bite!
Now a Short Camel Spider Video!
Also, check out the Critter Science YouTube channel. Videos added frequently!
Want to suggest a critter for me to write about? Let me know here.
Learn more about all kinds of cool critters, right here!