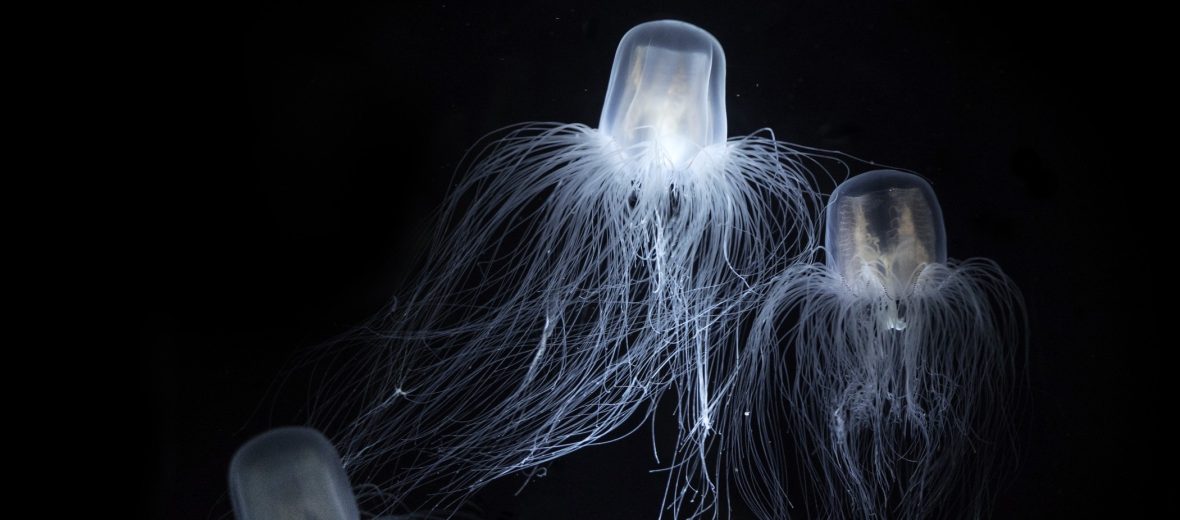 The immortal jellyfish can be found throughout the world's oceans. They can tolerate temperate to tropical waters. They are 1 of the few known animals that are able to completely revert to a sexually immature, colonial stage after having reached sexual maturity as a solitary individual. The others include 2 other different species of jellyfish: Aurelia & Laodicea undulata. Due to their global distribution and stable to growing population, these jellyfish are not currently evaluated by the IUCN.
First the Stats…
Scientific name: Turritopsis dohrnii
Length: Up to .18 inch across, tentacles can reach up to 2+ inches
Lifespan: Unknown
Now on to the Facts!
1.) In actuality, these jellyfish can still perish due to Predation or disease, while in the in the medusa stage, before being able to revert back to the polyp phase.
2.) These, like all jellyfish, begin life as tiny, free-swimming larvae known as planulae.
3.) The planula develops into a colony of polyps that are attached to the sea floor.
4.) All of the jellyfish, as well as the polyps, are genetically identical clones that form from a single planula.
5.) The polyps develop into an highly branched form, which is not typically witnessed in most jellyfish.
But wait, there's more on the immortal jellyfish!
6.) Jellyfish, aka medusae, bud off from the polyps and continue their life in a free-swimming form, ultimately becoming sexually mature individuals.
7.) In theory, this process can go on indefinitely, effectively rendering these jellyfish biologically immortal.
Did you know…?
If the immortal jellyfish is exposed to physical attack, environmental stress, or becomes sick or old, it has the ability to revert to the polyp stage, developing a new polyp colony. Then they start the life cycle all over again.
8.) Due to their incredible ability, the immortal jellyfish is an important subject of biological, aging, and pharmaceutical research.
9.) Younger medusae have only up to 8 tentacles. Adults have up to 90.
10.) Immortal jellies feed on zooplankton.
But wait, there's still more on the immortal jellyfish!
11.) Predators include: sea anemones, other jellyfish, tuna, sharks, swordfish, sea turtles, and penguins.
12.) Only 1 scientist, Shin Kubota from Kyoto University, has been able to successfully keep these jellies in captivity.
13.) Under Shin's care, 1 colony of these jellies rebirthed themselves 11 times.
14.) These jellyfish aren't true jellies, but are classed with the man o' war.
Now a Short Immortal Jellyfish Video!
Be sure to share & comment below! Also, check out the Critter Science YouTube channel. Videos added frequently!
Want to suggest a critter for me to write about? Let me know here.
Think you know a lot about critters? Try your hand at these fun, free quizzes: