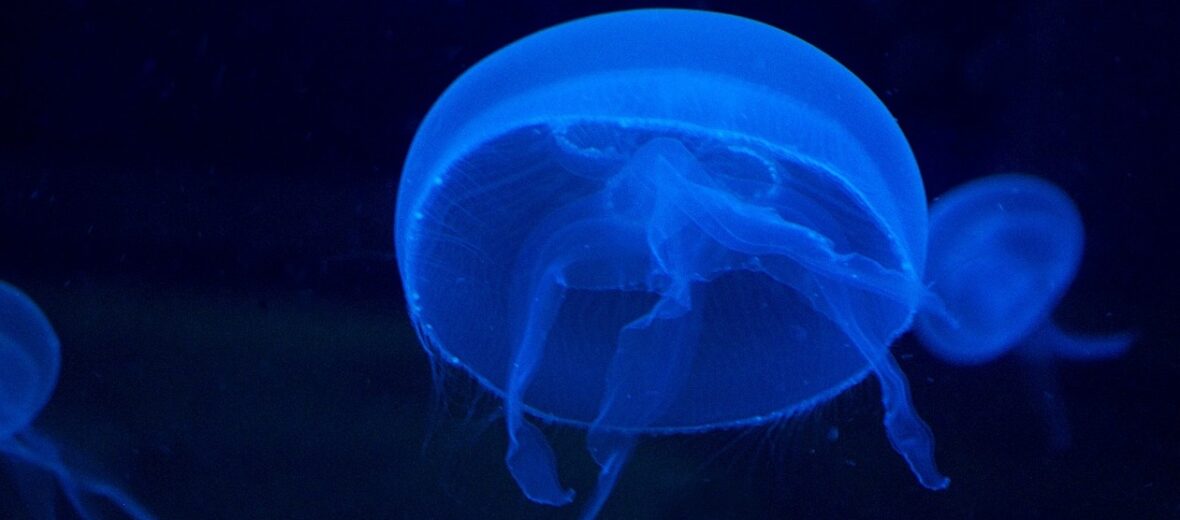 The moon jellyfish can be found in oceans all over the world. These adaptable creatures can survive in both warm and cold water. There are large populations found off the coasts of Canada and Europe. Moon jellyfish spend a great deal of time in coastal and epipelagic areas (top oceanic layer) and are even able to survive the lower salinity of bays and estuaries. Due to pollution, global warming, and overfishing, many of their predators are decreasing in numbers while the moon jellies are increasing. There are numerous subspecies but they are impossible to tell apart, unless you sample their DNA.
First the Stats…
Scientific name: Aurelia aurita
Diameter: Up to 15 inches
Length: Up to 4 inches plus their 5+ inch long oral arms
Lifespan: Up to 1 year (adults) | Up to 25 years (polyps)
Now on to the Facts!
1.) A group of jellyfish is called a smack.
2.) Moon jellyfish species live their lives without brains. They also have no ears, heart, blood, or eyes.
3.) There are 4 horseshoe shaped gonads which are found at the top of their bell. These are their reproductive organs.
4.) They breathe through their membrane.
5.) These jellyfish are comprised of 95% water, a mouth, digestive system, and a reproductive system.
But wait, there's more on the moon jellyfish!
6.) During the summer months, these jellyfish will attempt to reproduce with each other every single day! Afterwards, most will die, due to this process expending such a great deal of energy.
7.) Like other jellyfish, they don't swim, rather they use the ocean's currents to travel.
Did you know…?
Like other jellyfish, moon jellies are capable of tollerating low oxygen levels. As global warming heats the water, lowering the O2 and pollution stagnates the coastal areas, the moon's predators leave and the jellyfish populations bloom.
8.) Primary foods include: diatoms, eggs, zooplankton, protozoa, crustaceans, mollusks, and worms.
9.) Moon jellyfish eat by capturing their prey in their mucus coated arms and then cilia delivers the food upwards to their mouths.
10.) These critters are able to sting, but their venom is quite mild and considered harmless. Any clinging tentacles can be rinsed off with salt water. The venom can then deactivated with vinegar, heat, or baking soda.
But wait, there's still more on the moon jellyfish!
11.) Their predators include sea turtles and humans. Certain fish also eat them in their various life stages.
12.) In the open oceans, moon jellyfish release sperm & eggs into the water. Fertilized eggs develop in the open water as planula for a few days before finally attaching to the sea bed and transforming into polyps. The polyp looks like an upside down medusa. Polyps asexually bud off clones that grow into mature medusae (adults).
Now a Short Moon Jellyfish Video!
Also, check out the Critter Science YouTube channel. Videos added frequently!
Want to suggest a critter for me to write about? Let me know here.
Learn more about all kinds of cool critters, right here!