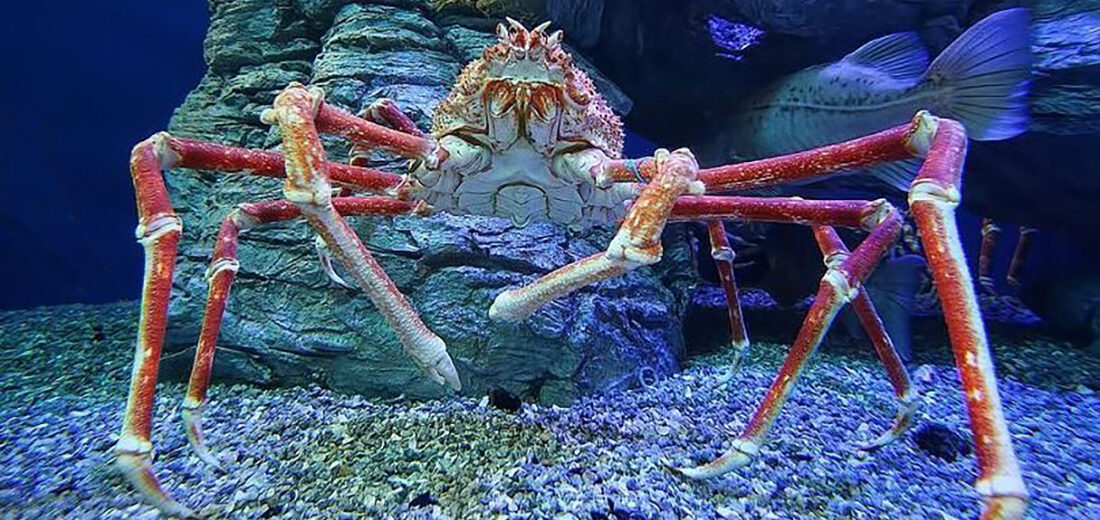 The Alaskan king crab, aka red king crab, is the largest of all known crab species boasting a 6 foot legspan! There are around 120 known species of king crab. Most of these species can be found in the warm waters of the Southern hemisphere. However, we are focusing on the northern hemisphere in this article. Alaskan king crabs can be found up to 300 feet down in the frigid Alaskan coastal waters. They prefer steep ocean bottoms, muddy or sandy sea floors, and areas close to coral reefs. Habitat destruction, due to the oil industry, and over fishing are the chief foes of these cool crabs.
First the Stats…
Scientific name: Paralithodes camtschaticus
Weight: Up to 24 lbs.
Length: Up to 6 feet
Lifespan: Up to 30 years
Now on to the Facts!
1.) They have been known to walk up to 100 miles during their yearly migrations. Using their long legs, they travel up to 1 mile per day!
2.) Like other crabs, these crabs breathe via specialized gills.
3.) King crabs are closely related to hermit crabs. What a size difference though.
4.) Being predatory and Carnivorous (eat meat), they eat worms, snails, mussels, barnacles, clams, sea stars, sea urchins, sand dollars, and other crabs.
5.) Their predators are typically Pacific cod, halibut, octopuses, sea otters, and other crabs.
But wait, there's more on the Alaskan king crab!
6.) A group of crabs is called a pod.
7.) Males have a narrow abdomen where females have a broad abdomen.
Did you know…?
These critters actually have blue-colored blood due to hemocyanin, a blood pigment that contains a large amount of copper. Once oxygenated, their blood turns blue. Other animals have a high iron content in their blood, thus giving it a red color.
8.) A king crab's shell is its skeleton and it's made up primarily of calcium. During their first few years of life, king crabs will molt their exoskeleton several times.
9.) Females lay between 45,000 and 500,000 eggs each year! This large amount ensures a decent amount will make it to adulthood. She carries the eggs for up to 12 months before they're set free.
10.) As soon as the embryos hatch, they become free swimming larvae. After feasting upon their share of plankton for several months, they settle on the ocean floor to become a non-swimming crustacean. The young are no larger than a dime!
Now a Short Alaskan King Crab Video!
Also, check out the Critter Science YouTube channel. Videos added frequently!
Want to suggest a critter for me to write about? Let me know here.
Learn more about all kinds of cool critters, right here!