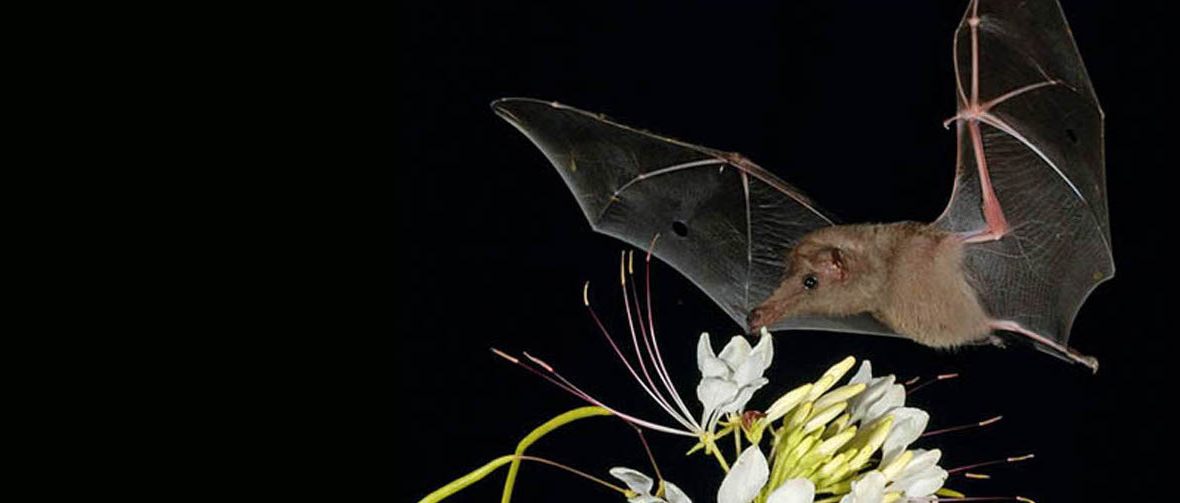 The banana bat, aka trumpet-nosed bat or Colima long-nosed bat, hails from the states of Colima, Michoacán, and Guerrero, in Mexico. They prefer subtropical or tropical dry shrublands. Sadly, due to habitat destruction at the hands of agriculture, fires, and fire suppression, these bats are listed as Vulnerable by the IUCN. There are only around 10,000 wild individuals remaining and their numbers are decreasing.
First the Stats…
Scientific name: Musonycteris harrisoni
Weight: Up to .141 ounce
Length: Up to 3.1 inches
Wingspan: Up to 8 inches
Lifespan: Up to 20 years
Now on to the Facts!
1.) Banana bats are considered a neotropical nectar-feeding bat species, aka nectarivores.
2.) These bats feed on flower nectar, fruit, and occasional insects.
3.) Falcons, hawks, owls, snakes, raccoons, ringtails, and small cats all prey on these bats.
4.) Like most bats, they are nocturnal (active at night).
5.) Banana bats are important pollinators of a wide variety of flowering plants.
But wait, there's more on the banana bat!
6.) Due to the general warm climate in which they live, these bats don't hibernate.
7.) Mating and reproduction takes place during the dry season.
Did you know…?
Some species of bats can reach flying speeds of up to 100 mph!
8.) These bats, like hummingbirds, are able to feed while hovering in mid air.
9.) Their tongues can be up to 2/3 their body length.
10.) Their nose, or rostrum, is nearly 1/3 their body length.
Now a Short Banana Bat Video!
This video talks about bats, in general.
Be sure to share & comment below! Also, check out the Critter Science YouTube channel. Videos added frequently!
Want to suggest a critter for me to write about? Let me know here.
Think you know a lot about critters? Try your hand at these fun, free quizzes: