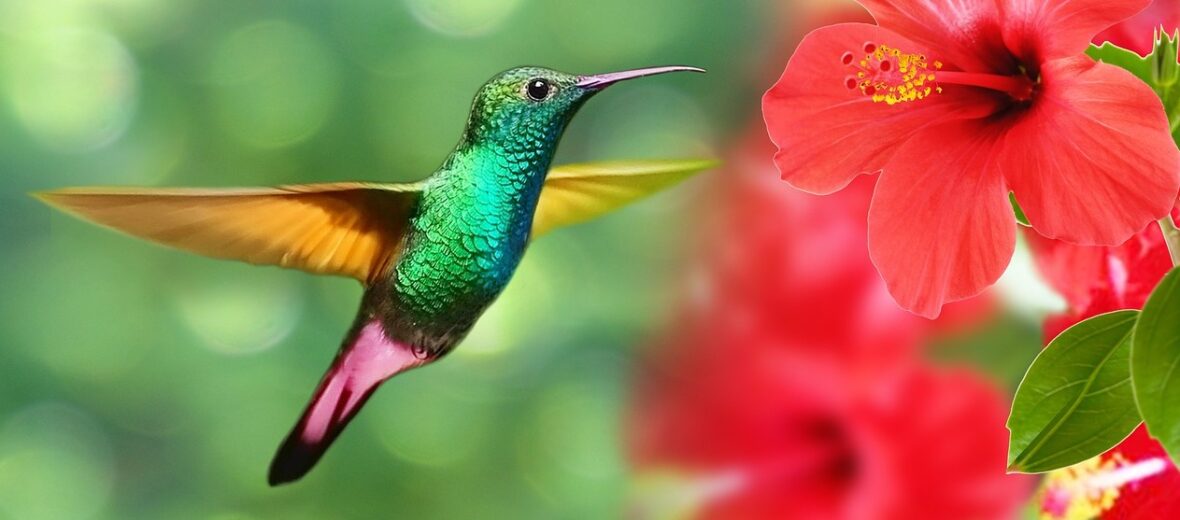 It's tiny, fast, hungry, and beautiful. Yes, it's a hummingbird! These little critters are always fun to watch and feed. They also make a really cool humming buzz as they zip past you in the garden or on the patio. These birds should be the spokesperson for energy drinks as they seem to have a limitless supply of energy.
First the stats…
Scientific name: Trochilidae
Weight: Up to .26 ounces
Length: Up to 5 inches
Wingspan: Up to 4.75 inches
Lifespan: Up to 5 years
Now some facts…
1.) The number of times a hummingbird's wings beat is different from one species to another, and ranges from 720 to 5,400 times per minute when hovering!
2.) Hummingbirds can fly in the rain and, like dogs, shake their heads to dispel drops of water. Unlike dogs, however, a hummingbird shakes its head violently, 132 times per second, and rotating 202° all while flying and maintaining direction!
3.) A hummingbird's wing beats take up so much energy, they spend the majority of their time resting on branches and twigs.
4.) Some hummingbirds fly at speeds greater than 33 mph.
5.) Approximately 25% – 30% of a hummingbird's body weight is flight muscle, as opposed to other birds, which averages just 15%.
But wait, there's more on the hummingbird!
To view more facts on this and many other critters, purchase my book Rainforest Critters. It's only $17.99 for an 84 page book! Available now through Amazon. Click the logo to purchase your copy now:
Now a Short Hummingbird Video
Want to suggest a critter for me to write about? Let me know here.
Learn more about all kinds of cool critters, right here!