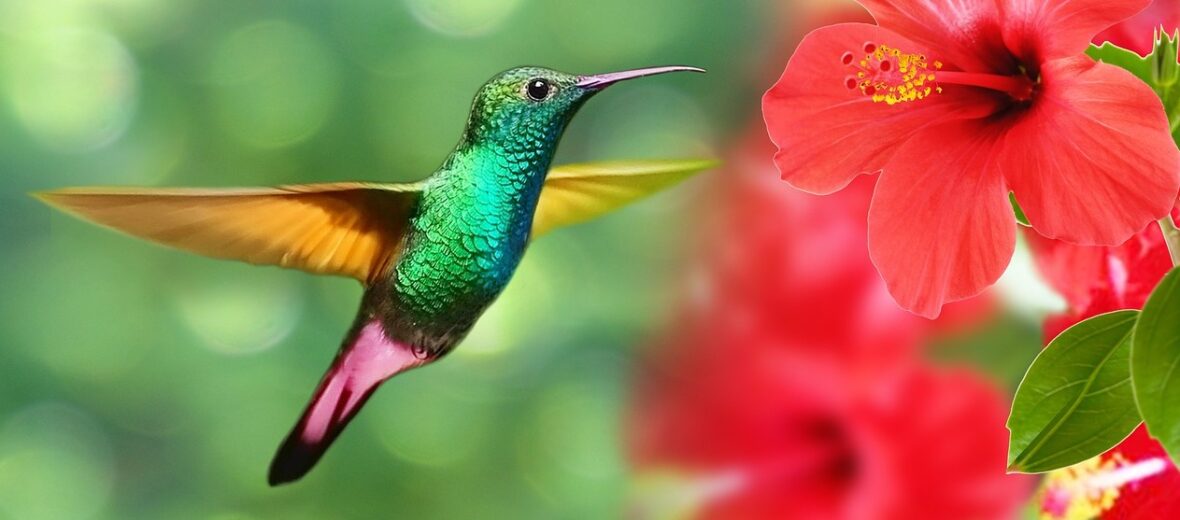 It's tiny, fast, hungry, and beautiful. Yes, it's a hummingbird! These little critters are always fun to watch and feed. They also make a really cool humming buzz as they zip past you in the garden or on the patio. These birds should be the spokesperson for energy drinks as they seem to have a limitless supply of energy.
First the stats…
Scientific name: Trochilidae
Weight: Up to .26 ounces
Length: Up to 5 inches
Wingspan: Up to 4.75 inches
Lifespan: Up to 5 years
Now some facts…
1.) The number of times a hummingbird's wings beat is different from one species to another, and ranges from 720 to 5,400 times per minute when hovering!
2.) Hummingbirds can fly in the rain and, like dogs, shake their heads to dispel drops of water. Unlike dogs, however, a hummingbird shakes its head violently, 132 times per second, and rotating 202° all while flying and maintaining direction!
3.) A hummingbird's wing beats take up so much energy, they spend the majority of their time resting on branches and twigs.
4.) Some hummingbirds fly at speeds greater than 33 mph.
5.) Approximately 25% – 30% of a hummingbird's body weight is flight muscle, as opposed to other birds, which averages just 15%.
But wait, there's more on the hummingbird!
6.) Did you know that they are the only birds that can fly backwards.
7.) Hummers are adept at burning both glucose and fructose, which are the individual components of sugar; a unique trait other vertebrates don't have.
Did you know…?
On an average day, a hummingbird will consume double its body weight in nectar.
8.) Hummingbirds have no sense of smell.
9.) The hummingbird's legs and feet are small and not very strong, so they are used only for perching, not for walking.
10.) A hummingbird's heart is relatively the largest of all animals at 2.5% of its body weight.
But wait, there's more on the hummingbird!
11.) Their tongue is flat and split at the tip, like a forked tongue. Each of the flaps is edged with fringe, which makes the tip of their tongue look like a feather. When they're resting, the flaps are rolled up in a tubular shape and stuck together. When a hummingbird feeds, it picks fluid up by protracting the tongue, spreading the bifurcated tip, which opens out flat, gets covered with fluid, then is brought back into the mouth.
12.) A hummingbird drinks nectar by protracting and contracting its tongue around 13 times per second.
13.) When hummingbirds migrate to the United States in the springtime, they cover 500 miles across the Gulf of Mexico, flying for 20 hours without stopping.
14.) Only the female hummingbirds build nests.
Now a Short Hummingbird Video
Want to suggest a critter for me to write about? Let me know here.
Learn more about all kinds of cool critters, right here!