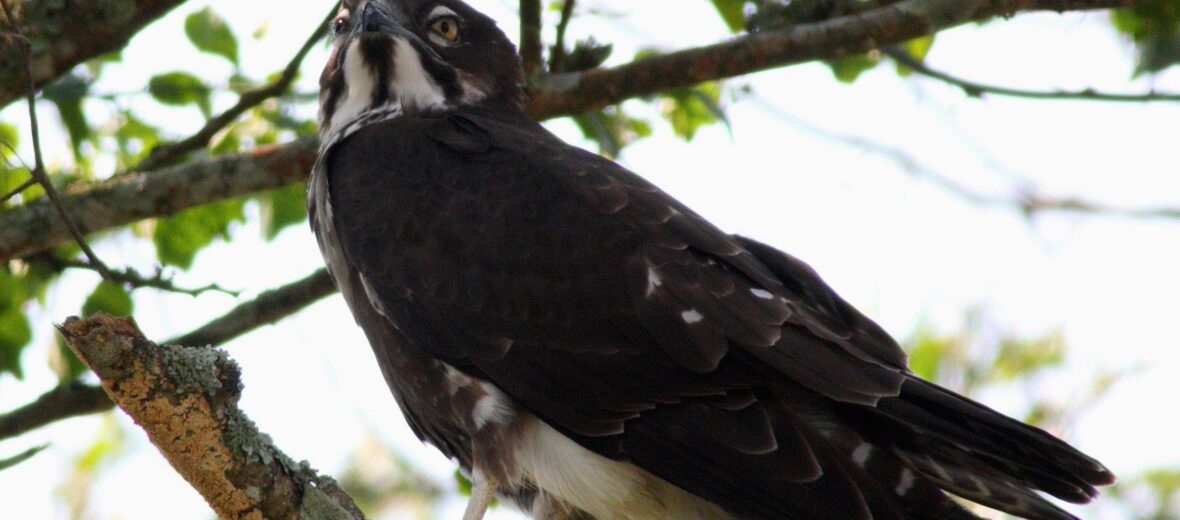 The bat hawk gets its name from the bulk of its diet… that being bats. These raptors are found from sub-Saharan Africa, Madagascar, south Asia, down to New Guinea. As long as there is plenty of open space to hunt, these birds aren't too picky as to where they live. They can live in rainforest habitats to semi-arid veldt (wide open, rural, South African landscape). With a distributed population of around 6,700, these birds of prey are listed as Least Concern by the IUCN. Their primary threat is nest damage from high winds. So climate change could have an effect on them.
First the Stats…
Scientific name: Macheiramphus alcinus
Weight: Up to 23 ounces
Length: Up to 17.7 inches
Wingspan: Up to 4 feet
Lifespan: Unknown
Now on to the Facts!
1.) These predators prey on various bats, nightjars, swallows, swifts, and sometimes insects.
2.) Smaller bats are caught with the bat hawk's talons and then swallowed whole, in mid flight. Impressive.
3.) Their prey only takes an average of 6 seconds to reach the raptor's stomach.
4.) Bat hawks are Crepuscular (active at dawn and dusk).
5.) Seeing as these birds swallow their prey whole and on the wing (in mid flight), they have evolved an abnormally large gape (ability to open their mouths) that is the largest gape of any known raptor, in relation to size.
But wait, there's more on the bat hawk!
6.) Males court the female via aerial displays and stunts.
7.) Females lay a single pale blue-green egg each breeding season. The egg hatches up to 45 days after laying.
Did you know…?
A whopping 49.3% of their hunts yield a kill!
8.) The bat hawk can capture and eat up to 11 prey items in as little as 18 minutes time.
9.) Unlike other raptors, bat hawks are not sexually dimorphic (males and females aren't too different in size or appearance).
10.) Their in-flight speed is up to 28 mph.
Now a Cool Bat Hawk Video!
Be sure to share & comment below! Also, check out the Critter Science YouTube channel. Videos added frequently!
Want to suggest a critter for me to write about? Let me know here.
Learn more about all kinds of cool critters, right here!