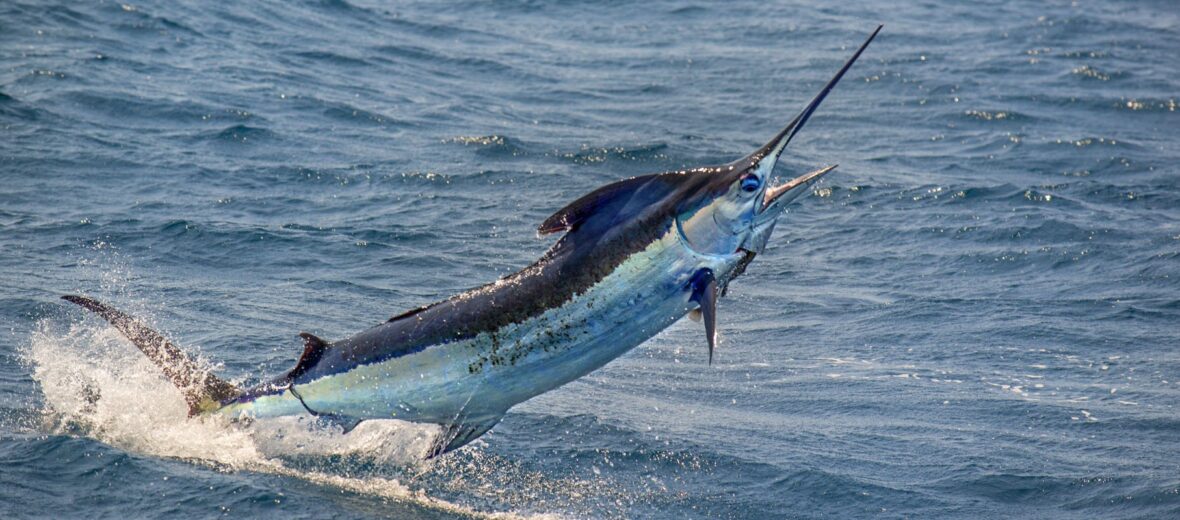 The swordfish, aka broadbill, is a predatory, fast-swimming, migratory fish that can be found in the tropical and temperate parts of the Atlantic, Indian, and Pacific Oceans. They can be found at depths of up to 1,800 feet and up near the surface of the water. These bony fish are among the ocean's fastest and strongest open ocean fish. Due to their stable numbers and wide distribution, these fish are listed as Least Concern by the IUCN.
First the Stats…
Scientific name: Xiphias gladius
Weight: Up to 1,400 lbs.
Length: Up to 15 feet
Lifespan: Up to 9+ years
Now on to the Facts!
1.) Swordfish use their sword-like appendage to slash side to side and stun fish, making prey easier to catch. No, they don't stab fish with their bill.
2.) These fish are ectothermic (get their heat from external sources). However, they have special organs next to their eyes that actually generates heat to keep their eyes and brain warmer than the surrounding water.
3.) Out of the 25,000+ known fish species, only 22 are known to have a mechanism like this. Some of the fish are marlin, tuna, and some shark species.
4.) The swordfish is highly sought after and is fished heavily throughout its range.
5.) They jump or breach from the water in an effort to dislodge pests, like remoras or lampreys, plus other parasites.
But wait, there's more on the swordfish!
6.) The swordfish preys on a wide range of prey items, like: barracudas, herring, lanternfishes, mackerel, rockfish, silver hake, squid, and crustaceans; to name a few.
7.) Solitary by nature, they can sometimes be found in small loose groups, separated by about 30+ feet from one another.
Did you know…?
These speedsters can swim at speeds of up to 22 mph.
8.) Their predators are mako sharks and orcas. But these predators tend to leave the adults alone and go for the younger swordfish.
9.) These fish reproduce via external fertilization. The female releases eggs into the water and the male releases sperm. The 2 meet and life begins anew.
10.) The swordfish has been used by astronomers, in the past, as another name for the constellation of Dorado.
11.) Swordfish are primarily nocturnal (active at night) predators.
Now a Short Swordfish Video!
Be sure to share & comment below! Also, check out the Critter Science YouTube channel. Videos added frequently!
Want to suggest a critter for me to write about? Let me know here.
Learn more about all kinds of cool critters, right here!