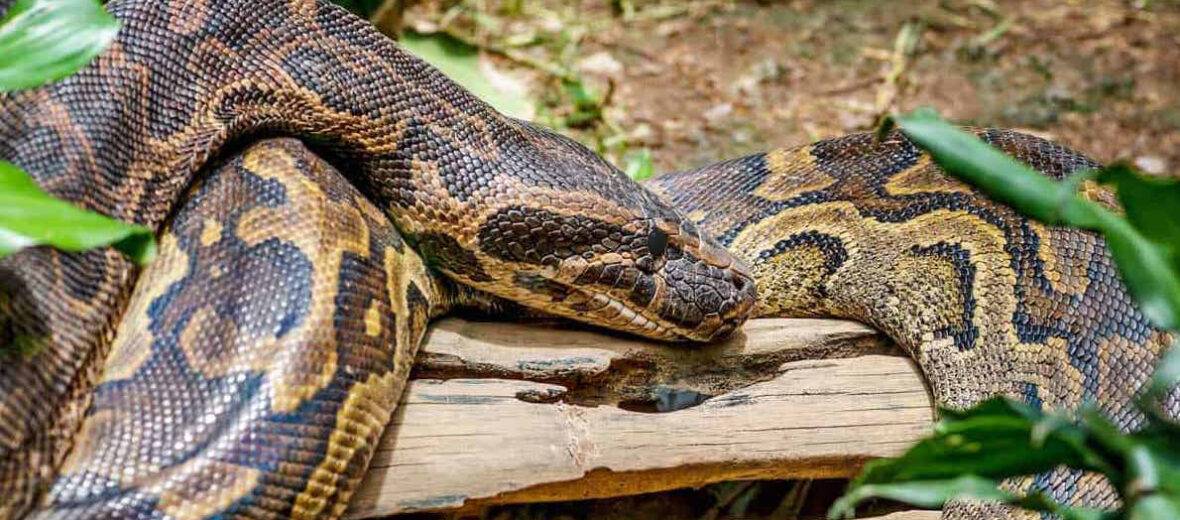 The African rock python is the largest python in Africa and there are 2 species: 1 is found in Ethiopia, Senegal, and Uganda. The other is found in Kenya, South Africa, and Zimbabwe. These snakes are considered an invasive species in Florida, due to the release of many that have also interbred with Burmese pythons and have caused a serious interruption with the local wildlife.
First the Stats…
Scientific name: Python sebae
Weight: Up to 121+ lbs.
Length: Up to 13+ feet
Lifespan: Up to 30 years
Now on to the Facts!
1.) They can be found in forest, savanna, semi-desert, grassland, and rocky habitats. These big critters can also be found near the edges of lakes, swamps, and rivers.
2.) Like all known pythons, they are solitary by nature. Only coming together to mate.
3.) Rock pythons are not only strong swimmers but can hold their breath for a long period of time.
4.) These snakes are nocturnal (active at night).
5.) Since pythons are not venomous, they rely on constriction to kill their prey. They bite their prey and wrap their coils around the animal in question. Then squeeze ever tighter until they animal can no longer draw in a breath and asphyxiation along with the pressure put on their heart stops its beating. Blood flow to the brain is also hindered.
But wait, there's more on the African rock python!
6.) African rock pythons are known for being very defensive and aggressive.
7.) They prey on rodents, monkeys, warthogs, antelopes, vultures, fruit bats, monitor lizards, and crocodiles.
Did you know…?
There have been incidents of human deaths at the hands of a rock python. There was even a case where an African rock python swallowed a 10-year-old boy whole! But attacks on humans are rare and don't typically end in consumption.
8.) In suburban environments, they prey on mice, rats, poultry, cats, dogs, and goats.
9.) Juveniles also prey on young leopards, lions, cheetahs, hyenas, jackals, and wild dogs.
10.) Females are oviparous (lay eggs) that lay up to 100 hard-shelled eggs.
But wait, there's still more on the African rock python!
11.) Hatchlings are protected by mom till they hatch. They are born up to 2 feet long.
12.) Like other pythons, they possess heat-sensing pits in the front of their face, called a loreal pit, at the tip of their nose. These are used, in part, to find prey and avoid predators.
Now a Short African Rock Python Video!
Be sure to share & comment below! Also, check out the Critter Science YouTube channel. Videos added frequently!
Want to suggest a critter for me to write about? Let me know here.
Learn more about all kinds of cool critters, right here!