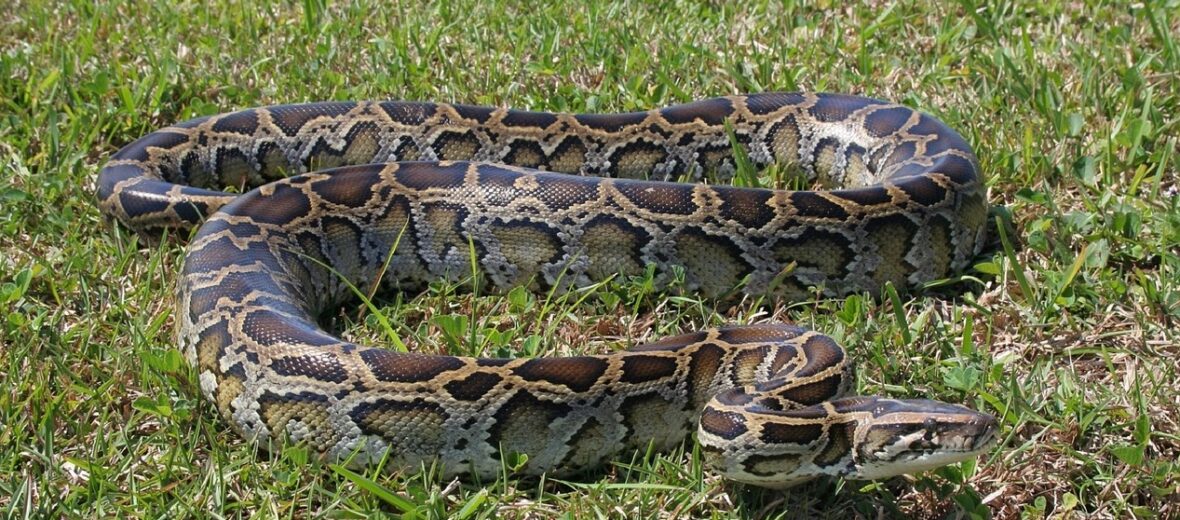 Hailing from southeast Asia, the Burmese python is a beautiful and impressive constrictor to behold indeed. They are also called Asiatic rock pythons and tiger pythons. These generally docile pythons are the third heaviest and the second longest known snake in the world. The Burmese python likes marshes, grasslands, woodlands, and forests. In the United States they are considered an invasive species, especially in Florida. However, in their natural habitat, they are listed as Vulnerable by the IUCN.
First the Stats…
Scientific name: Python bivittatus
Weight: Up to 200+ lbs.
Length: Up to 16+ feet
Lifespan: Up to 20+ years
Now on to the Facts!
1.) These pythons are primarily Terrestrial (spend most of their lives on the ground). However, they will spend part of their time in trees when younger… and not so heavy.
2.) They are at home in the water just as they are on land and can even hold their breath for up to 30 minutes.
3.) Like all constrictors, they don't rely on venom to kill their prey, but rather constriction. They grab a hold of a prey item and wrap their coils around their victim. They then continue to tighten their grip; squeezing tighter and tighter, until their eventual dinner's heart stops and they suffocate.
4.) Pythons, like all snakes prefer to eat their food head first. It just goes down easier that way.
5.) Burmese pythons prey on birds and mammals. They will even take down the occasional gator or croc.
But wait, there's more on the Burmese python!
6.) Like all snakes, they never really stop growing. They simply slow their rate of growth as they age.
7.) If fed properly, a newborn Burmese can grow to around 6+ feet long in just 1 year!
Did you know…?
In between meals, or when fasting, pythons are able to slow their metabolic rate. They produce less stomach acid and their heart rate slows. When digesting a meal, they amp up the digestive juices (40 times) and their heart rate accelerates (up to 40%) to pump more blood to their stomach for digesting their prey.
8.) Females can lay up to 36+ eggs in a single clutch each breeding season!
9.) Predators include: alligators, crocodiles, bears, wolves, bobcats, other snakes, large birds, and raccoons; depending on whether they're in Asia, or the United States.
10.) While incubating her eggs, the female will coil around the clutch of eggs and lightly quiver her body to generate heat, thus keeping the eggs at the optimal temperature.
But wait, there's still more on the Burmese python!
11.) They have 100 backwards-facing razor sharp teeth that are used to hold on to their prey.
Did you know…?
Vestigial limbs are present on either side of the cloaca as remnants of a time when they had legs. These legs, aka spurs, are not functional for locomotion.
12.) Burmese are Nocturnal (active at night) snakes.
13.) During the colder winter months they will brumate (Hibernation for reptiles).
14.) These pythons can only slither up to 2 mph, but slightly faster when younger.
15.) A python's lower jaws are actually multi-hinged and in 2 parts. This allows them to eat large prey.
Now a Short Burmese Python Video!
Also, check out the Critter Science YouTube channel. Videos added frequently!
Want to suggest a critter for me to write about? Let me know here.
Learn more about all kinds of cool critters, right here!