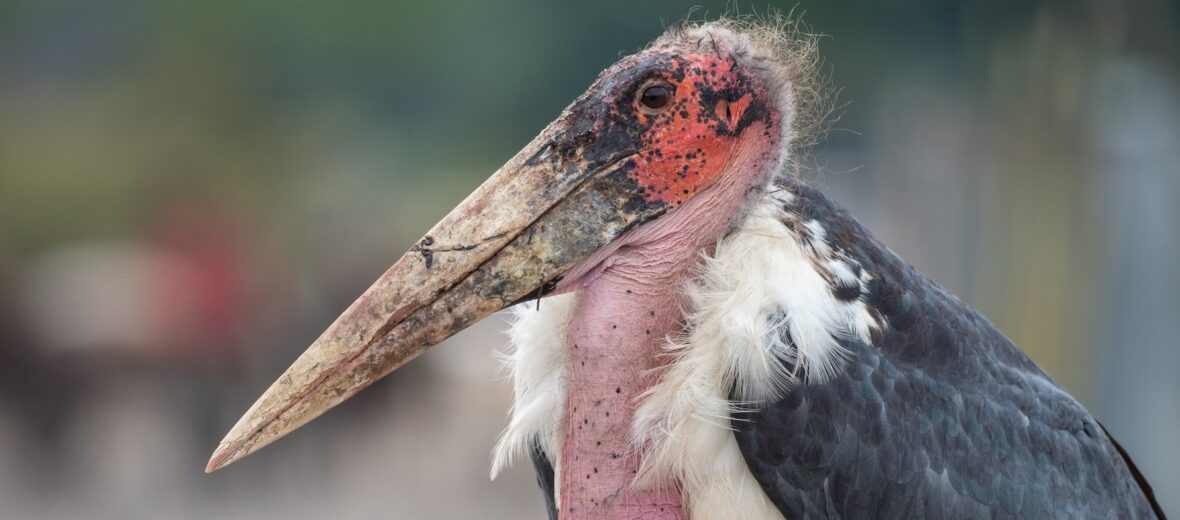 With its strong bill, the marabou stork pulls apart chunks of meat from the carcasses of dead animals. It's a nasty and dirty job, but someone's gotta do it. It is a tough life being nature's janitor! It's also a tough life in the harshness of Africa, with so much competition for food. These birds are listed as Least Concern by the IUCN.
First the Stats…
Scientific name: Leptoptilos crumenifer
Weight: Up to 18 lbs.
Height: Up to 5 feet
Wingspan: Up to 9.4 feet
Lifespan: Up to 40 years
Now on to the Facts!
1.) These critters are native to tropical Africa and can be found in Ethiopia, Senegal, Eritrea, Namibia, South Africa, Somalia, and Uganda.
2.) In order to stay cooler in the hot African sun, the marabou stork squirts excrement on its legs, like the shoebill.
3.) These storks are sexually dimorphic (there is a distinct difference between male and female), being as the male is larger than the female.
4.) The marabou stork doesn't have a syrinx (voice box), so it produces sounds by using its throat pouch or clattering its upper and lower bill together.
5.) Capitalizing on the element of scorched earth, marabou storks are attracted to brush fires. They simply fly ahead of the flames and attack animals as they flee from danger! Cheaters!
But wait, there's more on the marabou stork!
6.) Marabou storks have also been dubbed the undertaker bird, due to how it looks.
7.) They don't expend much energy, due to the heat, so they will typically just stand or sit most of the day.
Did you know…?
Marabou storks will also feed on live animals as well, if the opportunity arises.
8.) The marabou stork will often have to fight for its meal. Food isn't always abundant, after all. They typically grab scraps of a fallen animal that are dropped by hyenas and vultures.
9.) The stork pair will couple for life (monogamous). When they mate, they will build a large nest out of sticks and the female will lay between 2 – 3 eggs; a few days apart.
10.) Marabous have a commensalism (one organism benefiting and another organism neither being benefited or harmed) relationship with bees. They hollow out a carcass and the bees use the remaining bits of meat as food and the carcass as a home with which to lay their eggs.
Now a Short Marabou Stork Video!
Also, check out the Critter Science YouTube channel. Videos added frequently!