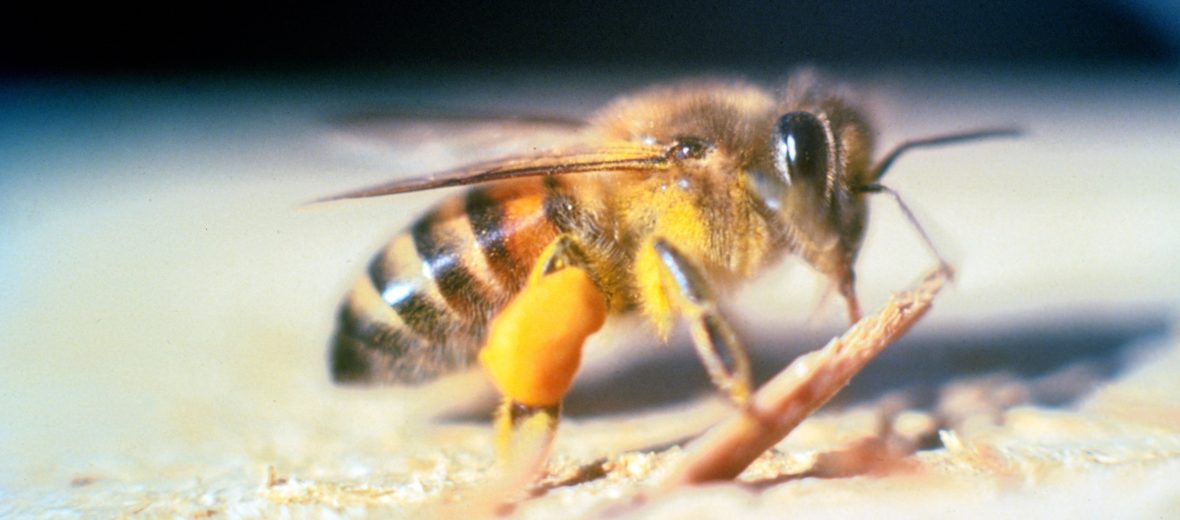 The killer bee, aka Africanized bee or Africanized honey bee, is another example of experimentation gone terribly wrong. The goal of Brazilian scientists was to crossbreed the European honey bee with the African honey bee, in an attempt to create a subspecies that was capable of producing more honey. Enter the epic fail. These new crossbreeds not only didn't produce more honey, but they proved to be extensively aggressive. As is the case in many sci-fi movies, swarms of the bees escaped the laboratory and began attacking and conquering native honeybee species in South America, Central America, Mexico, and the United States. These bees are invasive and not evaluated by the IUCN.
First the Stats…
Scientific name: Apis mellifera scutellata
Length: Up to .75 inch
Lifespan: Up to 3 years
Now on to the Facts!
1.) The lifespan of these bees varies, based on the role of the individual. Workers live up to 30 days, drones live up to 10 weeks, and the queen can live up to 3 years.
2.) Killer bees can only be distinguished from regular honey bees upon close inspection. And do you really want to do that?
3.) They have 4 wings but, like other honey bees, they are not strong flying insects.
4.) Africanized bees can dwell in colonies of up to 80,000 individuals.
5.) Certain perfumes, dark cloths, shiny jewelry, and loud sounds tend to trigger these critters into attacking.
But wait, there's more on the killer bee!
6.) The venom of Africanized bees is just as potent as normal honey bees. However, they tend to attack in large swarms, so multiple and sometimes fatal envenomations can take place.
7.) Upon stinging a perceived threat, the bee will release a pheromone that smells of ripe bananas. This scent is picked up by neighboring bees and triggers a mass attack.
Did you know…?
Africanized honey bees have been known to chase people up to a quarter of a mile, before giving up!
8.) These bees don't know how to lighten up either. They can stay agitated for upwards of 24-hours after an attack.
9.) There have been approximately 1,000+/- human deaths as a result of their creation and ultimate escape. On average, people receive upwards of 10x more stings from Africanized bees than from European honey bees.
10.) The old adage of hiding in water doesn't work with these little buggars. They will simply hover above the water for an extended period of time and wait for you to surface. Then they will resume their attack. Nice try though.
But wait, there's still more on the killer bee!
11.) These abominations were created in an attempt to produce more honey. They, in fact, produce up to 5x less honey than other honey bees.
12.) Upwards of 26 swarms escaped quarantine, in 1957, and have wreaked havoc ever since.
Did you know…?
In Tucson, Arizona, a study of several trapped swarms in 1994 discovered that only 15% had been Africanized bees; this number had grown to around 90% by 1997!
13.) They have killed not only humans, but horses, cows, and domestic cats and dogs.
14.) If you want to know who to blame for all this, that would be biologist Warwick E. Kerr. According to Kerr, in October 1957 a visiting beekeeper, noticing that the queen excluders (devices used to keep the queens from escaping) were interfering with the worker bees' movement, and removed them. This resulted in the accidental release of 26 Tanganyikan bee swarms. Oops!
15.) Regardless of the inherent risks, the Africanized honey bee is considered to be the honey bee of choice for apiculture (bee keeping), but only in Brazil.
16.) The notoriety of these bees was sensationalized by movies, like The Swarm. Where hundreds of thousands of Africanized bees flew around and killed countless people. I saw this movie in the theater, back in 1978. It was comedic.
Now a Short Killer Bee Video!
Be sure to share & comment below! Also, check out the Critter Science YouTube channel. Videos added regularly!
Want to suggest a critter for me to write about? Let me know here.
Photo credit: Jeffrey W. Lotz