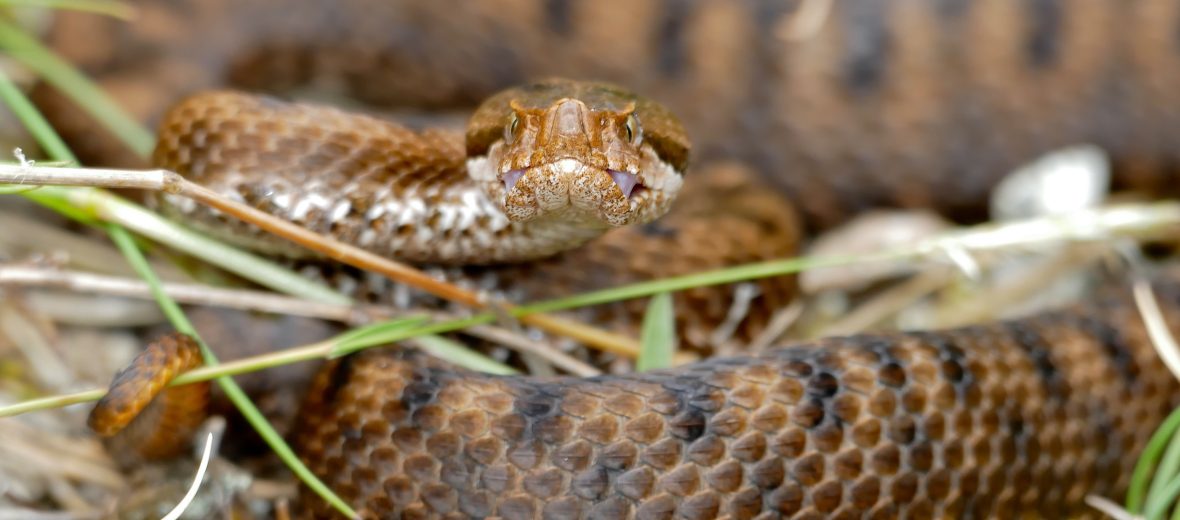 The asp, aka aspic viper, European asp, European viper, or Jura viper, hails from western Europe; more specifically Italy, France, western Germany, Spain, Slovenia, and Switzerland. They prefer glades, mountain meadows, scrublands, forest clearings, along the borders of woods, stone quarries, and even trash dumps. Due to a wide spread population, these snakes are listed as Least Concern by the IUCN. However, they do face the threats of habitat destruction at the hands of urban and commercial development, agriculture, aquaculture, and logging; roads and railroads dividing their territories which also result in vehicle strike (being hit with vehicles); as well as hunting & trapping. Their populations are also decreasing.
First the Stats…
Scientific name: Vipera aspis
Weight: Up to .88 lb.
Length: Up to 20 inches
Lifespan: Up to 20 years
Now on to the Facts!
1.) Asps are diurnal (active during the day).
2.) Like so many other vipers, these snakes are solitary and only come together to mate.
3.) These semi-fossorial (spend part of their lives underground) serpents utilize burrows of mice, rats, and voles, to name a few. They will brumate (hibernation for reptiles) during the colder winter months.
4.) Not being very aggressive, these snakes prefer to flee, rather than stay and attack, in order to defend themselves.
5.) The toxicity of their venom varies based on their region. Species in Switzerland tend to have the strongest venom.
But wait, there's more on the asp!
6.) A bite from 1 of these vipers can cause acute pain, impaired vision, difficulty breathing, paralysis in the bitten extremity, edema, skin discoloration, massive haemorrhagic necrosis (tissue death) can occur within just a few hours, and their venom can also affect glomerular structures which can cause renal failure and death.
7.) Asps prey on mice, rats, and other small mammals, lizards, and smaller birds.
Did you know…?
Responsible for up to 90% of snake bites in Italy, about 4% of untreated bites are fatal.
8.) The gestation (pregnancy) of these snakes lasts up to 4 months.
9.) Females produce up to 12 live young. The snakelets are born precocial (self sufficient) and fully venomous.
10.) Live young production, rather than laying egg clutches, is common amongst vipers.
Now a Short Asp Video!
Be sure to share & comment below! Also, check out the Critter Science YouTube channel. Videos added regularly!
Want to suggest a critter for me to write about? Let me know here.
Photo credit: Bernard Dupont