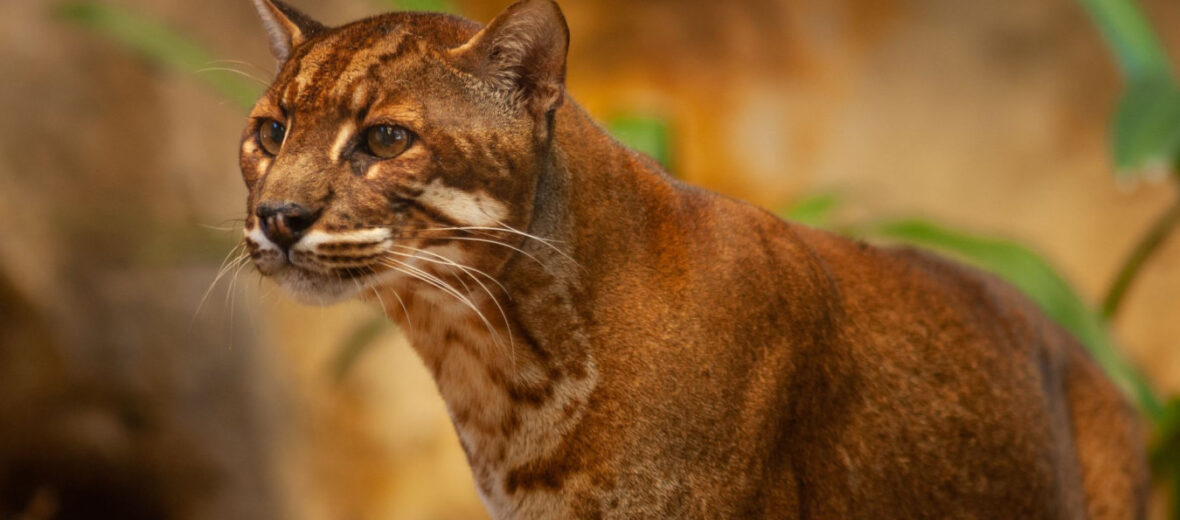 The Asian golden cat, aka fire cat, yellow leopard, or rock cat, is in the 2nd largest category of Asiatic cats. They are found in Southeast Asia, from Southern China, Sumatra, and India, to Nepal and Tibet. These felines prefer rocky habitats as well as tropical, subtropical evergreen rainforests, deciduous forests, and open grassland. Due to habitat destruction and hunting, these cats are listed as Near Threatened by the IUCN.
First the Stats…
Scientific name: Catopuma temminckii
Weight: Up to 25 lbs.
Length: Up to 2.9 feet, plus a 20 inch tail
Lifespan: Up to 20 years
Now on to the Facts!
1.) Asiatic golden cats are both diurnal (active during the day) and crepuscular (active at dawn and dusk).
2.) They are primarily terrestrial (spend most of their time on the ground).
3.) These felines are opportunistic Carnivores (eat meat) that feed on a variety of critters, including: muntjacs, ground squirrels, reptiles, birds, rodents, hares, wild pig, sambar deer, and buffalo calves.
4.) Golden cats travel up to 5.6 miles a day in search of food.
5.) Males are territorial and patrol an area of up to 18 square miles.
But wait, there's more on the Asian golden cat!
6.) They mark their territory via scratching on trees, scent, and urine marking.
7.) Asiatic golden cats communicate via meowing, purring, hissing, and growling.
Did you know…?
In Thailand and Myanmar they are known as fire cats. According to legends, carrying a single hair will protect a person from tigers, and burning their pelt will help drive tigers from the village. Neither of which are true and both are aiding in these cat's decline.
8.) Females give birth to 1 – 3 kittens a couple times a year. Both parents take care of their offspring.
Now a Short Asian Golden Cat Video!
Also, check out the Critter Science YouTube channel. Videos added frequently!
Want to suggest a critter for me to write about? Let me know here.
Learn more about all kinds of cool critters, right here!