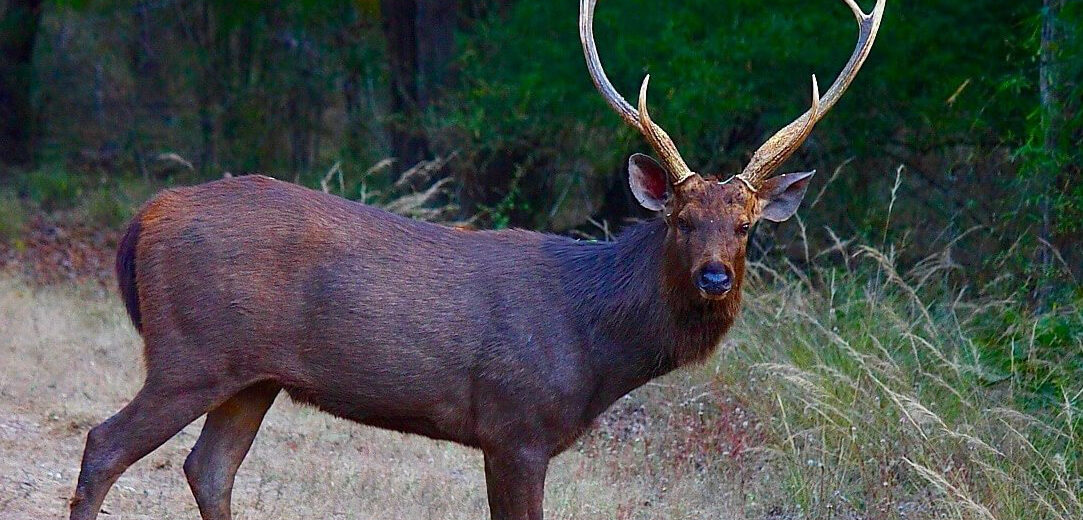 The Sambar deer is the largest species of deer in Asia. They hail from Cambodia, China, Nepal, Sri Lanka, and Thailand. These days they can also be found in Australia, North America, and New Zealand. Tropical rainforests, evergreen forests, and mixed forests are their favorite habitats. Due to their impressive antler display and meat, they are often hunted. Certain body parts are also used in traditional Asian medicine. Sadly, due to over hunting and habitat loss these large deer are listed as Vulnerable by the IUCN.
First the Stats…
Scientific name: Rusa unicolor
Weight: Up to 390+ lbs.
Length: Up t 6.7 feet
Height: Up to 5.3 feet, at the shoulder
Lifespan: Up to 26 years
Now on to the Facts!
1.) Samar deer are mostly nocturnal (active at night). Other times they are crepuscular (active at dawn and dusk).
2.) There are 7 known subspecies of Sambar.
3.) Males are solitary. Females travel in herds of up to 16 individuals.
4.) Even though they are undulates (hooved animals) they are surprisingly good swimmers.
5.) When threatened, they will emit a loud, repetitive honking call that sounds much like a car horn.
But wait, there's more on the Sambar deer!
6.) Their primary predators are tigers, dholes, wolves, leopards, and crocodiles.
7.) These opportunistic grazers eat a variety of foliage, grasses, fruits, herbs, water plants, buds, berries, bamboo, stems, and bark.
Did you know…?
Sambar deer can run up to 30+ mph!
8.) Males have up to 40 inch long antlers.
9.) Females produce a single fawn each breeding season, after up to a 9 month gestation (pregnancy).
10.) Like all deer, they communicate, in part, via scent and urine marking.
Now a Short Sambar Deer Video!
Also, check out the Critter Science YouTube channel. Videos added frequently!
Want to suggest a critter for me to write about? Let me know here.
Learn more about all kinds of cool critters, right here!