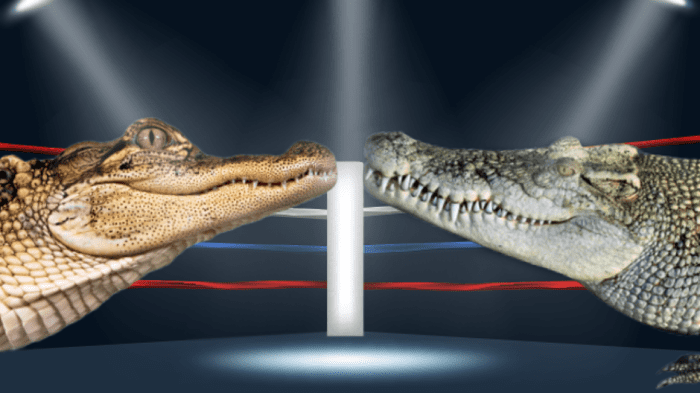 Alligators vs crocodiles… Sounds like a bad B movie, but today's article is on the details and comparisons of these two ferocious prehistoric beasts. They are both large, they both have lots of teeth, and they both are featured here today, via Critter Science. Although often confused with crocodiles, alligators can easily be distinguished from crocodiles by the shape of their snout. While alligators have broad u-shaped snouts, crocodiles' snouts are v-shaped. Enjoy!
First the Stats…
Alligator Stats…
Speed: 20 mph (Maximum, In The Water)
Scientific name: Alligator
Weight: American alligator: 500+ lbs, Chinese alligator: 79 lbs
Length: American alligator: 9.8 – 15 ft., Chinese alligator: 4.9 ft.
Lifespan: American alligator: 30 – 50 years
Crocodile Stats…
Speed: Saltwater crocodile: 15 – 18 mph, Nile crocodile: 19 – 22 mph, American crocodile: 20 mph
Scientific name: Crocodylinae
Weight: Saltwater crocodile: 880 – 2,200 lbs, Nile crocodile: 500 – 1,200 lbs, American crocodile: 880 – 1,100 lbs
Length: Saltwater crocodile: 14 – 17 ft., Nile crocodile: 14 ft., American crocodile: 13 – 16 ft.
Lifespan: Saltwater crocodile: 70 years, Nile crocodile: 70 – 100 years
Now on to the Facts!
Alligator Facts
1.) Alligators can bite down with 13,172 Newtons (or 2,960 pounds) of force, one of the most powerful bites ever recorded for a living animal.
2.) Due to a special blood vessel — the second aorta — they're able to shift blood away from their lungs and towards their stomachs, stimulating the production of strong stomach acids to break down their meals faster.
3.) The serum in American alligator blood is super effective at fighting bacteria and viruses, meaning that even if an alligator loses limbs in dirty swamps, they often times avoid infections.
4.) The largest alligator was Deinosuchus, a 40 foot alligatoroid that roamed coastal habitats all over North America around 70 million years ago.
5.) Young alligators are capable of eating about 23% of their body weight in a sitting, which is equivalent to a 180 pound person eating over 41 pounds of steak for dinner.
6.) Alligators can have up to 80 teeth at any given time. New teeth grow to replace worn ones and throughout a lifetime an alligator can have between 2,000 and 3,000 teeth.
7.) Larger alligators eat 6 to 7 percent of the juvenile population every year.
8.) Alligators have even been found to use tools like sticks to help them hunt. They rest submerged in the water with sticks on their heads, attracting birds that are seeking twigs to build nests. Alligators seem to only behave this way during the nesting season when there is a shortage of sticks and therefore high competition between birds for nest material.
9.) American alligators live in south-eastern areas of the United States such as Florida and Louisiana.
10.) Alligator eggs become male or female depending on the temperature, male in warmer temperatures and female in cooler temperatures.
Now on to the Facts!
Crocodile Facts
1.) Crocodiles vary in size. Largest crocodile species is Saltwater Crocodile which can reach 13-18 feet in length and weigh up to 2200 pounds. Smallest crocodile species is Dwarf Crocodile which can reach 5 feet in length and weigh up to 40 – 70 lbs.
2.) Crocodiles live on the Earth 240 million years. They appeared at the same time when dinosaurs appeared.
3.) Crocodiles can be often seen with their jaws wide open. They open their jaws to cool themselves because they don't have sweat glands.
4.) Like alligators, temperature of the nest determines the gender of the baby. When temperature is 31.6 degrees Celsius – males will develop. Temperature below and above 31.6 degrees induces development of females.
5.) The expression "cry crocodile tears" is based on the fact that crocodiles produce tears when they eat. They swallow too much air when they eat, which gets in touch with lachrymal glands (glands that produce tears) and forces tears to flow.
6.) Nearly 99% of crocodile babies will be eaten in the first year of their life by large fish, hyenas, monitor lizards, and larger crocodiles.
7.) Despite being classified as "reptiles", crocodiles (and all crocodilians, including alligators) are more closely related to dinosaurs and birds than to most animals classified as reptiles.
8.) Crocodiles have the most sophisticated heart in the animal kingdom, and actively change the destination of blood that flows through it depending on requirements.
9.) Crocodiles may possess a homing instinct. In northern Australia, three rogue saltwater crocodiles were relocated 249 miles by helicopter, but returned to their original locations within three weeks, based on data obtained from tracking devices attached to them.
10.) Crocodiles are found in tropical regions of Africa, Asia, the Americas, and Australia.
Now a Short Crocodilian Video!