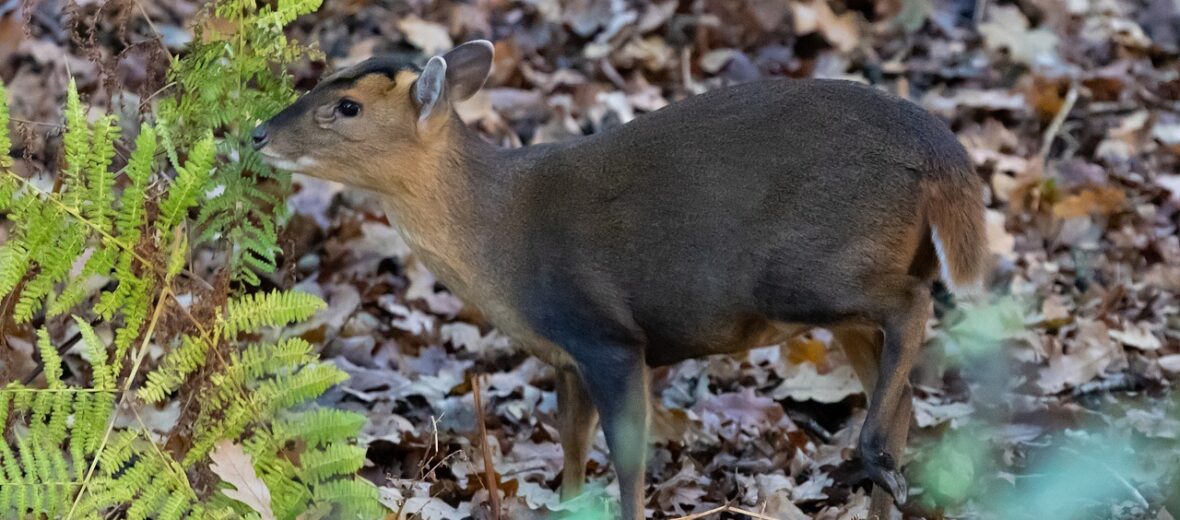 A member of the deer family, the muntjac is found in Taiwan, China, Sri Lanka, Indonesia, India, Japan, as well as England and Wales (as escaped zoo residents, from the 19th century). They prefer dense tropical and semi-tropical forests; as well as deciduous and evergreen forests. These critters are often hunted for their skin and meat. They also suffer from habitat loss and vehicle strikes. The IUCN lists various species anywhere from Least Concern to Critically Endangered.
First the Stats…
Scientific name: Muntiacus
Weight: Up to 81 lbs.
Length: Up to 4 feet
Height: Up to 2.6 feet, at the shoulder
Lifespan: Up to 16 years
Now on to the Facts!
1.) Both males and females have tusk-like canine teeth that the males use for fighting, for breeding rights.
2.) Muntjacs are omnivores (eat plant and animal matter) that feed on grass, leaves, fruits, seeds, bird eggs, small animals, and occasionally carrion (dead animals).
3.) Wolves, dholes, leopards, tigers, and reptiles, like crocodiles and pythons all prey on muntjacs.
4.) These critters are crepuscular (active at dawn and dusk).
5.) They are solitary and territorial creatures, only coming together to mate.
But wait, there's more on the muntjac!
6.) The muntjac has been around for approximately 15 – 30 million years.
7.) The Indian muntjac is one of the smallest known species of deer.
Did you know…?
Muntjacs are capable of creating a barking sound that is used to alert others of danger as well as to attract a mate.
8.) Females give birth to 1 and occasionally 2 offspring.
Now a Short Muntjac Video!
Also, check out the Critter Science YouTube channel. Videos added frequently!
Want to suggest a critter for me to write about? Let me know here.
Learn more about all kinds of cool critters, right here!