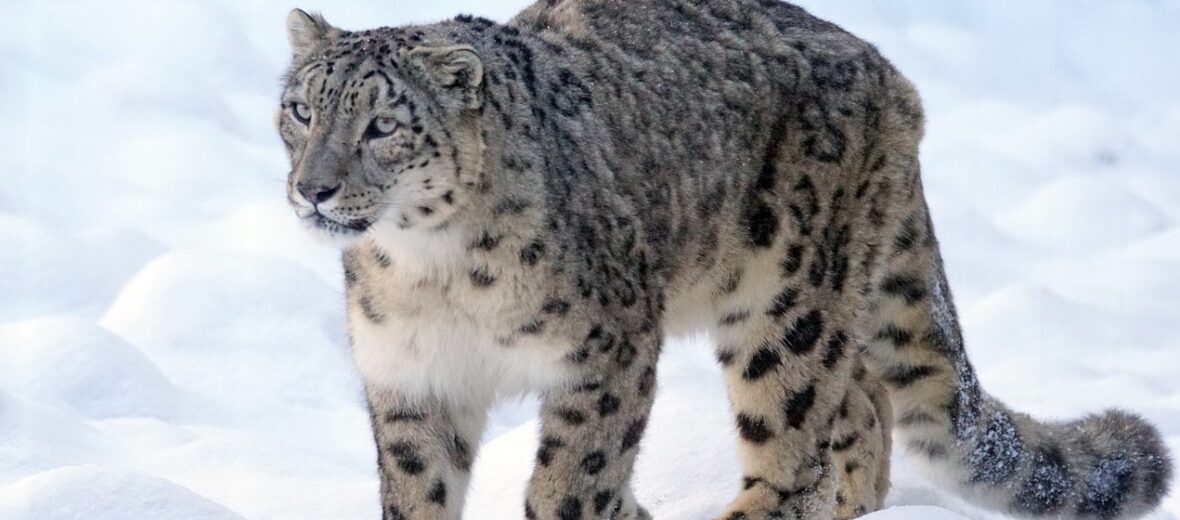 The snow leopard calls the high, rugged, and frigid mountains of central and south Asia their home. Once thought to have a few subspecies research has, for now, listed these beautiful cats as a monotypic species (a group that contains only 1 species). They occur at altitudes of up to 19,700 feet! During the cold winter months they retreat to altitudes of up to 6,600 feet. Snow leopards prefer rocky and broken terrain and can traverse in snow up to 30 inches deep with ease. However, they tend to follow previously made tracks made by other animals. It is estimated that there may only be 6,390 snow leopards left in the wild. They are listed as Vulnerable by the IUCN due to over-hunting and habitat destruction.
First the Stats…
Scientific name: Panthera uncia
Weight: Up to 72 lbs.
Length: Up to 3.6 feet, plus a 3 foot long tail
Height: Up to 2 feet, at the shoulder
Lifespan: Up to 21 years
Now on to the Facts!
1.) Like mountain lions, their long tails are thought to aid in balance.
2.) They are often referred to as ghosts of the mountain. This is due to their elusive and solitary nature.
3.) These cats are crepuscular (active at dawn and dusk).
4.) Snow leopards monitor a range of up to 621 square miles!
5.) Their primary prey are blue sheep. They also prey on ibex and argali.
But wait, there's more on the snow leopard!
6.) The fur on their stomachs is nearly 5 inches thick. This aids in keeping them warm.
7.) Snow leopards are not known to show aggression towards humans.
Did you know…?
They are capable of jumping up to 27 feet in a single bound!
8.) These leopards are more closely related to tigers than to leopards.
9.) Traveling up to 25 miles in a single night is not a problem for these critters.
10.) They don't roar like other big cats. Instead they have a piercing yowl that is so loud you can actually hear it over a loud river. They also growl, mew, and prusten (a sound produced from their nasal passages).
But wait, there's still more on the snow leopard!
11.) During the mating season snow leopards mate up to 36 times a day. Busy kitties.
12.) Females birth 2 – 3 cubs, with rare instances of up to 7.
Now a Short Snow Leopard Video!
Also, check out the Critter Science YouTube channel. Videos added frequently!
Want to suggest a critter for me to write about? Let me know here.
Learn more about all kinds of cool critters, right here!