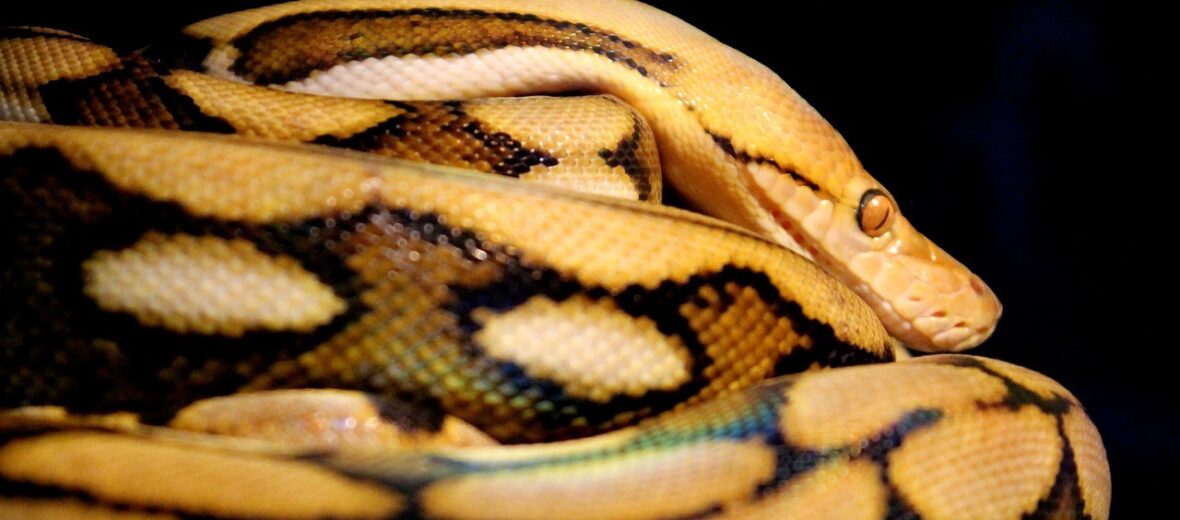 Ranking in at number 1 for the world's longest snake, it's the reticulated python. These giant serpents are the 2nd heaviest snake, after the anaconda. They can be found in southern and southeastern Asia in grasslands, woodlands, and rainforests near bodies of water. Even though they are hunted for their skin and captured for the pet trade, these snakes are listed as Least Concern by the IUCN.
First the Stats…
Scientific name: Malayopython reticulatus
Weight: Up to 350+ lbs.
Length: Up to 32+ feet
Lifespan: Up to 20 years
Now on to the Facts!
1.) Retics prey on rodents when the snakes are younger. As they grow they will prey on civets, binturongs, primates, pigs, chickens, and dogs. 1 snake was even recorded eating a young sun bear. Humans sometimes fall victim to these giants as well.
2.) Being constrictors, they rely on squeezing their prey to death rather than depending on venom.
3.) When traversing on land, they use 2 main types of locomotion: serpentine movement and rectilinear movement.
4.) Like all snakes, the reticulated python is deaf. So they rely on vibrations (with the help of an ossicle organ called a columella), warmth that is detected by special heat receptor pits around their nose, and scents picked up by their tongue; with the help of the Jacobson's organ (vomeronasal organ).
5.) Even though they are often kept as pets, care must be taken, as they not only become more dangerous the larger they get, but they are also known for their unpredictability regarding their mood.
But wait, there's more on the reticulated python!
6.) They get their name due to the net-like pattern of their skin.
7.) Eggs and newly-hatched pythons are at risk from predation by birds and some mammals. Adult snakes only have humans and crocodiles to fear.
Did you know…?
parthenogenesis has been recorded in captive specimens. This is where the female will birth a clutch of eggs without the aid of fertilization by a male snake. These eggs are fertile and yield baby snakes.
8.) A group of snakes is called a bed, den, knot, nest, or pit.
9.) Reticulated pythons are ambush predators that tend to wait by the water for passing animals who wish for a drink.
10.) These snakes are known in the snake keeping hobby as being unpredictable. They have been known to strike for no apparent reason and, at times, with great ferocity.
Now a Short Reticulated Python Video!
Also, check out the Critter Science YouTube channel. Videos added frequently!
Want to suggest a critter for me to write about? Let me know here.
Learn more about all kinds of cool critters, right here!