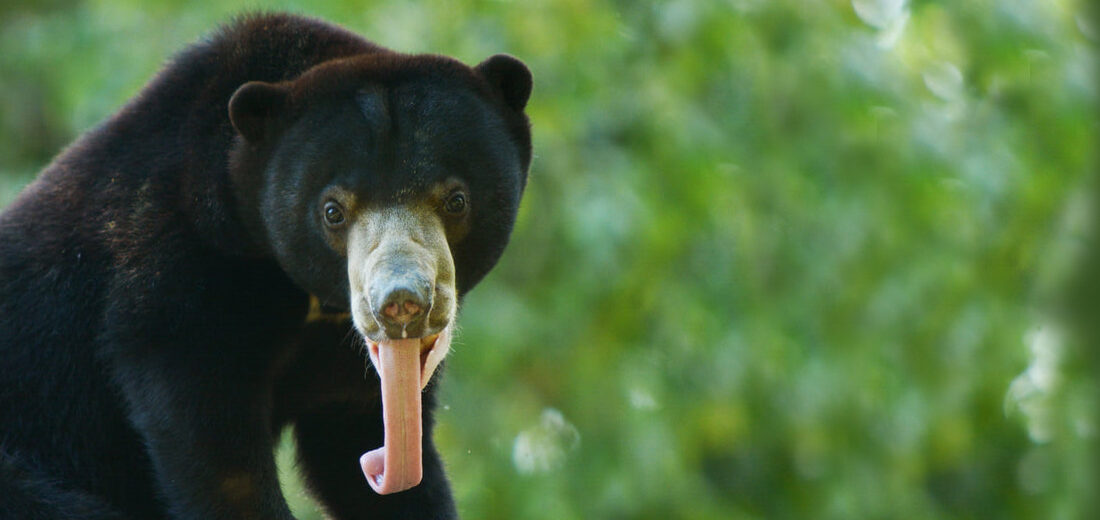 The sun bear, aka honey bear, basindo nan tenggil, or beruang madu, is the smallest recognized bear in the world, with the longest tongue. Their crescent shaped chest marking is like a fingerprint, in that it's different on each bear. It's also how they get their main namesake; it looks like a rising or setting sun. They prefer to live in tropical forests in Southeast Asia. Due to habitat destruction, hunting due to the bears encroaching on farmland, and poaching for the pet trade, these bears are listed as Vulnerable by the IUCN.
First the Stats…
Scientific name: Helarctos malayanus
Weight: Up to 150 lbs.
Length: Up to 5 feet
Height: Up to 3 feet
Lifespan: Up to 20+ years
Now on to the Facts!
1.) With their bare soles and long, sharp, 4 inch claws these bears climb trees with the greatest of ease and often even build nests in larger trees.
2.) Sun bears are diurnal (active during the day).
3.) These bears do not hibernate.
4.) They are Omnivores (eat plant and animal matter) that consume fruit, coconuts, honey, sap, lizards, rodents, small birds, and the softer portions of palm trees.
5.) Their strong jaws are capable of cracking open coconuts! Also, they may be 10 times smaller than a polar bear, but they have the same sized teeth!
But wait, there's more on the sun bear!
6.) Since they are consumers, in part, of fruit and plants, they are considered a keystone species, as their feces disperses seeds and thus helps with plant propagation.
7.) During mating season, the bears will engage in fake fighting, behavior that resembles hugging, head bobbing, head nuzzling, and barking.
Did you know…?
A sun bear's tongue can extend to over 9.8 inches! They use this long, Gene Simmons-like tongue to extract honey and tree sap.
8.) gestation (pregnancy) lasts typically up to 95 days. However, it has been observed that gestation has lasted up to 240 days; eluding to delayed implantation (meaning that the females can hold on to the male's sperm until conditions are optimal for cub birth).
9.) Females birth throughout the year, having several cycles each year. They birth up to 2 cubs, but usually just 1. The cubs are born blind, hairless, unable to smell or hear, and are totally reliant upon their mother.
10.) Sadly, these adorable bears are often captured for the pet trade. The mothers are killed and the orphaned cubs are taken and placed in enclosures that are too small and the cubs are malnourished.
Now a Short Sun Bear Video!
Also, check out the Critter Science YouTube channel. Videos added frequently!
Want to suggest a critter for me to write about? Let me know here.
Learn more about all kinds of cool critters, right here!