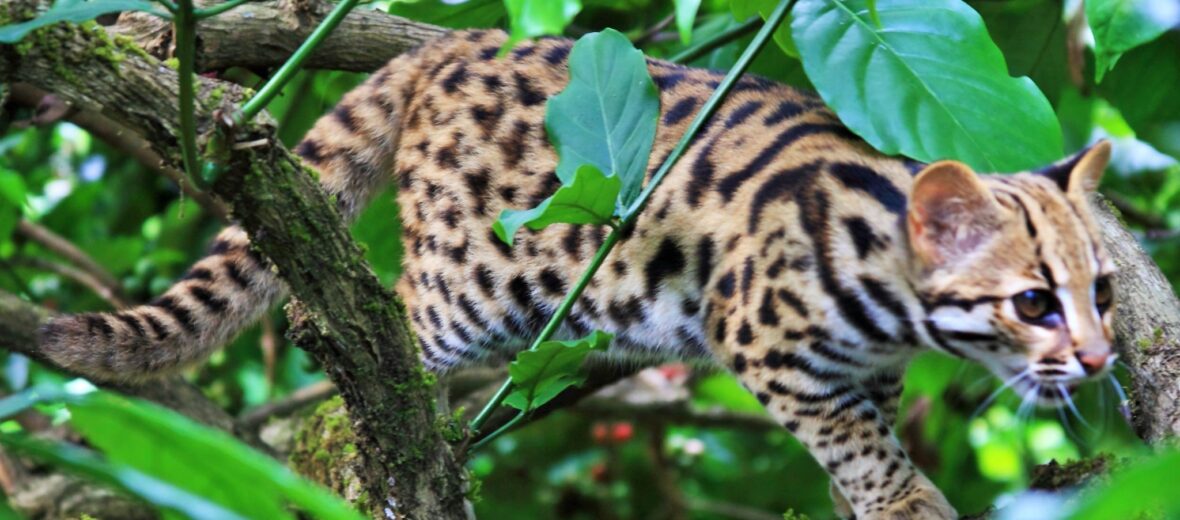 The leopard cat is a forest-dwelling feline found in southern and eastern Asia. They inhabit tropical rainforests, coniferous forests, deciduous forests, scrublands, and semi-desert areas; based on the subspecies (of which there are 10 known). Even though they are poached for their fur, taken for the pet trade, and suffer the affects of habitat loss, these cats are generally listed as Least Concern by the IUCN, with only 1 subspecies listed as Vulnerable.
First the Stats…
Scientific name: Prionailurus bengalensis
Weight: Up to 8.6 lbs.
Length: Up to 2.2 feet, plus a 1 foot long tail
Lifespan: Up to 17 years
Now on to the Facts!
1.) Leopard cats are solitary, only congregating to mate.
2.) These felines are nocturnal (active at night).
3.) They prey on shrews, hares, birds, fish, reptiles, amphibians, and even eat eggs.
4.) Their primary predators are leopards, tigers, dholes, and feral dogs.
5.) Leopard cats are equally at home on the ground as they are in the trees. They are also adept swimmers.
But wait, there's more on the leopard cat!
6.) Males are called tomcats, females are called queens, and the babies are called kittens.
7.) Territories are marked with feces, urine, and scratch marks.
Did you know…?
Interbreeding with domestic cats has yielded a popular cat called a Bengal.
8.) Females birth up to 4 kittens each season.
9.) A group of adult these cats is called a "clutter", a "clowder", or a "pounce". A group of younger cats is referred to as an "embarrassment" or a "kindle".
10.) Webbing exists between their toes that assists in swimming and navigating the wet ground.
Now a Short Leopard Cat Video!
Learn more about all kinds of cool critters, right here!
Be sure to share & comment below! Also, check out the Critter Science YouTube channel. Videos added frequently!