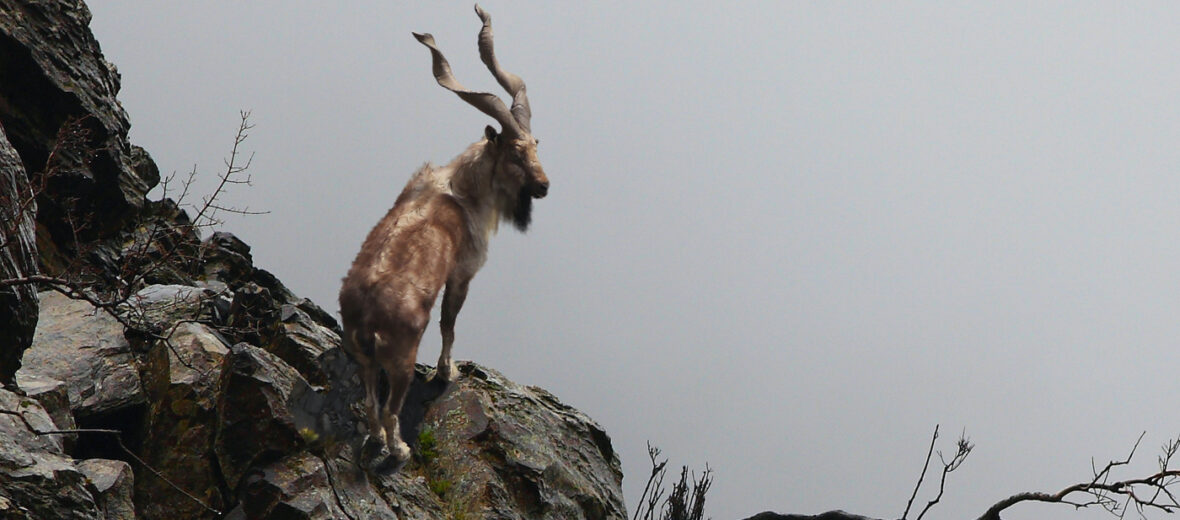 Although most goats are pretty skilled at parkour, as animals go, the markhor is not an acrobatic youngster, but rather a wild goat. There are 3 known subspecies of markhor that call the central and western parts of Asia their home. They live in mountainous areas as well as scrub and monsoon forests. Due to habitat loss, at the hands of deforestation, and over-hunting for their meat and prized horns (used in traditional Asian medicine and collected as trophies), these incredible animals are listed as Near Threatened by the IUCN.
First the Stats…
Scientific name: Capra falconeri
Weight: Up to 240 lbs.
Length: Up to 5.2 feet
Lifespan: Up to 13 years
Now on to the Facts!
1.) Their famous corkscrew horns can reach up to 63+ inches long! Females have horns as well, but they only reach up to 10+ inches long.
2.) As mentioned, there are 3 known subspecies: the flare-horned, the Kabul, and the Bukharan.
3.) These wild goats are sexually dimorphic in that males look markedly different than females.
4.) Markhor horns have rings that help determine the goat's age.
5.) Females travel in herds of 8 – 10 animals, while the males are solitary; only coming together for the rutt and to breed.
But wait, there's more on the markhor!
6.) They are preyed on by snow leopards, lynx, wolves, black bears, and even golden eagles.
7.) These diurnal (active during the day) creatures graze 12 – 14 hours a day! They eat grasses, shrubs, bark, twigs, fruit, and flowers.
Did you know…?
Even though they are large, markhors are very agile climbers. They need this skill to climb rocky hillsides and they can even scale trees!
8.) Females birth 1 – 2 babies, called kids each breeding season.
9.) Markhors can be found at elevations of up to 11,800 feet!
10.) During the rut, males will interlock their horns and wrestle the other to the ground. The first one to fall loses.
But wait, there's still more on the markhor!
11.) The markhor, aka shakhawat, is the national animal of Pakistan.
12.) It's thought that their name comes from the Persian words mar, which means snake, and chore, which means eater. It is presumed that they got this name due to their ability to stomp snakes to death to protect their harem.
Did you know…?
Pakistan International Airlines, in 2018, added a markhor image to the tail of each plane.
13.) Just like other goats and cows, they have a chambered stomach that helps to process their tough to digest foods. They also chew their cud to aid in digestion.
14.) The markhor is also known for smelling really bad. You can often smell them before you see them.
15.) Due to eating fruits and flowers, these wild goats are an important keystone species that help to disperse seeds throughout their range, propagating new plant growth.
Now a Short Markhor Video!
Also, check out the Critter Science YouTube channel. Videos added frequently!
Want to suggest a critter for me to write about? Let me know here.
Learn more about all kinds of cool critters, right here!