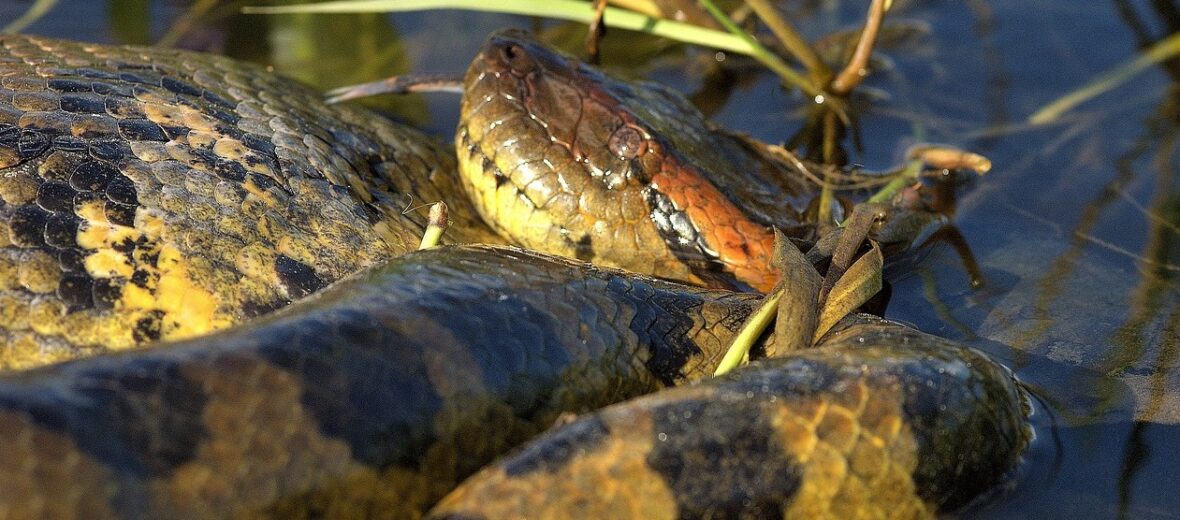 Squeezing their way into today's article are the anacondas. The green anaconda is the heaviest snake in the world. They are the second largest snake only in length to the reticulated python. But don't let their size fool you. They are a little cumbersome on land, but get them in the water and they're like serpentine ninjas, able to sneak up to prey and launch a deadly attack! These serpents are listed as Least Concern by the IUCN.
First the Stats…
Scientific name: Eunectes murinus
Weight: Up to 550 lbs.
Length: Up to 15 feet
Lifespan: Up to 20 years
Now on to the Facts!
1.) Like other snakes, the anaconda grows their entire life.
2.) Even thought they can hunt on land, they spend most of their lives in water, where they can submerge their entire body, keeping their eyes and nostrils above water.
3.) Anacondas can stay submerged for up to 10 minutes before needing to surface.
4.) Like other snakes the anacondas can go several weeks and even months without eating, after they've had a large meal.
5.) The anacondas will eat just about anything it can catch; including capybaras, pigs, birds, caimans, fish, and the occasional human!
But wait, there's more on the anacondas!
6.) Anacondas are not venomous. They have evolved from being venomous to having the ability to constrict their prey to death. Then they eat it whole… head first.
7.) An anaconda can eat around 40 lbs. of food in a single meal!
Did you know…?
The female anaconda gives birth to 20 – 30 live young. That's right. The babies are born live and not in eggs. They are born precocial (totally self sufficient).
8.) The anaconda is nocturnal which means they're active and hunt at night.
9.) Near their cloacal region (their anus), anacondas have spurs on their scales. These spurs are believed to have once been legs.
10.) There are 4 known species of anacondas: the yellow or Paraguayan anaconda, the green anaconda or common anaconda, the Beni or Bolivian anaconda, and the dark-spotted anaconda.
Now a Short Anaconda Video!
Also, check out the Critter Science YouTube channel. Videos added frequently!
Want to suggest a critter for me to write about? Let me know here.
Learn more about all kinds of cool critters, right here!