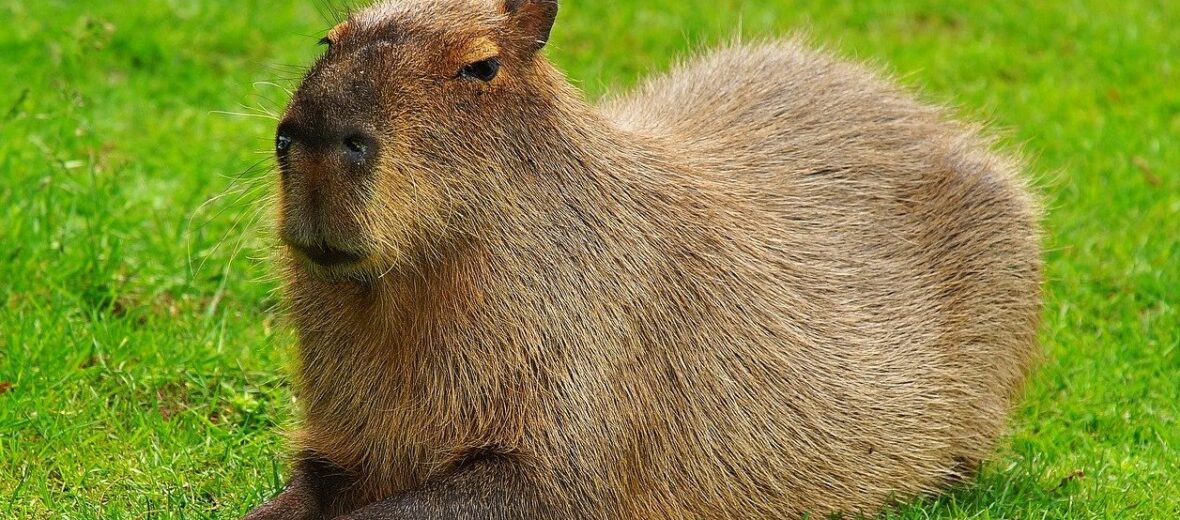 There are some who say the sewer rats in New York are the biggest, but they aren't even close to the sheer magnitude of the capybara. The capybaras are a very vocal rodent with a host of predators and a voracious appetite for vegetation. They are listed as Least Concern by the IUCN. Habitat loss is their primary threat. These critters are also hunted by humans.
First the Stats…
Scientific name: Hydrochoerus hydrochaeris
Weight: Up to 150 lbs.
Height: Up to 25 inches, at the withers
Length: up to 4 feet
Lifespan: Up to 12+ years
Now on to the Facts!
1.) The capybara is a herbivore (eats plant matter). 80% of their diet consists of only 5 different species of grasses. However, they will happily accept fruits and vegetables in captivity. Capybaras regurgitate their food and re-chew it to aid in digestion.
2.) Capybaras also eat their own feces to help with digesting their meals. This practice is called coprophagy.
3.) When they sense danger, the capybara will emit a barking noise. They are also very vocal animals that make other noises like whistles, purrs, grunts, and squeals.
4.) The male will spray a stinky urine-like substance from their hind quarters to mark their territory and will also urinate on the females to claim rights to them. Females also release a similar substance to notify the male that they are receptive to mating.
5.) You can often see them in groups of 10 – 40. In drier seasons they come together in groups of around 100 capybaras!
But wait, there's more on the capybara!
6.) Capybaras are excellent swimmers and spend a majority of their time in the water. They are also capable of holding their breath for around 5 minutes or more. There are dangers in the water though, in the form of anacondas and caimans. Leopards and mountain lions also prey on these large critters
7.) A capybara female has 1 litter a year that consists of around 4 pups. The pups will drink their mother's milk for about 4 months, but will begin grazing after just a few days.
Did you know…?
The capybara eats around 8 lbs. of grass a day!
8.) Their name roughly translates to, "one who eats slender leaves", in the Tupi language.
9.) Like some other rodents, capybaras mostly hop, rather than walk!
10.) The feet of a capybara are slightly webbed. This helps them maintain their balance in their marshy environment. They also have vestigial tails. This means that their tails are basically useless.
Now a Short Capybara Video!
Also, check out the Critter Science YouTube channel. Videos added frequently!
Want to suggest a critter for me to write about? Let me know here.
Learn more about all kinds of cool critters, right here!