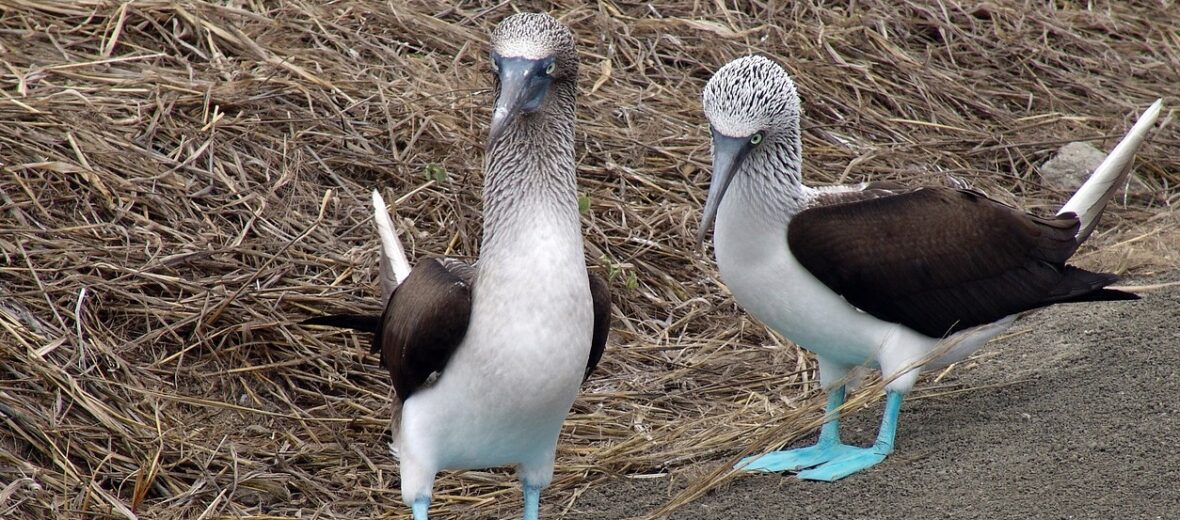 There are 6 known species of blue footed booby that can be found along the coasts of Central America, South America, and on certain islands in the Pacific Ocean. The Galapagos islands are famous for their booby population. Boobies used to be everywhere on the Galapagos islands, but due to predation, tourism, and pollution, their populations have dwindled. They are still listed as Least Concern by the IUCN, fortunately.
First the Stats…
Scientific name: Sula nebouxii
Weight: Up to 3.8 lbs.
Length: Up to 2.8 feet
Wingspan: Up to 5 feet
Lifespan: Up to 17 years
Now on to the Facts!
1.) The booby can fly nearly 25 miles an hour.
2.) Due to their almost clumbsy movements on land, the Spanish nicknamed boobies "bobo", which translates to stupid.
3.) Like many birds, the booby is diurnal (awake during the day).
4.) Being Carnivores, boobies mainly feed on small fish and squid. When feeding their young, the booby will regurgitate digested fish and squid for the chicks to eat.
5.) The booby is a fantastic diver! They can catch fish by diving into the water from heights of 80 feet or more, at the speed of around 60 mph.
But wait, there's more on the blue footed booby!
6.) The boobies are social birds that reside in flocks of 200+ birds.
7.) Male boobies produce whistling sounds and females communicate via a hoarse grunting noise.
Did you know…?
The male booby uses its blue feet, during mating, to attract a female. The male booby with the the brightest blue feet will typically get the girl.
8.) Boobies are monogamous which means they, like some penguins, mate for life.
9.) Boobies nest on the rocky coasts and islands during the evening.
10.) Female boobies lay 1 – 3 eggs. Boobies use their large feet to cover their eggs and keep the eggs warm during the incubation period, which lasts around 40 days. Both parents take part in the incubation of eggs and feeding of the chicks until they reach the age of 2 months and become ready for the independent lifestyle.
Now a Short Booby Video!
Also, check out the Critter Science YouTube channel. Videos added frequently!
Want to suggest a critter for me to write about? Let me know here.
Learn more about all kinds of cool critters, right here!