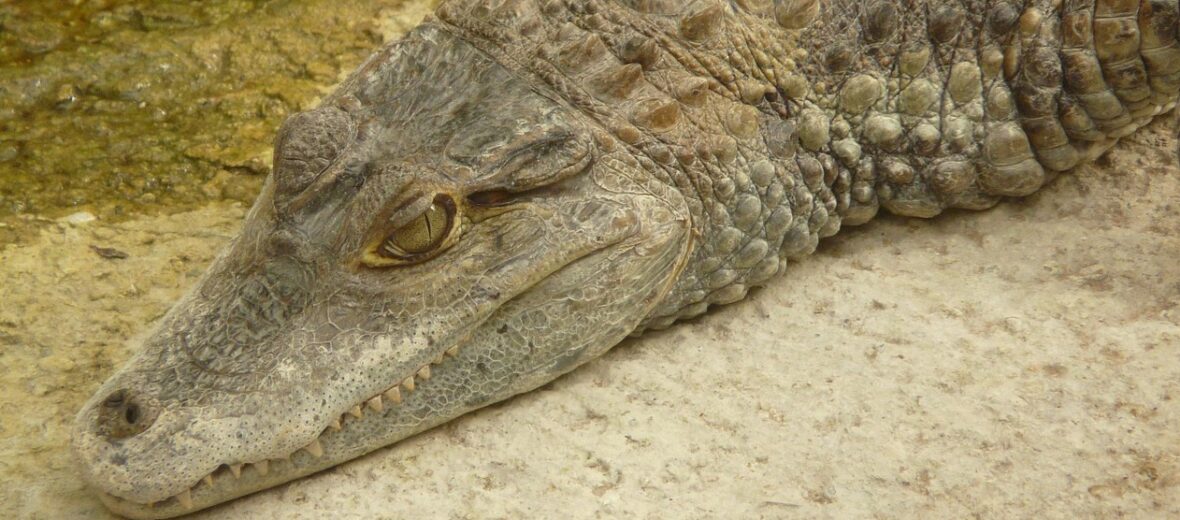 Among the large host of critters found in the Amazon is the caiman, a carnivorous (eats meat), semi-aquatic crocodilian that calls the Amazon rainforest its home. There are 6 known species of caiman found in Central and South America: in Puerto Rico, Brazil, Ecuador, Peru, Columbia, French Guyana, and even Cuba. The caiman can be found in flooded savannas, swamps, slow moving rivers, lakes, and mangroves.
First the Stats…
Scientific name: Caimaninae
Weight: Up to 1,000 lbs.
Length: Up to 16 feet
Lifespan: Up to 40 years
Now on to the Facts!
1.) Their long, flattened tail is used for swimming and for protection against predators.
2.) Caimans have excellent sight and hearing.
3.) Its diet usually consists of crustaceans, fish, small reptiles, and birds. Young caimans eat a variety of invertebrates.
4.) Humans, jaguars, and larger caimans are their primary predators.
5.) These crocodilians are beneficial to their environment in that larger caimans (black caiman) help to naturally cull capybaras and they all feed on piranha.
But wait, there's more on the caiman!
To view more facts on this and many other critters, purchase my book Rainforest Critters. It's only $17.99 for an 84 page book! Available now through Amazon. Click the logo to purchase your copy now:
Now a Short Caiman Video!
Also, check out the Critter Science YouTube channel. Videos added frequently!
Want to suggest a critter for me to write about? Let me know here.
Learn more about all kinds of cool critters, right here!