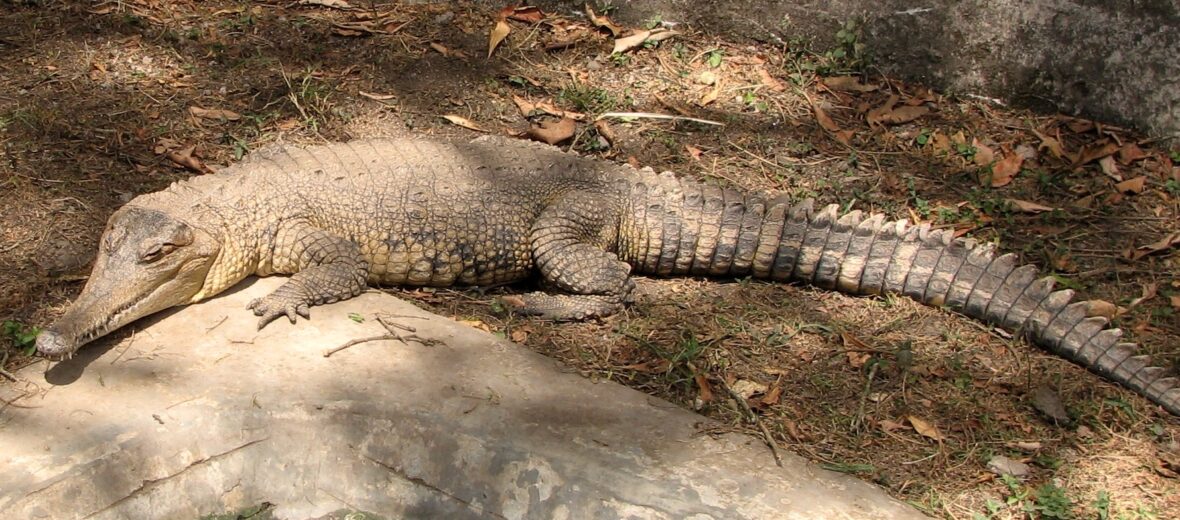 The slender-snouted crocodile is a medium sized croc species that is native to the freshwater lakes of Lake Tanganyika and Lake Mweru in the southeast to the Gambia River in the west. You can also find them in Cameroon, Central African Republic – Congo, The Democratic Republic of the Congo, Côte d'Ivoire, Gabon, Liberia, Sierra Leone, Gambia, Ghana, Nigeria, Guinea, Tanzania, and Senegal. With only an estimated maximum of 20,000 wild individuals remaining, these crocodiles are listed as Critically Endangered by the IUCN. This is due to habitat destruction, hunting, trapping, invasive species, disease, water and habitat pollution, and climate change.
First the Stats…
Scientific name: Mecistops cataphractus
Weight: Up to 500 lbs.
Length: Up to 13 feet
Lifespan: Up to 50 years
Now on to the Facts!
1.) Juveniles prey on fish and invertebrates while adults prey on fish, mammals, birds, turtles, and even snakes.
2.) Like other crocs, their eyes, ears, and nose all sit on top of their head. This affords them the ability to rest almost completely underwater while still having their main senses above water.
3.) The term crocodile tears comes from the fact that crocs do weep. But not out of sadness, rather to expel excess salts from their body.
4.) They have been known to corral fish into shallower water, for easy catching.
5.) Just like other crocodiles, the slender-snouted crocodile is solitary, sans mating season.
But wait, there's more on the slender-snouted crocodile!
6.) When the juvenile crocs are ready to hatch from their eggs, they make a chirping sound. Mom, then excavates the eggs from the dirt mound and scoops up eggs in her mouth. She will then, ever so gently, bite the eggs to crack them open enough for the baby to escape.
7.) These crocs have excellent senses of sight, hearing, and smell.
Did you know…?
These are one of the few crocodillians known to climb trees!
8.) Females can lay up to 27 eggs, but usually up to 16.
9.) As is the case with all crocodillians, temperature dictates gender. Females are produced with cooler temperatures while males are produced with higher temperatures.
10.) Crocodiles and alligators both have a third eyelid, called a nictitating membrane. This is utilized while underwater to help protect their eyes, while still affording limited eyesight.
Now a Short Slender-Snouted Crocodile Video!
Be sure to share & comment below! Also, check out the Critter Science YouTube channel. Videos added frequently!
Want to suggest a critter for me to write about? Let me know here.
Learn more about all kinds of cool critters, right here!