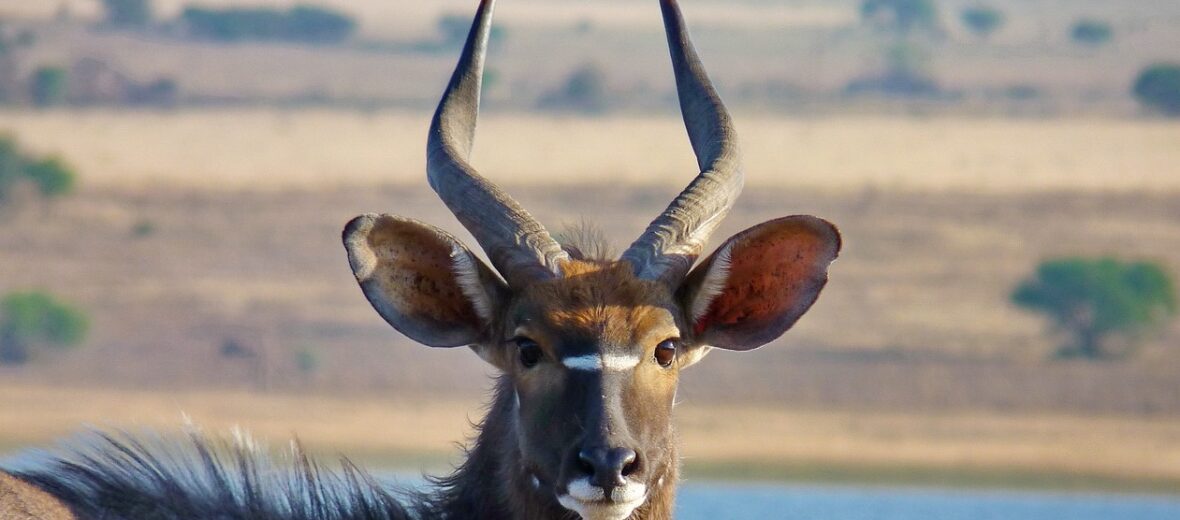 The nyala is a species of antelope that can be found in thick lowland woodlands, thickets, and green river country in the Lower Shire Valley in Malawi all the way through Zimbabwe and Mozambique to eastern South Africa and even Swaziland. Even though they have to compete with agricultural needs for food and water, hunters, and disease, these shy antelopes are still listed as Least Concern by the IUCN.
First the Stats…
Scientific name: Tragelaphus angasii
Weight: Up to 190 lbs.
Length: Up to 6.4 feet
Height: Up to 43 inches, at the shoulder
Lifespan: Up to 19 years
Now on to the Facts!
1.) Males possess up to 28 inch horns.
2.) This species is sexually dimorphic in that males are quite a bit larger than females and females don't have horns.
3.) Nyalas are both nocturnal (active at night) and crepuscular (active at dawn and dusk).
4.) Males are solitary while females live in herds of up to 10.
5.) When they sense danger, they will emit a dog-like, high-pitched bark.
But wait, there's more on the nyala!
6.) Being herbivores, nyala will graze on grass, foliage, flowers, fruits, and twigs.
7.) Nyala males are polygynous (1 male mates with several females).
Did you know…?
Nyalas have scent glands located on their feet. This allows them to leave their scent wherever they go.
8.) After a 7 month gestation (pregnancy) the female will birth a single calf.
9.) The Tsonga name for these antelopes "nyala" may come from English, coupled with Zulu "inyala".
10.) Having no defenses, to speak of, nyalas rely on camouflage and the warning calls of impala, kudu, and baboons to alert them of danger.
But wait, there's still more on the nyala!
11.) They are preyed on by lions, leopards, hyenas, and African wild dogs.
12.) Battles for breeding rights can be quite brutal and sometimes lead to death.
Now a Short Nyala Video!
Be sure to share & comment below! Also, check out the Critter Science YouTube channel. Videos added frequently!
Want to suggest a critter for me to write about? Let me know here.
Learn more about all kinds of cool critters, right here!