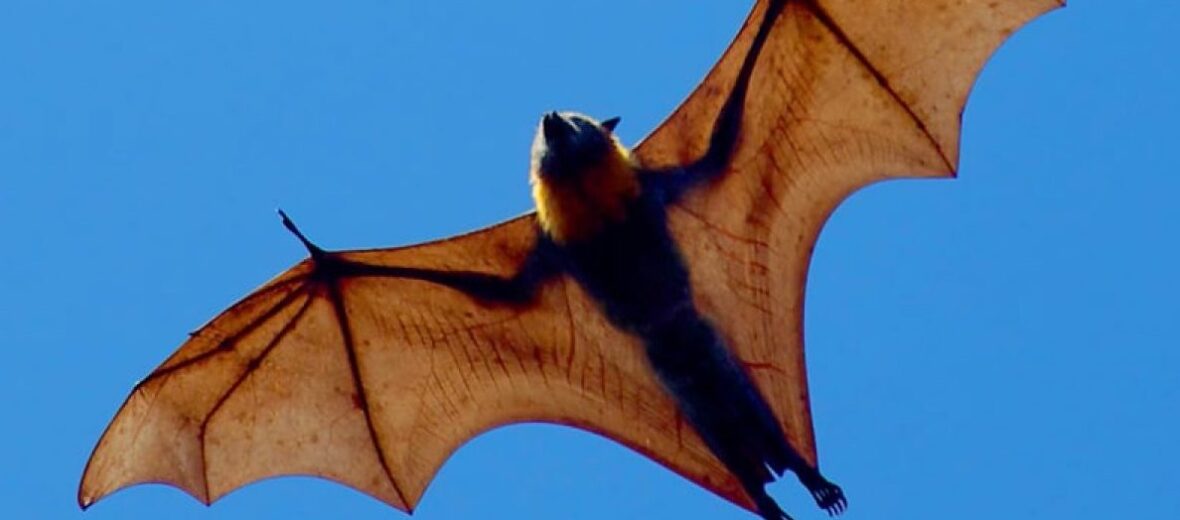 The giant golden-crowned flying fox, aka golden-capped fruit bat or giant fruit bat, hails from the Philippines. These big critters like mature, primary and secondary forest biomes. Due to habitat destruction at the hands of logging and urban development, mining, hunting, trapping, and general human intrusion these bats are listed as Endangered by the IUCN. Their numbers are decreasing daily. This article is on special request from my friend, Shawn.
First the Stats…
Scientific name: Acerodon jubatus
Weight: Up to 2.4 lbs.
Length: Up to 11.4 inches
Wingspan: Up to 5.5 feet
Lifespan: Up to 23 years
Now on to the Facts!
1.) Like other bats, these critters are nocturnal (active at night).
2.) These bats can fly up to 25 miles, each night, in search of food.
3.) Golden-crowned flying foxes have excellent eyesight. So they don't rely on echolocation to find food.
4.) A group of bats is called a colony, cloud, or flock.
5.) They prefer figs and ficus tree fruit, thus making them Frugivores.
But wait, there's more on the giant golden-crowned flying fox!
6.) Golden-crowned flying foxes are polygynous (males mate with multiple females.
7.) Contrary to popular belief, these bats don't poop out of their mouths. They gorge themselves of fruit and extract the juices, then spit out the pulp that remains.
Did you know…?
They have the longest recorded forearms of any living bat species.
8.) Philippine eagles, white-bellied sea eagles, red-backed sea eagles, and reticulated pythons all prey on these bats.
9.) Females birth a single pup between April – June.
10.) The giant golden-crowned flying fox exudes a peculiar odor, yet doesn't possess scent glands.
But wait, there's still more on the giant golden-crowned flying fox!
11.) Being considered mythical creatures, these bats have often been dubbed Chupacabras. Named after the famous cryptozoological creature.
Did you know…?
The golden-crowned bats often roost with Malayan flying foxes. This large community of bats helps to stave off predators.
12.) Due to the results of DNA profiling, these bats are actually genetically similar to foxes.
13.) These bats are considered a keystone species, in that their consumption of fruit helps to spread the growth of new fruiting plants and trees.
14.) They also engage in communal grooming and play fighting. This helps to remove parasites and strengthen bonds.
15.) Flying foxes take frequent baths to clean themselves of parasites and keep clean.
Now a Short Giant Golden-Crowned Flying Fox Video!
Be sure to share & comment below! Also, check out the Critter Science YouTube channel. Videos added frequently!
Want to suggest a critter for me to write about? Let me know here.
Learn more about all kinds of cool critters, right here!