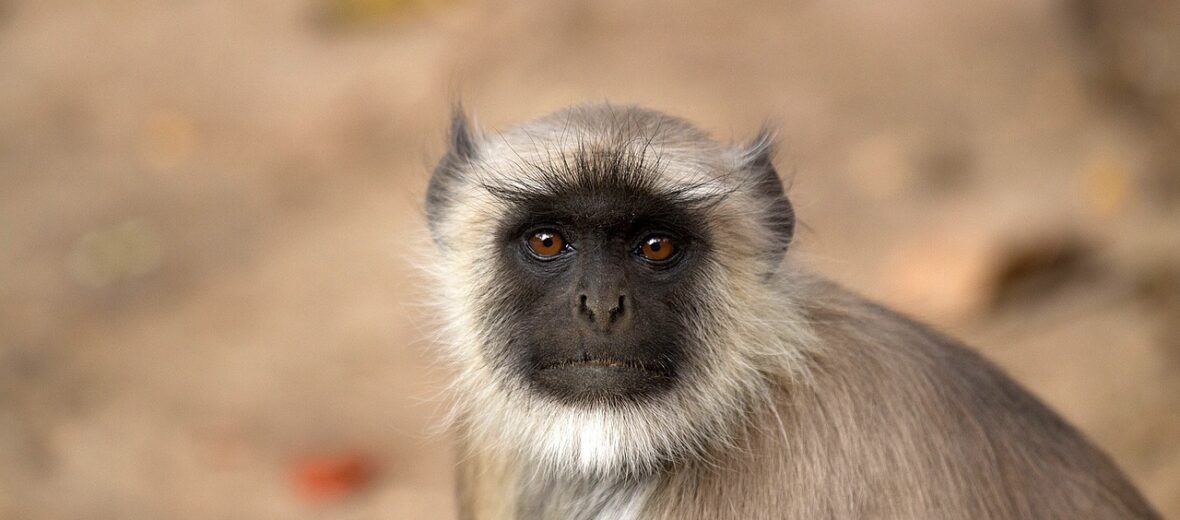 Found in Bangladesh, Burma, India, Pakistan, and Sri Lanka it's the gray langur monkey. These adaptable primates can live in deserts, warm, humid swamps, dry, torn scrubs, lowland forests, mountain forests, and can even be found in urban areas. There are 15 known subspecies of langurs. Many are listed as Least Concern, but some are listed as Near Threatened and Endangered, due to habitat loss, hunting, and pollution.
First the Stats…
Scientific name: Semnopithecus
Weight: Up to 58 lbs.
Length: Up to 31 inches, plus a 40 inch tail
Lifespan: Up to 18 years
Now on to the Facts!
1.) Gray langurs are also known as Hanuman langurs.
2.) They primarily eat leaves, but will also eat shoots, roots, fruits, seeds, flowers, and grass.
3.) These old world monkeys (those from African and Asian decent) are typically a little on the lazy side, as they don't get much nutrition from the foods they eat.
4.) Langurs are equally at home in the trees (Arboreal) and on the ground (Terrestrial).
5.) While traversing on the ground, they walk quadrupedally (using all 4 limbs).
But wait, there's more on the gray langur!
6.) Gray langur monkeys are Diurnal (active during the day) and spend the evenings up in the trees for protection.
7.) Leopards, dholes, tigers, jackals, wolves, Asian black bears, and pythons often prey on langurs.
Did you know…?
They have the ability to jump over 15 feet, horizontally! These monkeys can also handle a 40 foot drop from branch to branch or from tree to ground!
8.) Infanticide is commonplace among gray langurs. This is where a new, higher ranking male takes over. He will then kill all the offspring that weren't fathered by him.
9.) Females birth 1 infant each breeding season. But sometimes twins are born.
10.) Grays make a lot of vocalizations to communicate. Sounds such as: whoops, harsh barks, coughing barks, grunting barks, rumbling screams, pant barks, grunts, honks, and hiccups are all part of their communication.
Now a Short Gray Langur Video!
Also, check out the Critter Science YouTube channel. Videos added frequently!
Want to suggest a critter for me to write about? Let me know here.
Learn more about all kinds of cool critters, right here!