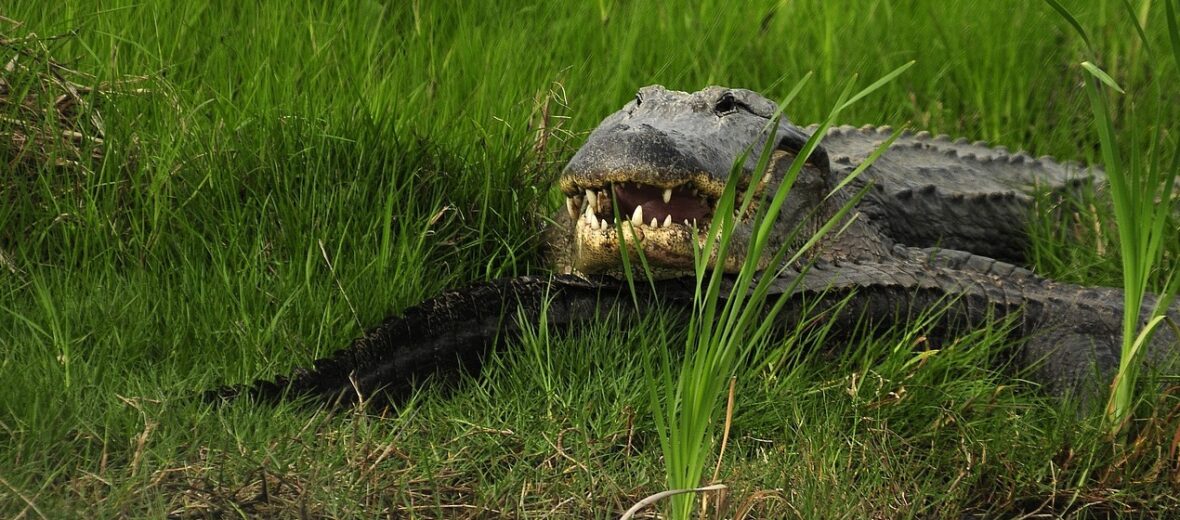 Once listed as Endangered, the American alligator has made a remarkable comeback. They now number over 1 million strong! This is thanks to habitat preservation, federal and state conservation measures, and the alligator products plummeting. The American alligator is located in the U.S. from North Carolina to the Rio Grande in Texas. These gators are typically seen in freshwater, slow-moving rivers, marshes, swamps, and lakes. American gators are listed as Least Concern by the IUCN.
This is my 400th article! I hope you enjoy it!
First the Stats…
Scientific name: Alligator mississippiensis
Weight: Up to 1,000 lbs.
Length: Up to 15 feet
Lifespan: Up to 50+ years
Now on to the Facts!
1.) They have been documented balancing branches and sticks on their heads to attract birds seeking out nesting material. Once they land to grab the sticks, the gator grabs the bird.
2.) My what sharp teeth you have, grandma. These critters have between 74 – 80 teeth! When their teeth wear down or fall out they are replaced by new ones. An alligator is able to go through over 2,000 teeth in their lifetime!
3.) Just like the footprints of elephants, American gators create small ponds known as alligator holes. Gator holes retain water during the dry season and help in providing temporary habitats for other critters.
4.) Like many reptiles, alligators continue to grow their entire lives.
5.) These beasts eat fish, reptiles, amphibians, birds, mammals, and even fruit from trees.
But wait, there's more on the American alligator!
6.) American alligators are able to make a variety of sounds, even though they have no vocal chords. They can make bellowing sounds, growls, hisses, and even a cough-like sound called a chumpf.
7.) The standard courtship routine includes snout and back rubbing, head-slapping on the water's surface, blowing bubbles, and the infamous bellowing which has an infrasonic feature that causes the water around them to vibrate and almost dance.
Did you know…?
An alligator's jaw muscles are interesting in that they have relatively weak opening power but amazing bite strength. They have a bite which is strong enough to crush a turtle shell. Their bite registers a whopping 2,125 psi!
8.) Males have been known to occupy areas larger than 2 square miles.
9.) American alligators can swim up to 20 mph and run as fast as 11 mph!
10.) The word "alligator" is derived from the Spanish word "el lagarto," which means "the lizard."
But wait, there's still more on the American alligator!
11.) Female alligators ferociously defend their young. They build 7 – 10 foot wide mud nests that heat up during the day and assist in incubating the eggs.
12.) 35 – 90 eggs are laid and then buried with dirt and leaf matter where they'll incubate for 65 days.
Did you know…?
Young American alligators can regrow their tails up to 9 inches, or around 18% of their body length.
13.) When the young are ready to hatch, they make high pitched sounds that signal the mother to dig out her babies and take them down to the water's edge.
14.) Mom alligators look after their young for up to a year.
15.) Gender is determined by temperature. Higher temps produce males and lower temps produce females.
Now a Short American Alligator Video!
Also, check out the Critter Science YouTube channel. Videos added frequently!
Want to suggest a critter for me to write about? Let me know here.
Learn more about all kinds of cool critters, right here!