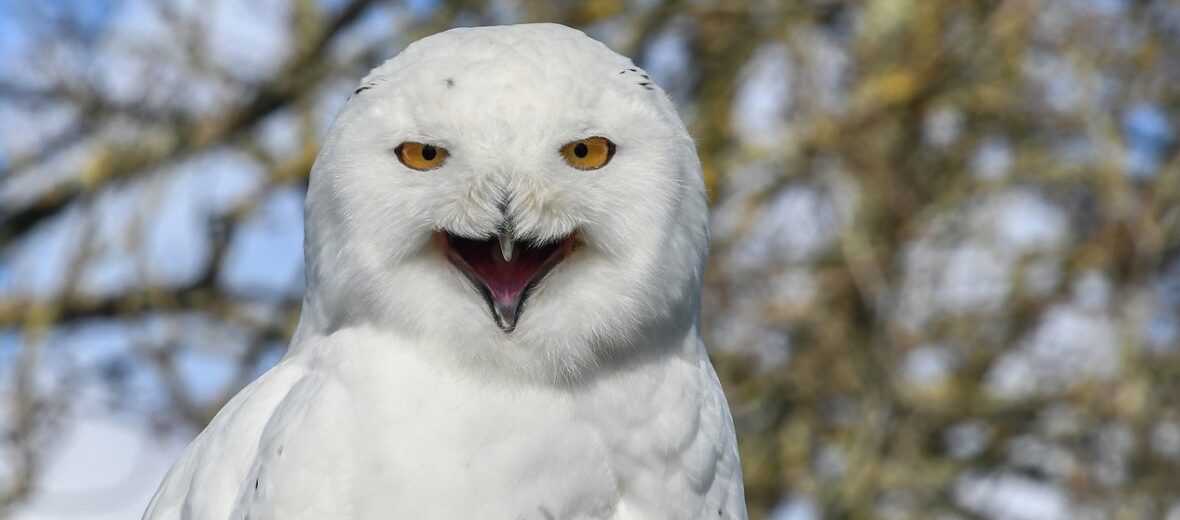 The snowy owl (aka: snow owl, arctic owl, great white owl, and white owl) is found in the western Aleutians in Alaska to northern Quebec, northeastern Manitoba, and northern Labrador in Canada. When they head south for the winter, they can be spotted as far south as central California and even farther south into Texas and Florida. These beautiful owls are the heaviest species in North America. They are also Harry Potter's familiar of choice. Snowy owls are listed as Vulnerable by the IUCN.
First the Stats…
Scientific name: Bubo scandiacus
Weight: Up to 4.5 lbs.
Length: Up to 2.4 feet
Wingspan: Up to 5+ feet
Lifespan: Up to 28 years
Now on to the Facts!
1.) Snowy owls prey on mice, rabbits, and other birds. However, their favorite meal is the lemming. They can eat 3 – 4 of these tasty morsels a day! This being said, the owl's numbers rise and fall based on the quantity of lemmings available each season.
2.) They are such agile hunters that they are able to catch birds in mid flight!
3.) These critters are among the very few diurnal (active during the day) owl species. Can you name another diurnal owl? If you guessed the burrowing owl, you're correct.
4.) Males typically stay mostly white, with a few flecks of dark brown. Females have a combination of white and dark brown flecks and bars.
5.) Their hearing is so powerful that they can hear the faint rustling of a lemming underneath the snow!
But wait, there's more on the snowy owl!
6.) To keep their feet warm, they have a tuft of feathers covering each foot.
7.) Insulation comes from an abundance of feathers. This contributes to their being the heaviest owl in North America.
Did you know…?
Most owls have serrated feathers on their wings. This allows for an almost totally silent flight. They literally make almost no sound at all, when flapping their wings!
8.) Being aggressive comes naturally to them. They have been seen dive bombing humans and even arctic wolves!
9.) Like other owl species, the arctic owl swallows their prey whole and then regurgitates the undigested bits in what is known as a pellet.
10.) The great white owl is monogamous (mates for life).
But wait, there's still more on the snowy owl!
11.) Females lay between 4 – 8 eggs.
12.) The male hunts for food and returns it to the nest, where the female watches over their young owlets.
Now a Short Snowy Owl Video!
Also, check out the Critter Science YouTube channel. Videos added frequently!
Want to suggest a critter for me to write about? Let me know here.
Learn more about all kinds of cool critters, right here!