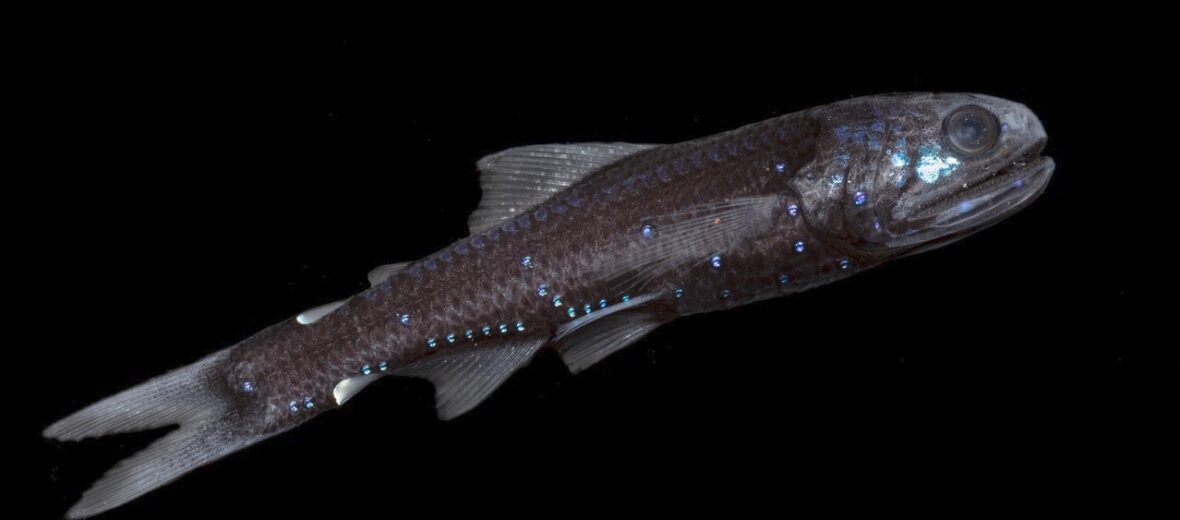 The lanternfish gets its name from their ability to produce bioluminescent light from special cells called photophores, located in their head, belly, and tail. There are around 240 known species of lanternfish in the world's oceans. They prefer to inhabit depths of up to 4,500 feet, where light is a scarce commodity. These abundant fish make up approximately 65% of all biomass in the deep seas. Due to their numbers they are pretty much all listed as Least Concern by the IUCN.
First the Stats…
Scientific name: Myctophidae
Length: Up to 11 inches
Lifespan: Up to 3 years
Now on to the Facts!
1.) These fish produce light, much like a firefly, to attract food and a mate.
2.) They provide food for many sea creatures, like squid, whales, dolphins, tuna, seals, sharks, and sea birds.
3.) There is only 1 species of lanternfish that cannot produce light. Kind of a bummer for them.
4.) Lanternfish are also known for their diel vertical migrations from the deep sea to the surface waters during the evening.
5.) These fish are nocturnal (active at night) in that they stay in the dark deep water during the day and only venture near the surface at night.
But wait, there's more on the lanternfish!
6.) They school in dense layers, separated by species to help prevent competition for food. These populations are so dense that they show up on sonar and give the illusion of a false ocean floor. This is known as a deep-scattering layer.
7.) The lanterfish, of all species, are believed to spawn year round.
Did you know…?
The larvae are so abundant that they are assumed to make up to 50% of all fish larvae in the ocean!
8.) Being non-guarding pelagic spawners, the female lanternfish release up to 2,000 eggs into the water column as a group. Those eggs are fertilized by the males. The eggs are not guarded at all.
Now a Short Lanternfish Video!
Also, check out the Critter Science YouTube channel. Videos added frequently!
Want to suggest a critter for me to write about? Let me know here.
Learn more about all kinds of cool critters, right here!