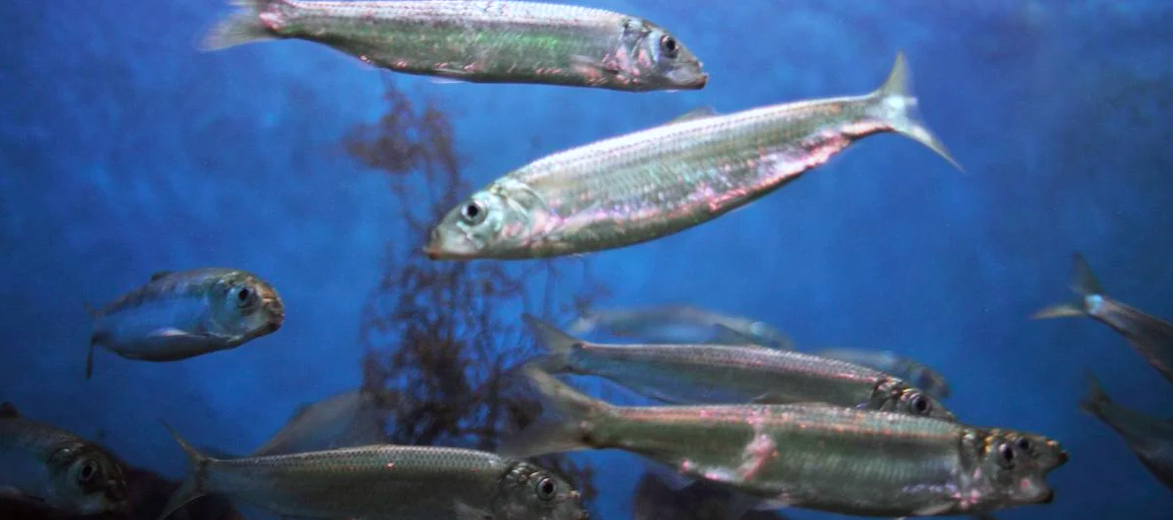 The herring, aka silver darling, primarily hails from the north Pacific and north Atlantic Oceans. Other populations are found in various other locales. There are around 200 known species of herring. However, most people are familiar with just 3. Those being Araucanian, Atlantic, and Pacific herring. Most herring species are listed as Least Concern by the IUCN, with some exceptions. The 3 most popular species constitute up to 90% of the total herring species caught by fisheries.
First the Stats…
Scientific name: Clupea (but varies by species)
Weight: Up to 2.4 lbs.
Length: Up to 18 inches
Lifespan: Up to 15 years
Now on to the Facts!
1.) Herrings are filter feeders that feast on phytoplankton, zooplankton, copepods, worms, krill, fish eggs and larvae of snails and mollusks.
2.) Seabirds, seals, sea lions, dolphins, porpoises, whales, sharks, billfish, tuna, salmon, striped bass, cod, and halibut all prey on herring.
3.) Herrings are nocturnal (active at night).
4.) The herring swims in massive schools that can contain up to several million fish.
5.) These fish are a staple of human diets as they contain omega-3 fatty acids and vitamin D.
But wait, there's more on the herring!
6.) Known in Europe as "silver of the sea", herring fisheries have capitalized on their abundance and the European herring fishing industry is regarded as 1 of great economical importance. In fact, it is widely accepted that herring fisheries are the most commercially important fisheries in history.
7.) Females produce up to 40,000 eggs each spawning season. The eggs are released into the water and are then fertilized by the males.
Did you know…?
Herring has been a human staple diet since around 3000 BC.
8.) Based on the water temperature, eggs can take up to 40 days to hatch.
9.) Some species of herring spawn once a month.
10.) Water pollution affects the amount of herring that can be safely eaten. For instance, larger Baltic herring slightly exceeds safe limits with respect to dioxin and PCB, although some people have pointed out that the cancer-reducing effects of omega-3 fatty acids is technically a greater benefit than the carcinogenic effects of dioxins and PCBs are a risk.
Now a Short Herring Video!
Be sure to share & comment below! Also, check out the Critter Science YouTube channel. Videos added regularly!
Want to suggest a critter for me to write about? Let me know here.
Think you know a lot about critters? Try your hand at these fun, free quizzes: