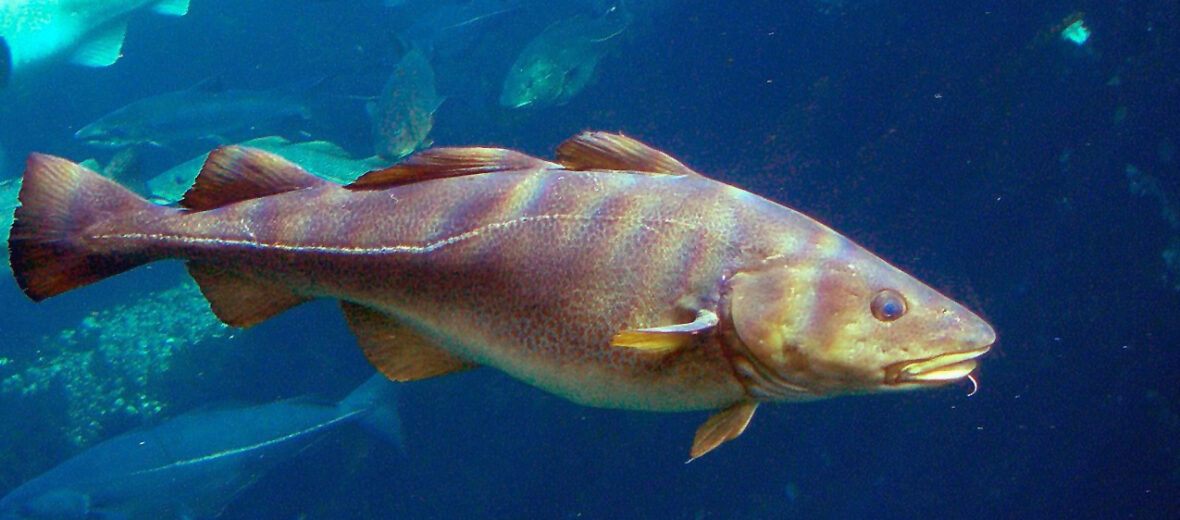 With several different species of codfish to choose from, this article will focus on the Atlantic and Pacific cod. Codfishes can be found in the temperate and cold waters of the Atlantic and Pacific Oceans. There are 3 main types of actual cods: Atlantic, Pacific, and Greenland. Other fish are also grouped into the cod family, but aren't technically codfishes. They can be found at depths of 20 – 200+ feet. Due to extreme overfishing, the Atlantic cod is listed as Vulnerable by the IUCN. The Pacific cod is listed as Least Concern.
First the Stats…
Scientific name: Gadus
Weight: Up to 77 lbs.
Length: Up to 51 inches
Lifespan: Up to 20 years
Now on to the Facts!
1.) Like other fish, both fresh and saltwater, codfish have what is called a lateral line. This is a neurological feature in fish that detects motions, vibrations, and pressure of the surrounding water.
2.) Cods prey on haddock, mackerels, sand eels, mollusks, squids, crabs, and even each other.
3.) They are preyed on by spiny dogfish, sharks, and marine mammals (like dolphins, seals, and sea lions). As mentioned, they also prey on each other.
4.) Cod are heavily fished for their meat and for their high content of vitamins A, E, D, and omega-3 fatty acids.
5.) Codfish are slower swimmers that seek refuge in large schools.
But wait, there's more on the codfish!
6.) Being migratory, they can swim up to 200 miles in search of suitable breeding grounds.
7.) These fish spawn between January – April.
Did you know…?
Females lay up to 9,000,000 eggs each season! However, most will be eaten by other sea creatures. Most won't live to see adulthood.
8.) The larvae hatch in up to 23 days and are only 0.16 of an inch long.
9.) After birth, the larvae develop fast and these baby fish will increase in size by 40 times, in just 10 weeks!
10.) Codfish become sexually mature at 3 – 4 years of age.
But wait, there's still more on the codfish!
11.) By counting the rings on their otolith (a calcium carbonate structure in the saccule or utricle of the inner ear), you can determine their age. Sadly, you can only get to this part of their anatomy via killing the fish.
12.) They are primarily demersal fish (sea floor dwelling).
13.) These fish can change their color based on what depth they're swimming.
14.) Atlantic cod populations have decreased 96% since the 1850s!
15.) Being bottom feeders, they possess a barbel on their chin, which aids in detecting food.
Now a Short Codfish Video!
Be sure to share & comment below! Also, check out the Critter Science YouTube channel. Videos added frequently!
Want to suggest a critter for me to write about? Let me know here.
Learn more about all kinds of cool critters, right here!