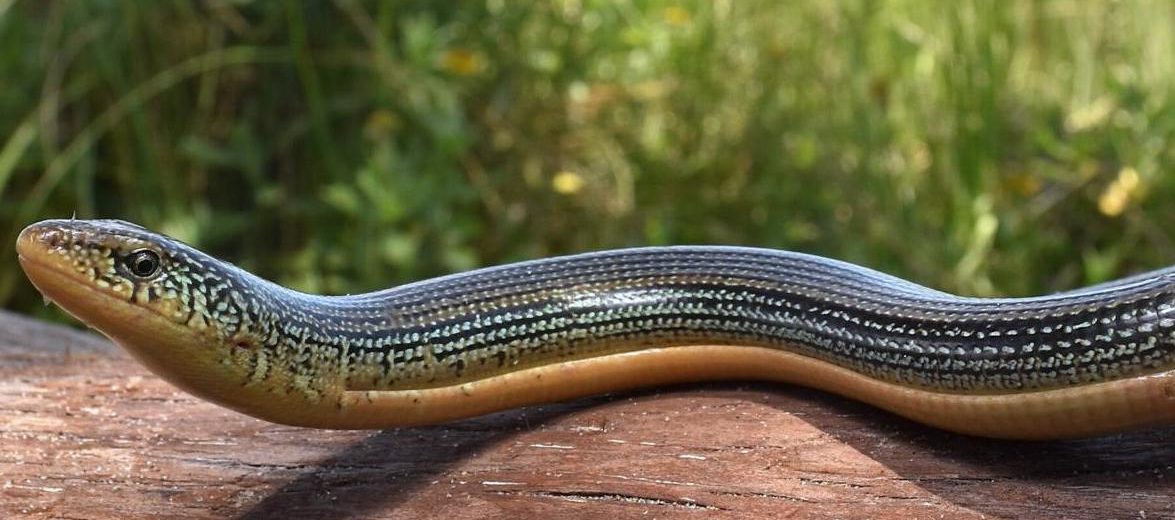 The eastern glass lizard hails from the southeastern portion of the United States. However, there are 15 known species of glass lizard that can be found in the United States, Europe, Asia, and North Africa. They prefer sandy areas in coastal zones, grasslands, prairies, open woodlands, and areas near roads. Even though they have to deal with habitat destruction, at the hands of residential and commercial development, and agricultural based habitat destruction, these critters are still listed as Least Concern by the IUCN.
First the Stats…
Scientific name: Ophisaurus ventralis
Weight: Up to 21 ounces
Length: Up to 42.6 inches
Lifespan: Up to 30 years
Now on to the Facts!
1.) Even though they resemble snakes, these are actually legless lizards.
2.) 2 characteristics of these critters being lizards are the presence of movable eyelids and external ear openings.
3.) Their tail measures up to 2/3 of their body length.
4.) When faced with a Predator, they will perform caudal autonomy (drop their tail), which then divides up into smaller segments, like broken glass. Hence their name.
5.) These lizards are cathemeral (active day and night) with most of their activity taking place during the day, with some in the early evening.
But wait, there's more on the eastern glass lizard!
6.) Glass lizards are predators that prey on spiders, insects, snails, frogs, young rodents, young birds, and small eggs.
7.) Skunks, raccoons, foxes, birds of prey, snakes, and cats, to name a few, all prey on these lizards.
Did you know…?
Like all known glass lizards, these critters are not venomous. However, if handled and feeling threatened, they will bite and musk (release a stinky liquid from their cloaca – rectal opening).
8.) During cold winter months, they will brumate (hibernation for reptiles) in burrows.
9.) Between June and July, the females will lay up to 15 eggs.
10.) Even though the female will coil around her eggs, if approached, she will retreat and not protect her clutch.
Now a Short Eastern Glass Lizard Video!
This video talks about glass lizards, in general.
Be sure to share & comment below! Also, check out the Critter Science YouTube channel. Videos added regularly!
Want to suggest a critter for me to write about? Let me know here.
Think you know a lot about critters? Try your hand at these fun, free quizzes:
Photo credit: Parker Gibbons