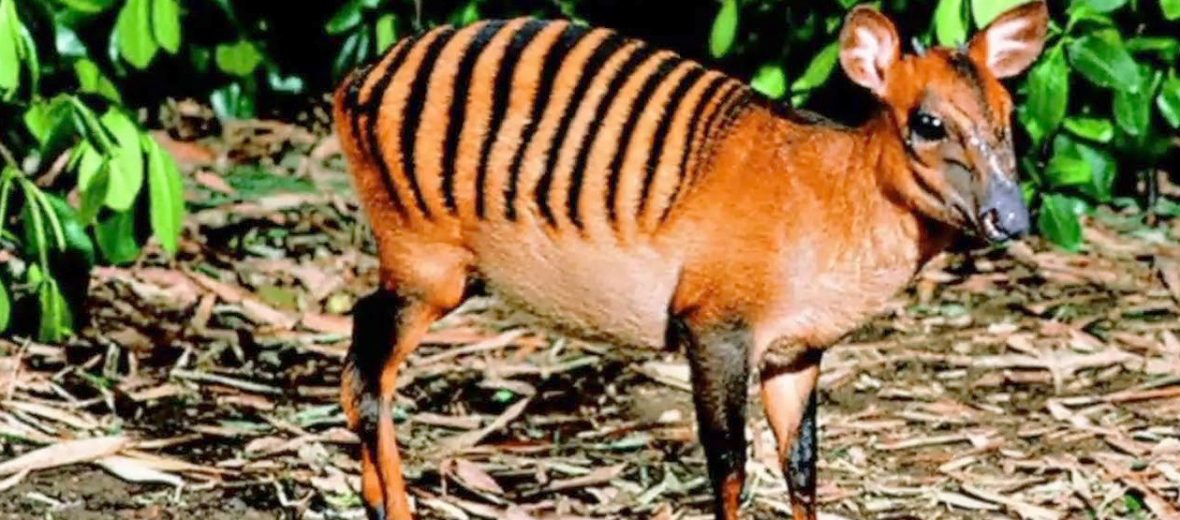 The zebra duiker, aka striped-back duiker, marking deer, or banded duiker, is a small antelope that can be found in the Ivory Coast, Liberia, Sierra Leone, and sometimes in Guinea. They prefer to dwell within dense rainforest habitats. Due to habitat destruction at the hands of agricultural needs; urban and housing development; logging; as well as hunting and trapping, these little critters are listed as Vulnerable by the IUCN. There are only an estimated 9,500 wild individuals remaining, to date, and their numbers are decreasing.
First the Stats…
Scientific name: Cephalophus zebra
Weight: Up to 35 lbs.
Length: Up to 2.9 feet
Height: Up to 17.71 inches
Lifespan: Up to 13 years
Now on to the Facts!
1.) Both genders have horns, but the male's horns are longer than the female's. Females are also larger than males.
2.) buds, grass, leaves, shoots, and various fallen fruit make up the bulk of their diet. They will also consume rodents and the feces (poop) of other animals.
3.) They are territorial and injuries often occur due to fights with other duikers.
4.) In the wild, these duikers are nocturnal (active at night) but in captivity, they exhibit diurnal (active during the day) behaviors.
5.) Zebra duikers are solitary sans breeding season, where they will form pair bonds.
But wait, there's more on the zebra duiker!
6.) While normally silent, they will produce grunting sounds during the mating season.
7.) Females undergo a gestation (pregnancy) of up to 229 days, that yields a single calf.
Did you know…?
Leopards, African golden cats, African rock pythons, and the crowned eagle all prey on these little critters.
8.) The young are actually a blue color, with their stripes positioned closer together. As they age, this coloration changes to reddish-brown and their stripes space further apart.
9.) The female is receptive to breeding just 10 days after parturition (giving birth).
10.) Duikers are often over hunted for bush meat and their hides are also utilized by humans.
Now a Short Zebra Duiker Video!
Be sure to share & comment below! Also, check out the Critter Science YouTube channel. Videos added regularly!
Want to suggest a critter for me to write about? Let me know here.
Think you know a lot about critters? Try your hand at these fun, free quizzes: