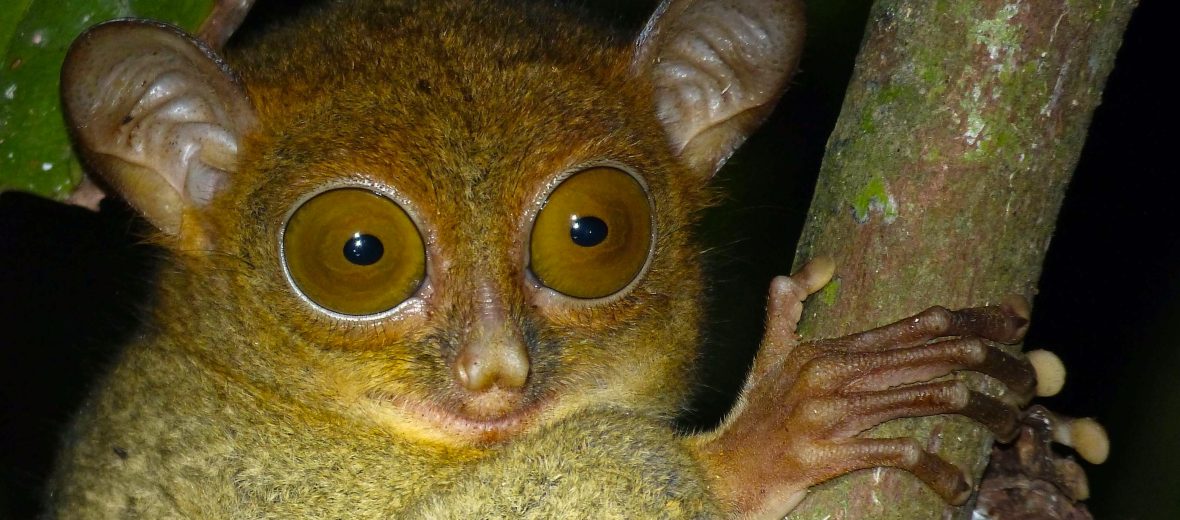 The Horsfield's tarsier, aka western tarsier, can be found in Borneo, Brunei, Indonesia, Kalimantan, Malaysia, Sarawak, southern Sumatra, and Sabah. They prefer primary and secondary forests, forests along the coastline and near plantations. Unfortunately, they face the threats of habitat destruction at the hands of agriculture, logging, fire suppression, and the logging industry; hunting; trapping; and pollution. For this reason, they are listed as Vulnerable by the IUCN. Their numbers are also decreasing.
First the Stats…
Scientific name: Cephalopachus bancanus
Weight: Up to 4.73 ounces
Length: Up to 5.8 inches, plus up to a 9.3 inch tail
Lifespan: Up to 17 years
Now on to the Facts!
1.) Like all tarsiers, these critters are nocturnal (active at night).
2.) They spend up to 2 hours a night looking for food.
3.) Horsfield's tarsiers prey on ants, beetles, butterflies, cicadas, cockroaches, grasshoppers, moths, phasmids, and praying mantises. Small bats and birds are also on the menu; as are even venomous snakes.
4.) Their movement consists of quadrupedal walking, climbing, hopping, and cantilevering.
5.) A group of tarsiers is called a herd.
But wait, there's more on the Horsfield's tarsier!
6.) Via social grooming, the mother will remove dead skin and parasites from her infant, via their toe claws and then licking their fur.
7.) In order to clean it's face, it will rub their face on branches.
Did you know…?
They can leap at distances of up to 18 feet!
8.) Territories are denoted via urine and scent marking.
9.) These tarsiers are monogamous (mate with only 1 partner).
10.) The male initiates courtship by producing up to 3 chirps, while opening and closing their mouth.
But wait, there's still more on the Horsfield's tarsier!
11.) Females undergo up to a 178 day gestation (pregnancy) that results in a single infant.
12.) Infants are born precocial (self-sufficient). Their eyes are open, they're fully furred, and can groom themselves.
13.) The mother carries her infant in her mouth and sets it on a nearby branch, while she forages for food.
14.) They were named after the American naturalist Thomas Horsfield.
Now a Short Horsfield's Tarsier Video!
Be sure to share & comment below! Also, check out the Critter Science YouTube channel. Videos added regularly!
Want to suggest a critter for me to write about? Let me know here.
Think you know a lot about critters? Try your hand at these fun, free quizzes: