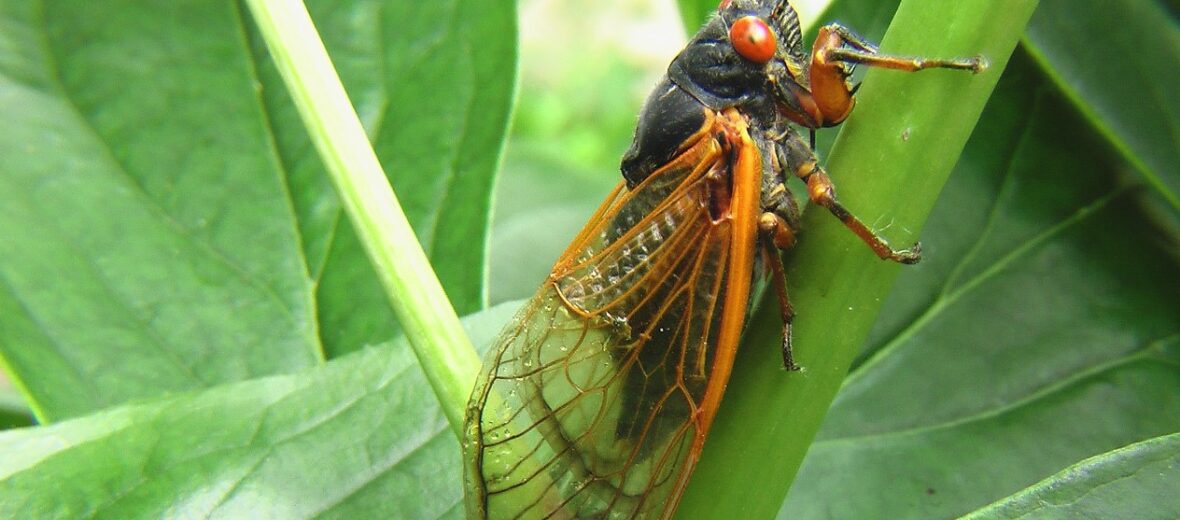 This article talks about the periodical cicada, in general. There are several types of cicadas in North America. The 13 year cicada and the 17 year cicada, aka the periodical cicadas are just 2 of the many species. All in all, there are 3,000 known species of cicada worldwide. When these insects emerge from the ground and make their way up to the upper regions of trees and shrubs, their songs fill the air with a piercing, hissing sound that signals the arrival of summer.
First the Stats…
Scientific name: Cicadoidea
Weight: Up to 0.01 ounce
Length: Up to 1 inch
Wingspan: Up to 3 inches
Lifespan: Up to 17 years, but only spend up to 1 month as adults
Now on to the Facts!
1.) There are 4 types of 13 year cicadas and 3 types of 17 year cicadas.
2.) Here in Arizona, we have annual cicadas that emerge each year. But their numbers are not as great as the periodicals.
3.) Most of their body consists of open air spaces that are used to resonate the buzzing sound they make.
4.) Only males sing. Females are silent.
5.) Males produce the buzzing sound to attract a female. The louder their call, the better chance they have to mate. Males will often try to outdo the Competition by singing louder then their fellow males, thus drowning them out.
But wait, there's more on the periodical cicada!
6.) Under their abdomen lies a special device, much like an eardrum, called a tympana. This allows them to hear the songs.
7.) These cicadas are more closely related to the Southeast Asian and Australian cicada species than to the South American species.
Did you know…?
The Massospora fungus infests the abdomens of cicadas and completely fills their stomachs, causing them to erupt, killing them. This deadly fungus is spread via the cicada's reproductive means. It's an STD for cicadas.
8.) Periodical cicada species are divided into 3 groups: cassini, decim, and decula. They evolved from their ancestors over 4 million years ago. They began to take on their recent appearance about 500,000 years ago.
9.) If you are trimming your hedges or trees with a power tool that makes a buzzing sound, you are likely to be visited by 1 or more females. They will land on you thinking that you are a male singing for some love.
10.) A group of cicadas is called a cloud or a plague. Even though they aren't nearly as devastating as a plague of locusts. They do cause root damage and subsequent infections in weaker and new growth shrubs and trees.
But wait, there's still more on the periodical cicada!
11.) Young cicadas will eat the liquid from plant roots by sawing into the root, causing it to bleed. Molting cicadas eat new growth twigs. Adults don't eat at all. They're too busy looking for love.
12.) These insects have evolved a way to excrete the plant's liquid that they eat, through specialized ducts. This liquid comes into contact with the air and cools them down; much like how animals sweat.
13.) Their predators are many, but one creepy one is the cicada killer wasp. Just like other parasitic wasps, like the tarantula hawk or dementor wasp, this wasp stings a cicada, paralyzing it. They it flies to its burrow with the victim, lays a single egg on the cicada and covers up the burrow. The cicada is then helpless as it is feasted upon slowly, as the larvae grows.
14.) Other predators are birds, raccoons, squirrels, turtles, and fish.
15.) Cicadas pee. Yep. They excrete the left over waste from the sap they consume. This is often called cicada rain. It's a type of honeydew. Ants also like to lap this honeydew up. Mmm.
But wait, there's a little more on the periodical cicada!
16) In Arizona, cicadas songs signal the coming of the monsoons. They can typically be heard singing about 2 – 3 weeks prior to the first summer storm.
17.) Due to their sheer numbers, they have an unintended defense mechanism; Predator satiation. This is where there are so many prey items that the predators get overwhelmed and leave the prey alone.
18.) Females lay up to 600 eggs in mid to late summer. After mating, the males and females die, leaving the eggs laid underground to develop into the next generation.
Now a Short Periodical Cicada Video!
Also, check out the Critter Science YouTube channel. Videos added frequently!
Want to suggest a critter for me to write about? Let me know here.
Learn more about all kinds of cool critters, right here!