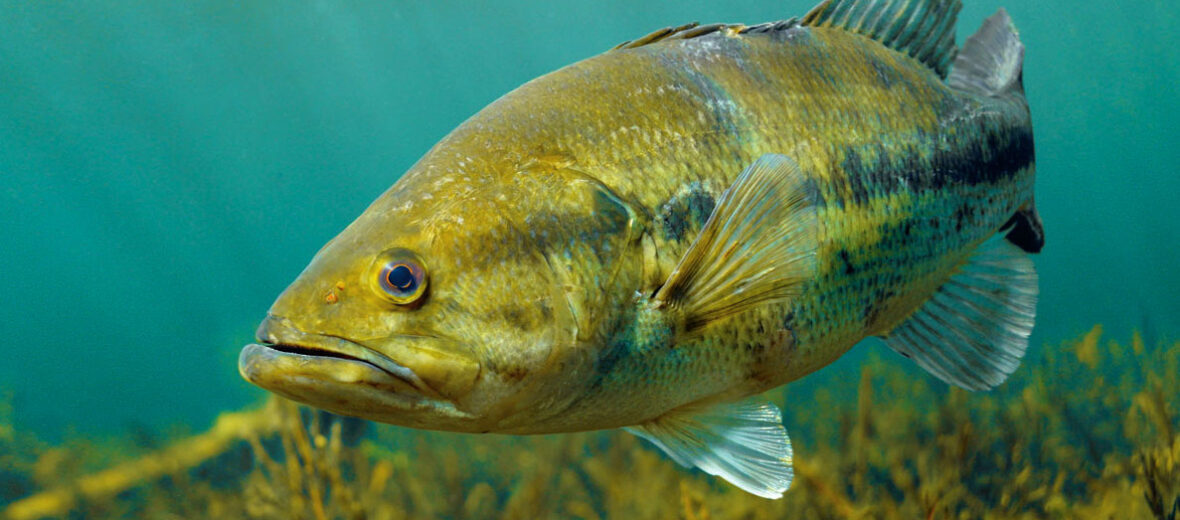 Largemouth bass started out in the eastern United States. They have since been introduced throughout the world, sans Antarctica, to the rest of the United States, South America, Mexico, and even to Africa. These bass are typically the apex predator in their habitat. They hide in aquatic vegetation, between large stones, or under roots and limbs of sunken trees, waiting to strike at prey from their hidden location. Bass tend to prefer calm, quiet, warm water but are able to cope with other conditions as well. These cool critters are found in lakes, ponds, reservoirs, rivers, and steams. Due to their abundant numbers they are listed as Least Concern by the IUCN. This article is on special request from my friend Tyler.
First the Stats…
Scientific name: Micropterus salmoides
Weight: Up to 12+ lbs.
Length: Up to 24+ inches
Lifespan: Up to 16 years
Now on to the Facts!
1.) Largemouth bass are among the most intelligent of freshwater fish and are capable of distinguishing and even avoiding specific lures after only a single encounter. Some bass lakes are termed as "fished out", even though they have tons of bass. This is because they have learned to recognize basically all the lures commonly used at that location.
2.) The Largemouth bass was originally described as a new species in 1802 by French naturalist La Cépède.
3.) Largemouths have quite a few aliases including: Florida bass, black bass, the widemouth bass, bucketmouth bass, bigmouth bass, green trout, green bass, northern largemouth, and southern largemouth.
4.) These fish are considered to be the most popular game fish in America.
5.) This bass species preys on sunfishes, shad, minnows, bluegills, amphibians, reptiles, and even small water birds!
But wait, there's more on the largemouth bass!
6.) They not only hunt via sight, but have an excellent sense of smell that they use to hunt down prey and ambush them.
7.) Like other fish, bass have a protective layer of mucus covering their whole body that helps prevent them from being infested with parasites and infections.
Did you know…?
Bass have to eat 10 lbs. of food to gain 1 lb. of body weight. This means that if a bass eats 1,000 1 inch fish, it will only grow a single pound.
8.) Just like other fish, bass are ectothermic (cold-blooded).
9.) Bass see in color and also have eyes like us humans (retina, cornea, & pupil). However their eyes are rounder than ours to allow the light refraction which happens underwater.
10.) Largemouth bass, like almost all life on earth, grow faster and larger with a greater amount of available oxygen. Hence why prehistoric creatures were so large. There was simply more oxygen available.
But wait, there's still more on the largemouth bass!
11.) Males build the spawning nests each year. Then they spend the next 2 – 6 days protecting the eggs before guarding the newly hatched fry from possible predators.
12.) Female largemouths tend to lay up to 4,000 eggs per lb. of body weight!
Now a Short Largemouth Bass Video!
Also, check out the Critter Science YouTube channel. Videos added frequently!
Want to suggest a critter for me to write about? Let me know here.
Learn more about all kinds of cool critters, right here!