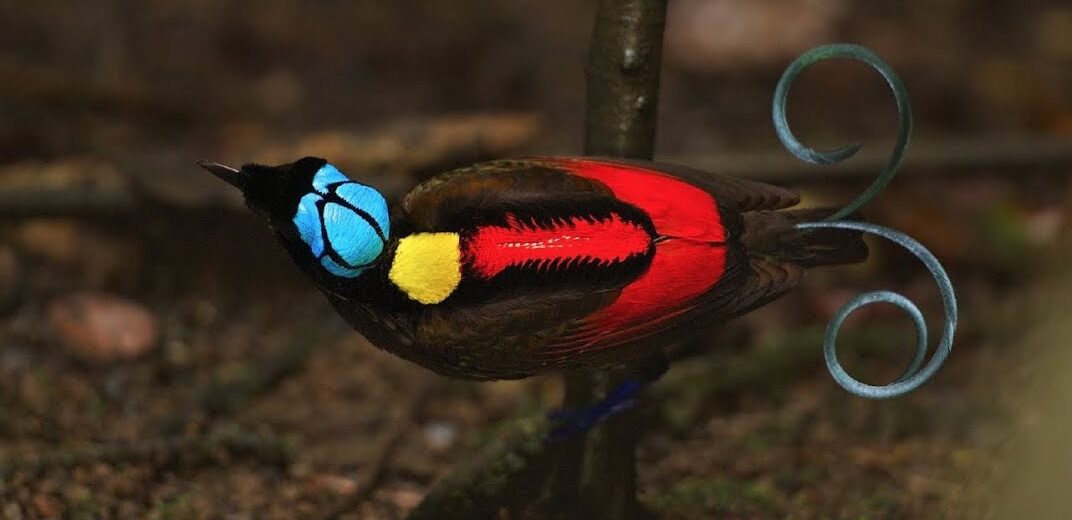 From it's beautiful plumage to the incredible courtship displays, the Wilson's bird-of-paradise is a spectacle to behold. This beautiful bird is endemic to the West Papuan islands of Batanta and Waigeo off northern West Papua's coast in Indonesia. They like lowland rainforests, but can also survive at higher elevations of mountain forests. Habitat destruction at the hands of the logging industry as well as forest fires have caused a decline in this species. Wilson's birds-of-paradise are listed as Near Threatened by the IUCN.
First the Stats…
Scientific name: Cicinnurus respublica
Weight: Up to 2.36 ounces
Length: Up to 6.3 inches plus their tail
Wingspan: Up to 6 inches
Lifespan: Up to 30 years
Now on to the Facts!
1.) This bird-of-paradise is sexually dimporphic in that the males are larger and are much more brilliantly colored than the females.
2.) Their turquoise crown has no feathers. It's just brilliantly blue colored bare skin.
3.) Hawks, owls, and snakes all prey on this species.
4.) They eat various fruit, nuts, and insects. This makes them an Omnivore.
5.) Males are not necessarily aggressive towards one another, they just try to outdo each other via displays of courtship to win the girl.
But wait, there's more on the Wilson's bird-of-paradise!
6.) They mate 2 times a year, from May – June and also in October.
7.) Before their elaborate mating ritual, the male clears the ground of leaves and other obstacles that may disrupt his performance and picks a sun lit location to better show off his plumage. Such a show off.
Did you know…?
When British naturalist, Edward Wilson, brought a specimen to Napoleon's nephew, Charles Bonaparte, he named it after Wilson as a way to honor the commonwealth over royalty.
8.) The performance begins first with a frozen posture. Then, when a female is seen the entertainment begins. He begins showing off his attractive breast shield, followed by his fancy display of dancing and showing off his light green open mouth, then follows it up with calls and songs. I'm not sure whether it's the overall performance or the finale of the gaping mouth that seals the deal, but, if the female is receptive, they then pair up and mate.
9.) Not only are they flamboyant but the males are also polygynous (mate with several females).
10.) Females are believed to lay between 1 – 3 eggs.
Now a Short Wilson's Bird-of-Paradise Video!
Also, check out the Critter Science YouTube channel. Videos added frequently!
Want to suggest a critter for me to write about? Let me know here.
Learn more about all kinds of cool critters, right here!