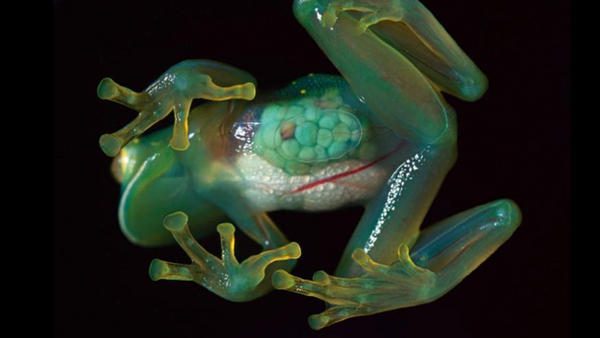 A truly amazing critter in the animal kingdom is the glass frog. They're typically lime green, look a little like Kermit the frog, and have a sort of abdominal window; allowing you to see all their internal organs. They are found in central and South America. Glass frogs include more than 120 species in three genera (Centrolene, Cochranella, and Hyalinobatrachium). I really dig these critters and thus… have created an article about them. Enjoy!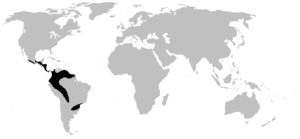 Here are the statistics:
Kingdom: Animalia
Phylum: Chordata
Class: Amphibia
Order: Anura
Suborder: Neobatrachia
Family: Centrolenidae
Taylor, 1951
And here are the facts…
1.) Size of glass frogs depends on the species. Smaller species are usually 1.2 inches long. Larger species can reach 3 inches in length.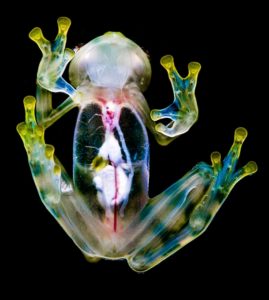 2.) Liver, heart and intestines can be seen when the glass frog is viewed from the underneath. Bones in certain species are green or white in color.
3.) Excellent eyesight allows easy detection of the potential prey. Glass frog is a carnivore (meat-eater). It eats insects with soft bodies and different types of spiders.
4.) Due to their small size, glass frogs are easy target of large predators. Main enemies of glass frogs are snakes, mammals and birds.
5.) Glass frogs, like most frogs, are nocturnal. They are most active from the dusk to the early morning hours.
6.) Glass frogs are territorial animals. Males vocalize to alert other males that the territory is occupied. In the case that intruders refuse to go, territorial male will become aggressive and apply a force to chase unwanted males away.
7.) Mating usually takes place after rainy season, or during the light showers. Female lays between 20 and 30 eggs on the underside of the leaves that hang above the water.
8.) Average lifespan of glass frog is usually between 10 and 14 years in the wild. They can live 15-20 in captivity.
9.) Tadpoles hatch after 2 weeks and drop into the water. Some species of glass frogs will bury themselves in the ground until they turn into adult frog. Other species undergo metamorphosis in the water.
10.) Glass frogs are arboreal animals (spend their lives in the trees). They will come to the ground only during mating season.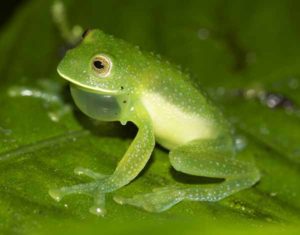 Reproduction
For mating to happen, males must first call to the females. These wooing males sit on leaves—either the top or underside depending upon the species—over streams or lake edges. When a female arrives, she doesn't descend to the water with the amplexing male. Instead, they mate on the calling leaf where she deposits her eggs. After she departs, the male often remains to protect the eggs from predators and some males will call to attract other females and thus have several egg clutches in various developmental stages to guard. When the tadpoles hatch, they fall into the water below. Tadpoles usually live and feed amidst the leaf litter and stream-side detritus until they metamorphose into froglets. One of the major egg predators are "frog flies," which lay their eggs on the egg masses. The flies' eggs hatch quickly, and the maggots feed on the frog embryos.
Fight for your right!
Males are very territorial, and will not allow another male to be in its breeding grounds. If a male enters another glass frog's territory, the defending frog will let out a very low warning sound. If the offending male doesn't back off, the defending frog will jump on his back in an aggressive manner, effectively chasing him away.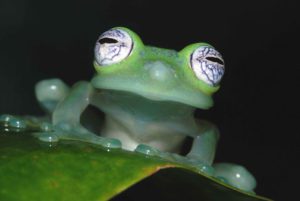 I can see you
One unique property the glass frog boasts besides its signature translucency is the position and shape of its eyes. Commonly, they are confused with the tree frog; however, the glass frog's eyes are very bright and forward-facing, while the tree frog's eyes are positioned on the sides of its head. This can be very useful in differentiating the glass frog from others.