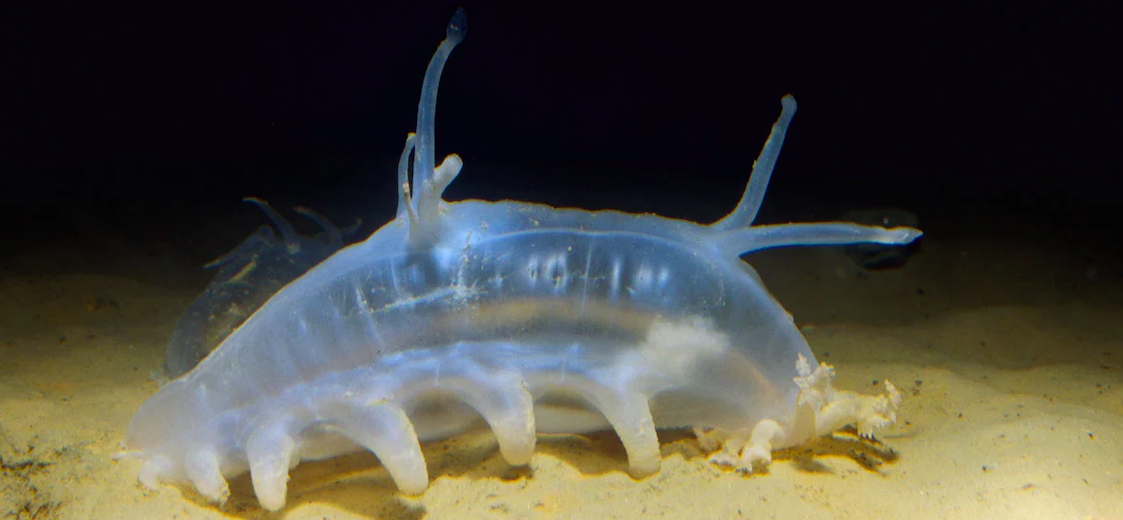 The sea pig is a type of sea cucumber. They can be found in oceans all over the world. But good luck finding 1 of these critters. They dwell on the ocean floor, at depths of up to 16,000 feet. These echinoderms are difficult to study since they live at such great depths. Sea pigs are not currently listed by the IUCN. They are still Data Deficient.
First the Stats…
Scientific name: Scotoplanes
Weight: Up to 95 ounces
Length: Up to 6 inches
Lifespan: Up to 78+/- years
Now on to the Facts!
1.) The sea pig is a scavenger that prefers to feast on carrion (dead animals). They also feast on detritus.
2.) Sea pigs don't swim, rather they hover above the muddy substrate and walk along the ocean floor via their tube-like legs.
3.) The 2 antennae on their head are actually legs as well. They're used to detect food.
4.) Sea pigs were first described by Swedish zoologist Hjalmar Théel, in 1882.
5.) Parasites are their only real threat. This is due to the fact that they have poisonous skin that not only tastes bad, but can kill a predator.
But wait, there's more on the sea pig!
6.) Large groups of sea pigs can sometimes be seen all facing the same direction. They face into the ocean's current in order to detect the faint smell of fallen carcasses.
7.) In churning up the substrate, looking for food, sea pigs inadvertently stir up and aerate the substrate, making it livable for other creatures.
Did you know…?
The type of toxins in these creature's skin are called holothurins. If touched, this toxin can cause painful, irritanting dermatitis; irritation of the mucous membranes; potential blindness; and, if consumed, even potential death.
8.) To add to their oddities, these critters also breathe through their anus.
9.) Baby king crabs have been seen clinging to sea pigs, as well as to other sea cucumbers. It is not known exactly why they do this. Perhaps for protection, since sea pigs are poisonous.
10.) Sea pigs host a variety of parasites. This includes crustaceans and snails. These parasitic organisms will bore into the flesh of a sea pig and feast on them from the inside. This is also known as endoparasitism.
Now a Short Sea Pig Video!
Be sure to share & comment below! Also, check out the Critter Science YouTube channel. Videos added regularly!
Want to suggest a critter for me to write about? Let me know here.
Think you know a lot about critters? Try your hand at these fun, free quizzes: