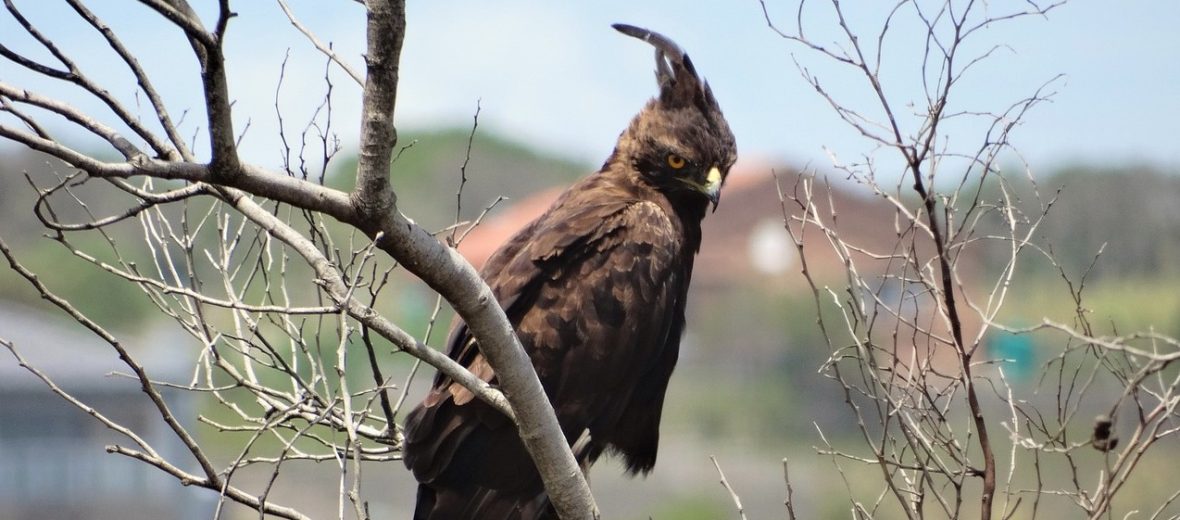 The long-crested eagle is named for the feathers on their head that make up their messy looking, yet stylish hairdo. They can be found throughout central and southern Africa. These raptors prefer forest edges and moist habitats near streams, bogs, or rivers. Due to an increasing population and stable numbers, these birds of prey are listed as Least Concern by the IUCN. They don't face any current species-declining threats.
First the Stats…
Scientific name: Lophaetus occipitalis
Weight: Up to 53 ounces
Length: Up to 23 inches
Wingspan: Up to 50.8 inches
Lifespan: Up to 20+/- years
Now on to the Facts!
1.) Long-crested eagles prey primarily on rodents, such as mice, rats, voles, gophers, squirrels, moles, and shrews.
2.) They also prey on other raptors, frogs, lizards, invertebrates, sometimes fish, and even fruit can be consumed.
3.) The long-crested eagle can be found at elevations of up to 9,843 feet above sea level.
4.) There are an estimated 100,000 wild individuals.
5.) These raptors are monogamous (mate for life).
But wait, there's more on the long-crested eagle!
6.) Long-crested eagles breed year round, if food is plentiful.
7.) Both male and female builds the nest, each year. It is constructed out of sticks, lined with green leaves.
Did you know…?
Their primary attack method is to sit and wait, for long hours, till food approaches. Then they swoop down and snatch up their prey.
8.) Females lay up to 2 eggs that hatch in up to 42 days.
9.) The chicks fledge in up to 53 days, but still depend on mom and dad for an additional 2 – 3 months.
10.) Various monkeys and genets prey on their eggs and chicks.
Now a Short Long-Crested Eagle Video!
Be sure to share & comment below! Also, check out the Critter Science YouTube channel. Videos added regularly!
Want to suggest a critter for me to write about? Let me know here.
Think you know a lot about critters? Try your hand at these fun, free quizzes: