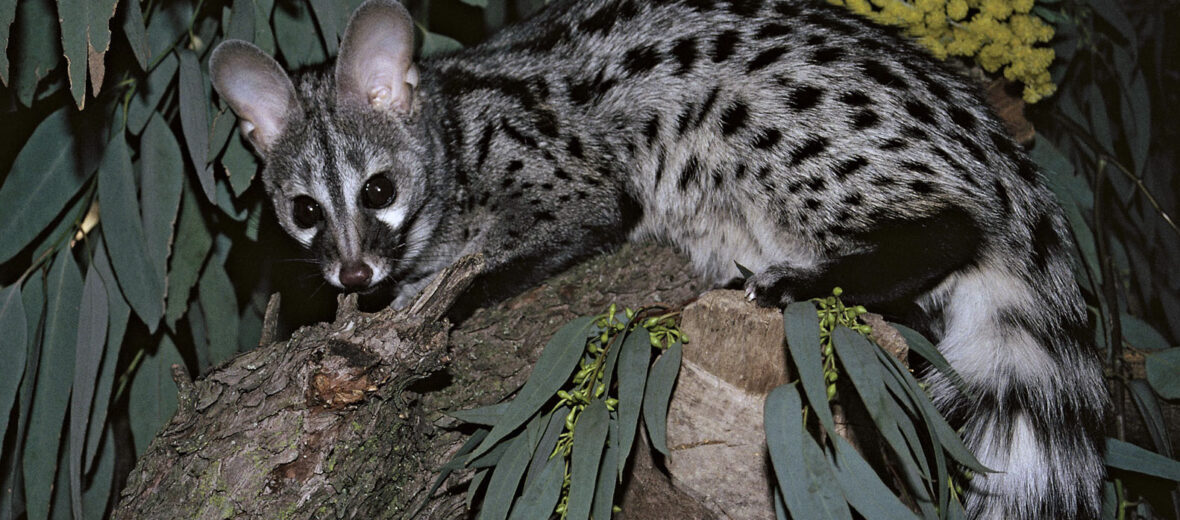 Inhabiting forests, rocky hillsides, marshes, scrublands, and agricultural lands we have the genet. These nocturnal (active at night), catlike creatures inhabit a wide range in Africa and these critters are threatened by habitat loss and hunted because of their fur and body parts which are used in folk medicine. There are 30 known subspecies. Fortunately, these critters are listed as Least Concern by the IUCN, due to stable populations in African and Europe.
First the Stats…
Scientific name: Genetta genetta
Weight: Up to 7 lbs
Length: Up to 24 inches, plus their up to 22 inch tail
Life span: Up to 30 years
Now on to the Facts!
1.) The common genet has retractable claws, like a cat.
2.) Being nocturnal (active at night) the genet sleeps during the day inside hollow trees and dense thickets.
3.) Genets are Omnivores (eat both plant and animal matter) that feed upon small mammals, especially rodents, shrews, and bats, as well as birds and their eggs, frogs, millipedes, centipedes, scorpions, and various fruits.
4.) Having a long mane that stretches the length of their body, they are able to stand this hair up in order to appear larger and more threatening.
5.) Leopards, pythons, owls, and humans are their main predators.
But wait, there's more on the genet!
6.) The genet is a solitary creature that patrols an area of approximately 3 square miles.
7.) Males mark their territory with urine and the females mark theirs via a scent gland.
Did you know…?
They are able to squeeze their flexible bodies through any opening that their heads can fit through.
8.) Mating season takes place from January – September. February and March are the peak times.
9.) Females have up to 4 young with 2 – 3 being the average.
10.) Hiccup-like calls are exchanged between the mother and her babies. Young genets often purr and mew. A threatened genet makes clicking and growling sounds.
Now a Short Genet Video!
Also, check out the Critter Science YouTube channel. Videos added frequently!
Want to suggest a critter for me to write about? Let me know here.
Learn more about all kinds of cool critters, right here!