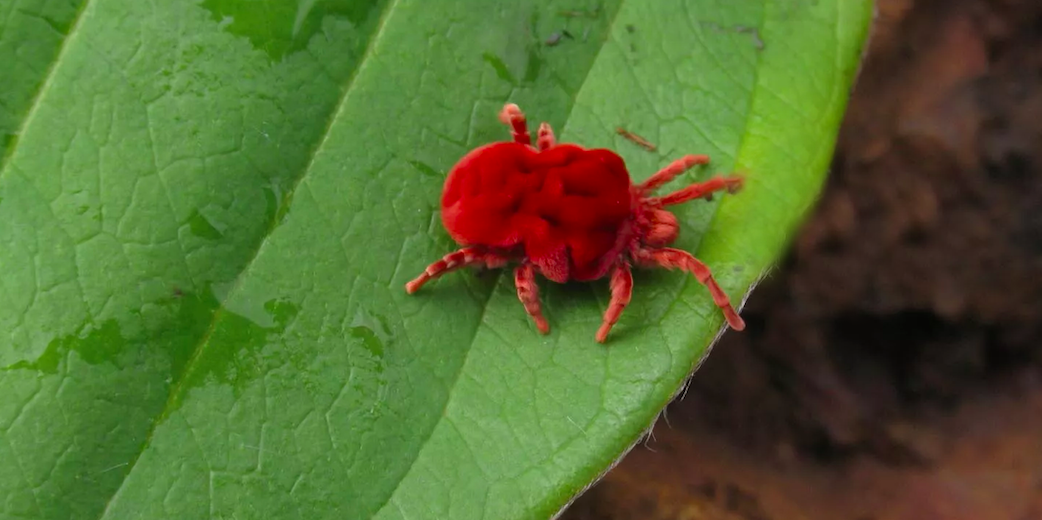 There are certainly more than 1 species of mite in the world. This article will talk of mites in general. Mites belong to 2 very large categories of arachnids: Acariformes (the most diverse of the 2 suborders) and Parasitiformes (a superorder of arachnids). Mites have a simple, unsegmented body design. The mite can be found on every continent in the world, including Antarctica (Antarctic mite – Alaskozetes antarcticus). These creatures are not currently evaluated by the IUCN.
First the Stats…
Scientific name: Acariformes
Length: Up to .04 inch
Lifespan: Up to 21 days
Now on to the Facts!
1.) The study of mites is called acarology.
2.) Not all mites are parasitic. Some are decomposers that live in the soil, some live on plants and they cause plants to grow galls (a swelling or growth). There are also predatory mites and parasitic mites. Some species also live in water.
3.) The Varroa parasite preys on honeybees and causes over $70 million in lost honey bees each year.
4.) Most mites are harmless to humans, however, some cause disease and allergies.
5.) Parasitic scabies mites affect humans and animals alike and cause itching, discomfort, rashes, and could lead to infections.
But wait, there's more on the mite!
6.) Mites have been around for at least 410 million years. So, they aren't going anywhere anytime soon.
7.) Their body is comprised of 2 segments: a cephalothorax, aka prosoma (with no separate head), and an opisthosoma or abdomen.
Did you know…?
Some species of mites live in fresh and saltwater environments.
8.) At the front of the head is the gnathosoma or capitulum. This is a retractable feeding device that consists of the chelicerae, the pedipalps, and the mouth.
9.) Some species have between 1 – 5 lateral or median eyes. But many species are blind. Even the ones with eyes can't see very well.
10.) While most species are varying shades of brown, some can be black, orange, red, and even green.
But wait, there's still more on the mite!
11.) In most mite species, sperm is transferred to the female indirectly. The male either places a spermatophore on a surface where it's picked up by the female, or he uses his chelicerae or 3rd pair of legs to insert it into the female's gonopore.
12.) Females lay their eggs on the surface of wherever they happen to live. The eggs hatch in up to 6 weeks, based on the species.
13.) After numerous molts, the hatchlings reach adulthood.
Did you know…?
These creatures can travel from 1 location to another via walking, hitching a ride on a human or animal, and some via a method called ballooning. This is where the mite will spin a long thread of silk and catch a strong breeze, which carries them to a new location.
14.) Oribatid mites are important decomposers that live in many habitats. They consume a wide variety of material including: living and dead plant matter, fungal material, lichens, and carrion (dead animals).
15.) Due to their diminutive size, these critters go largely unnoticed. For this reason, they have become the most successful of all the arachnid species, in terms of propagation and overall global disbursement.
But wait, there's still a little more on the mite!
16.) There are many species of parasitic mites. Nest mites, for instance, live in bird nests and feast on blood, skin, and keratin.
17.) Dust mites feed on dead skin and hair that is dropped from humans, rather than feeding from humans directly. Dust mite feces, however, can cause allergies.
18.) Perhaps the most famous of all mites is the tick. These creatures feed exclusively on the blood of animals and humans and can cause diseases, like lyme disease and alpha-gal syndrome (a disease that causes a permanent allergy to red meat).
19.) The scabies mite is 1 of the 3 most common dermatological ailments found in children and the elderly. These mites burrow into the epidermis (skin) and feast on their host. This causes a wide range of skin issues.
20.) Mites were first observed by the English polymath Robert Hooke, in 1665.
Now a Short Mite Video!
Be sure to share & comment below! Also, check out the Critter Science YouTube channel. Videos added regularly!
Want to suggest a critter for me to write about? Let me know here.
Think you know a lot about critters? Try your hand at these fun, free quizzes: