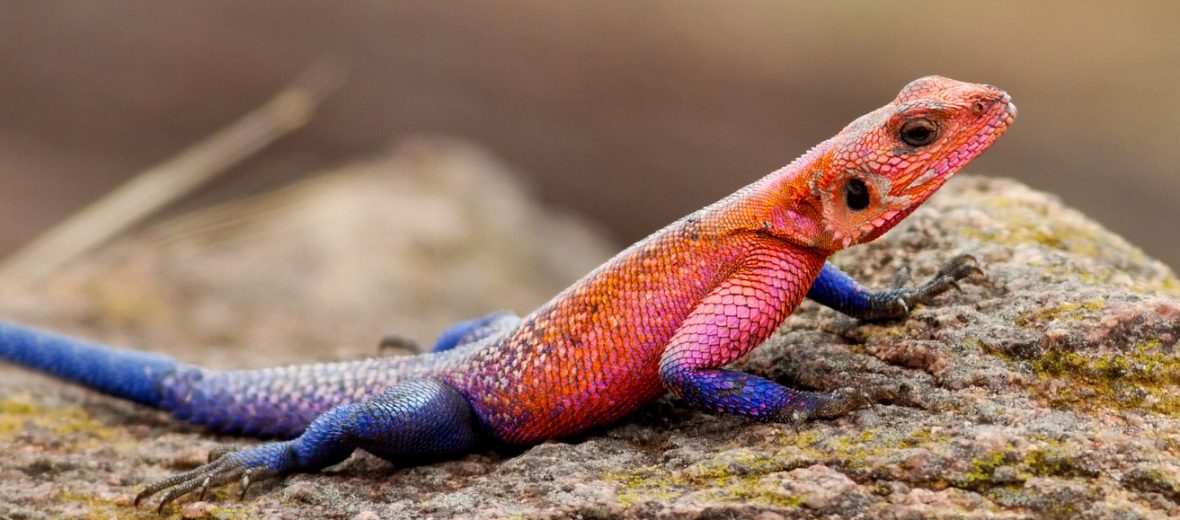 The red-headed rock agama, aka common agama, rainbow agama, or Spiderman agama, can be found in Cabo Verde, Chad, Gabon, Ghana, Benin, Burkina Faso, Cameroon, Guinea, Guinea-Bissau, Mauritania, Nigeria, Kenya, Liberia, Mali, Senegal, Togo, and Madagascar. They prefer savannas, deserts, forests, mountains, suburban, and urban areas. With a stable population and no real threats, these lizards are listed as Least Concern by the IUCN.
First the Stats…
Scientific name: Agama agama
Weight: Up to 3+ ounces
Length: Up to 18 inches, including their tail
Lifespan: Up to 28 years
Now on to the Facts!
1.) There are approximately 60 species of agama lizards.
2.) Agamas are the most prevalent species of lizard in Africa.
3.) These lizards live in groups called a lounge. These lounges consist of a dominant male, several subordinate males, and numerous females.
4.) The dominant male is called a cock.
5.) These dominant males have an almost daily fight on their hands, vying for the role of alpha male and to keep their territory.
But wait, there's more on the red-headed rock agama!
6.) The main territory typically consists of a primary object, like a tree or large rock, that the lizards congregate on and around.
7.) They are diurnal (active during the day).
Did you know…?
These lizards are popular as pets, as they are docile and easily handled. They also breed well, in captivity.
8.) While primarily being insectivores (eat insects), these lizards will prey on ants, beetles, grasshoppers, and termites. But they also take on an omnivorous (eats plant and animal matter) diet too, in that they will eat berries, flowers, fruits, seeds, grasses, eggs, other reptiles, and baby mice & rats.
9.) Red-headed rock agamas are polygynous (1 male mates with multiple females) and only the dominant male can mate with the surrounding females.
10.) After mating, and when ready to lay her eggs, the female will use her snout and fore claws to dig a 2 inch impression in sandy or loamy soil, in which to lay her up to 7 eggs.
But wait, there's still more on the red-headed rock agama!
11.) The eggs hatch in up to 10 weeks.
12.) Gender of the hatchlings is determined by surrounding temperature. When the temps are around 84.2°F males are typically yielded. When the temps are around 80.6°F females are yielded.
13.) Hatchlings typically measure around 1.5 inches long, plus up to a 2.95 inch tail.
14.) Their main predators are snakes and birds of prey.
15.) These lizards are also good jumpers and will often leap after flying insects.
Now a Short Red-Headed Rock Agama Video!
Be sure to share & comment below! Also, check out the Critter Science YouTube channel. Videos added regularly!
Want to suggest a critter for me to write about? Let me know here.
Think you know a lot about critters? Try your hand at these fun, free quizzes: